October 6, 2022 |
Vicky Farrow

I Fell in Love with Sparkling Wine & Now I Make It!
This year marks winemaker Ashley Herzberg's 12th harvest at Amista Vineyards. She has been a sparkling wine trailblazer! She was the first to make a "grower sparkling wine" in Dry Creek Valley.
At the time, most sparkling wines in California were made by large producers with grapes purchased from multiple vineyards in the tradition of Champagne. In France, grower Champagne has become the rage in the last two decades with small, family-owned houses making Champagne from their own grapes.
Grower Champagnes are treasured because they are limited and hard to find. People love to discover hidden gems! And that's what Ashley is making right here in Sonoma County.
We had a conversation recently about her sparkling discoveries.
How I First Discovered Sparkling Wine
Vicky
I know you love Champagne and sparkling wines. I'm curious to know what first drew you to sparkling.
Ashley
I actually really didn't like sparkling wine at first. My parents are the ones who introduced me to wine, and they didn't drink a lot of sparkling wine. My only exposure was to really bad sparkling!
I didn't know what was possible in the world of sparkling. I don't know what the exact catalyst or the exact wine was, but I think it was a Champagne and I realized how complex it could be. It can be toasty and yeasty, fruit driven and acidic. It can be so many things all in one glass and I just loved it.
Vicky
So, the first time you finally had a good sparkling wine, you fell in love?
Ashley
The very first time! Before that I thought very sweet sparkling wines were the only things that were available. Even when I was a child, I did not have a sweet tooth. I had an aversion to sugar. The only thing I knew was sparkling wine is sweet. And it's gross. It's not good wine.
"The only thing I knew was sparkling wine is sweet. And it's gross. It's not good wine."

And then discovering that there was this whole other world, was so exciting. I realized there's so much to learn about sparkling wine and so many wines to try. And there are so many different varietals you can use to make it.
Making My First Grower Sparkling Wine
Vicky
Clearly you developed a fascination with trying sparkling wines but when you joined us in as our winemaker in 2011, you had not yet made a sparkling wine. Did you even know we made a sparkling wine?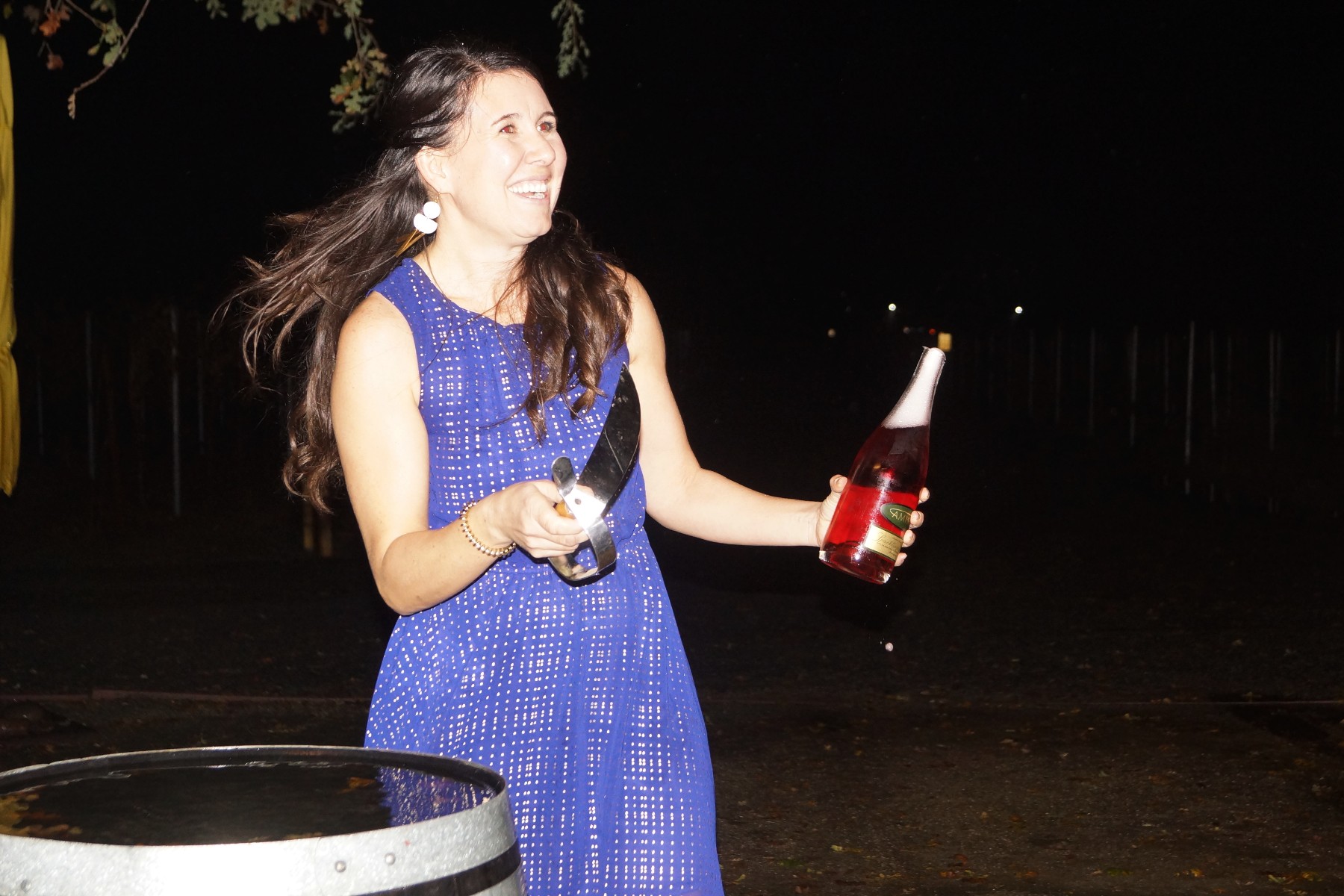 Ashley Herzberg Performing a Sabrage on a Bottle of Sparkling Wine
Ashley
Yes, because Mike (co-founder of Amista) had given me a couple bottles of your Sparkling Syrah as a Christmas gift. I assumed it was going to be sweet. I said to myself, "I'm not drinking that." Many months later I pulled it out for my girlfriends, and they loved it. I had my first taste and was so excited.
Then two years passed between me tasting your sparkling before I came to you and said I wanted to work with you as your winemaker. In that time, I had already begun my exploration of sparkling wines and realized how much I loved them.
"The challenge and excitement of making a sparkling wine was enticing."

I wanted to work with you because I had familiarity with your still wines. But the challenge and excitement of making a sparkling wine was enticing.
Lessons I Learned About Making Sparkling Wine
Vicky
Aside from being a lover of sparkling, I know you are also a lover of learning. What would you say are your biggest lessons learned about making sparkling wine?
Ashley
When I made that first sparkling wine, I knew how to pick for still wines, but I was so worried about when to pick for sparkling wines. How do you maintain the acidity and not have too high a sugar level? Penny (Gadd-Coster, consulting winemaker) at Rack and Riddle said, "you just still pick for flavors. You're shifting what you're looking for in those flavors. But you're still picking for flavors." And I was like, oh, OK, I know how to do that!
Vicky
OK, so learning how to pick the grapes for sparkling wine was a big lesson learned. What else?
Ashley
Since I was starting from scratch on making sparkling wine, I didn't have any base of knowledge, so everything was something new to be learned. Penny was very important, especially that first year.
She was a ball of wisdom. Little things would come up in conversation. Penny had this very chill attitude about it, the way I had come to feel about making still wines. What I learned is that it's just winemaking.
People say, 'I've never made sparkling, and I wouldn't know where to start. It's so different than making still wine." But it's not. If you know how to make wine, you can make sparkling wine. Yes, there are some different processes for sparkling, but it is basically just the same as making still wines. That was really helpful to learn - you're just making wine.