March 8, 2023 |
Amista Vineyards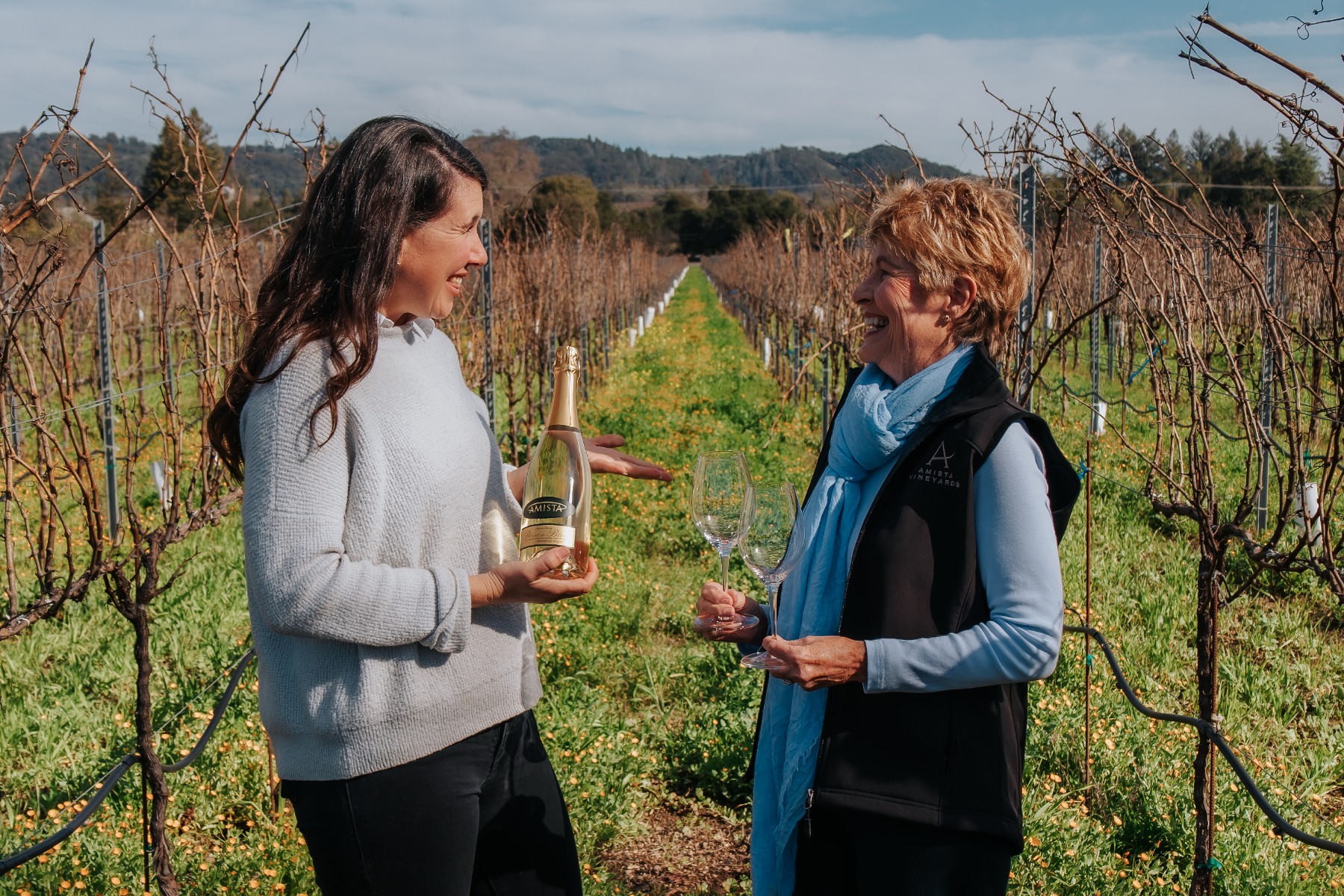 I am honored to be included in an article profiling women in wine for International Women's Day, plus "the Wines We Are Toasting Them With" by Devin Parr. I'm even more excited to be toasted with a wine created by the women of Amista, our Blanc de Blanc.
A Sparkling Wine Created by the Women of Amista
What makes this wine extra special for toasting International Women's Day is that it was created as the result of a spontaneous conversation between me and our newly hired woman winemaker, Ashley Herzberg, shortly after she arrived at Amista in 2011. We were standing in the Chardonnay vineyard one day and I asked her, "Do you think we could make a Blanc de Blanc from our Chardonnay?" She didn't skip a beat when she answered, "Of course!" Mind you, she had not yet made a sparkling wine in her previous winemaking career. But, like me, she loves bubbles. Plus, Ashley is a woman who loves to learn and is always up for a new challenge.
Her First Sparkling Harvest
That fall, Ashley did her first harvest specifically to make a sparkling wine. She picked the grapes earlier than she would for a still wine to achieve lower sugar levels and thus lower alcohol, and higher levels of acid. She was nervous about how to know when the grapes would be ready to pick.
She got some sage advice from another woman winemaker, Penny Gadd-Coster, who had been making sparkling wines for over a decade. Penny told her, "You just still pick for flavors. You're shifting what you're looking for in those flavors. But you're still picking for flavors." Ashley did just that and the inaugural release of our Amista Blanc de Blanc in 2013 scored 91 points and won a gold medal in the Press Democrat's "Best of the Best" North Coast Wine Challenge.
Women Making Progress in Wine
As we toast to women in wine on International Women's Day it's worth celebrating that "Women have long been making strides in wine and, although the work is by no means done, it's an exciting time to be a woman in the industry," says Parr. She's right.
A lot has changed over the years for women in wine. I have had the privilege of talking with several women involved in making sparkling wine as part of my project Sparkling Discoveries and there is a clear difference in the experiences of the young women of today as compared with the women who began their careers over two decades ago.
The trailblazing women who started their careers back then were consistently told they could not be winemakers because the work was too difficult for women. In my conversation with Eileen Crane, founding winemaker at Gloria Ferrer and Domaine Carneros, she told me that the first professor she met when she was exploring a degree in enology at Davis told her she couldn't be a winemaker because she wouldn't be able to do the work in the cellar. "You can't handle the barrels,' he told me. He suggested I finish my PhD in nutrition. I told him I'm not going to be doing that. I'm going to be a winemaker." It took courage and determination to challenge such attitudes.
Today's Challenges for Women in Wine are Different
The younger women working in wine today no longer face that kind of active opposition. Women are being encouraged to go into winemaking and wine business. They are celebrated, honored and recruited.
Challenges remain however, although they are less blatant. One has to do with the automatic assumption that the man is the winemaker or CEO. When a man and a woman are both pouring at a tasting, the questions about winemaking are typically directed to the man, although that appears to be changing. Kathleen Inman, Owner and Winemaker at Inman Family Wines, says, "I've noticed that people are less surprised to find out that I'm the winemaker, and not my husband, than they were 10 years ago."
The other two challenges are pay equity and the presence of women in the most senior positions in wine businesses. A 2020 study by Wine Business Monthly shows 28.8% of the wineries had a female as Winemaking Director, although the average of the salaries for those females was 8% lower than the average for males. The same study shows 22% of winery CEOs were female but total cash compensation of the men was nearly double that of the women (1.95 times greater).
Inspiring Stories of Today's Women in Wine
So yes, there is still work to do. That is why it's inspiring to read about examples of women with "extraordinary talent in wine" as described by Parr, and to hear what embracing equity means to each of them.
Read "15 (or so) Women We Are Toasting This International Women's Day…And the Wines We Are Toasting Them With" by Devin Parr.