Our Vineyards
Our 20 acre estate vineyard - we call it Morningsong Vineyards - is on the valley floor in the heart of Dry Creek Valley. Stretching from Dry Creek Road to the banks of Dry Creek, it is comprised of the loose, gravelly soils typical of the area, providing excellent drainage.
Our proximity to the Russian River Valley means that the vineyards linger in the cool morning fog before the sun begins to warm them.
When we don't grow our own, we acquire grapes from our neighbors - in Dry Creek Valley and Rockpile. We want to be able to walk the vineyards, taste the fruit and have a personal relationship with the people who grow the grapes.
Our Estate "Morningsong Vineyards"
Amista Rhône Varietals
We have six acres of Grenache, five acres of Syrah and two acres of Mourvèdre. We love Rhônes and use them to make our Amista Syrah, Grenache, Mourvèdre and Tres (a GSM blend of Grenache, Syrah and Mourvèdre). The Syrah is also used in Ilusión, our port-style dessert wine.
Our sparkling wines are the crown jewels of our estate vineyards. We make five sparkling wines from our Rhône varieties:
Sparkling Syrah
Sparkling Grenache
Sparkling Mataro (Mourvèdre)
Fusión (a blend of Grenache, Syrah, and Chardonnay)
Sparkling Tres (Grenache, Syrah and Mourvèdre)
Amista Chardonnay
We have seven acres of Chardonnay on the front of our property that encircle our 1910 cottage. In addition to our un-oaked Chardonnay, we use these grapes for our Amista Sparkling Blanc de Blanc and Fusión, a sparkling blend.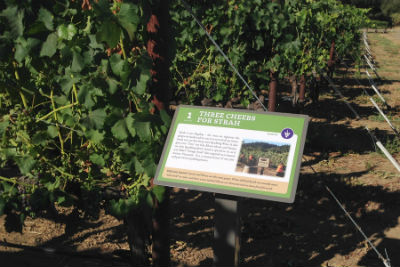 ---
Our Vineyard Partners in Dry Creek and Rockpile
Amista Dry Creek Zinfandel
Our Zinfandel comes from one small vineyard block at Saini Farms, less than a mile down the road from us. We have been working with the Saini's since 2005, and salute their integrity, attention to detail and passion for cultivating fine wine grapes.
Amista Rockpile Cabernet Sauvignon
We are very excited to have a Rockpile Cabernet in our collection. Situated on a rocky hillside, this steep, terraced vineyard commands breathtaking views of Lake Sonoma. The Rockpile AVA is planted with primary Zinfandel grapes, which means we are very fortunate to obtain fruit from Terraza Vineyards.
---
Our Sustainable Future
We are doing our part to restore the incredible beauty of Dry Creek and at the same time recreate a vibrant habitat for endangered Steelhead trout and Coho salmon. Amista Vineyards is proud to be one of the first in Dry Creek Valley to volunteer to participate in this project.
The Sonoma County Water Agency began working on a demonstration project in the summer of 2013 to enhance the habitat for the Steelhead trout and Coho salmon in Dry Creek. The creek will be restored to its sparkling best and the fish will have a place to rest. After two summers of work, the first phase of the Dry Creek Habitat project was completed in October, 2014.
See our Habitat Gallery to see how the backwater pond was built and how it has returned to a more natural state today.
In August of 2018, our Morningsong Vineyards became Certified Sustainable by the California Sustainable Winegrowing Alliance. This certification is only the beginning of our commitment to our land and people.