January 5, 2023 |
Vicky Farrow
How We Fell in Love with Red Rhône Wines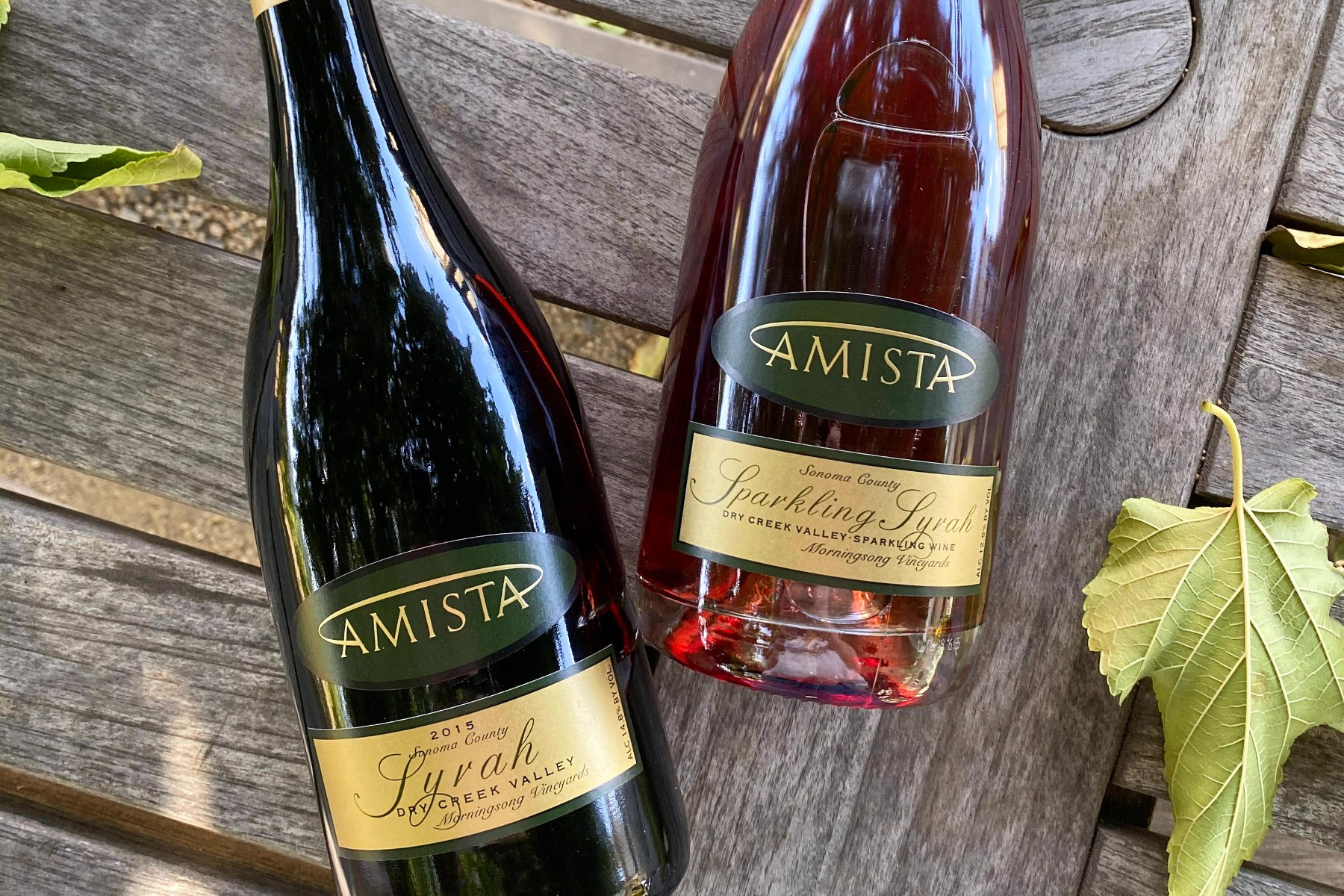 …but why stop at red when you can make sparkling?
The first wine we made from our Healdsburg property was a Rhône variety, namely Syrah. We had just moved to Healdsburg and the Syrah vineyard we planted was only two years old. We're not really sure why we planted Syrah except it was supposed to be an up-and-coming variety. That was just before the movie Sideways made Pinot Noir famous. Syrah was relegated to the wings while Pinot Noir took over the starring role in the California red wine show.
Garage Syrah
But I digress. Traditionally, the grapes of a two year old vineyard would be dropped on the ground to allow the roots to take hold without the burden of producing a crop. But husband Mike had other ideas. After having made his first wine almost 10 years earlier in our Silicon Valley California home - before our detour to New Jersey and Nevada - he was eager to make wine again. In 2002, he harvested three tons from the young Syrah vines and made wine in our garage with the help of neighbors, family and friends from Munich and Denver. We called it "Garage Syrah".
The Launch of Amista
This was the wine that seduced us into starting Amista. The Garage Syrah was a hobby wine, made only for personal consumption. But every time we invited friends to come taste from the barrel, they loved the wine and wanted to know if they could buy some once it was bottled. Our friends eventually talked us into making wine for sale and Amista Vineyards was born in 2004.
Even though Syrah has not (yet) become "the hot variety", we have fallen in love with it. So have our guests and members. We use it in many of our wines and it was the "gateway" grape that got us into Rhône varieties.
We Want More Rhônes!
In 2011 we decided to replace some of the Syrah vines. We were anxious to experiment with other Rhône varieties. Rather than rip out the 11-year-old vines, we used a technique called T-budding, where a T-shaped cut is made and a bud from the new variety is placed in the graft. We grafted about an acre each to Grenache and Mourvèdre. Another advantage of grafting is that you don't have to wait four years for the vineyards to produce a crop. By the harvest of 2012, the new vines were producing a small amount of fruit and we made our first Grenache and a blend we call Tres, composed of all three of our Rhône grape varieties, Grenache, Syrah and Mourvèdre.
Debut of Our First Rhône Blend
Tres was an instant hit and became Mike's new favorite. It was the first blend we made on purpose (our dessert style wine was technically our first blend, but it started out as a Zinfandel that would never go dry – a story for another day). A major impetus for doing a blend was winemaker Ashley Herzberg, who had joined us in 2011. Our wines had always been single varietal from a single vineyard. That was what we did. But winemakers love to do blends and Ashley patiently talked us into making a GSM-style blend (Grenache-Syrah-Mourvèdre). Mike was prepared not to like it and it is now his go-to wine.
The Amista Wine Lineup – Focus on Rhônes
We now make four red wines from our estate-grown Rhône grapes: a Syrah, a Grenache and a Mourvèdre, plus Tres, our Rhône-style blend. In addition, we make two Rosés from our Rhônes: Rosé de Tres and Rosé of Grenache.
Why Stop at Red When You Can Make Sparkling?
Becoming the first sparkling winery in Healdsburg wasn't part of our plan, although to be honest, in those days we didn't really have a plan. It all started when we made our first sparkling wine in 2008, just five years after our first Amista harvest in 2003. Once again, Syrah was the star of our show.
Our first Rosé was made from Syrah and had become a big hit. In 2007, Chris (our consulting winemaker at the time) asked if he could have some of the current vintage of our Rosé of Syrah to use to teach his class at the junior college how to make a sparkling wine using the classic Methode Champenoise. This is the method used to make fine French Champagne. We immediately said yes, on the condition that we got to try the finished product.
When we tasted it, we knew we had to make more for ourselves and our friends. We sent one barrel each of our 2007 and 2008 Rosé of Syrah, to a custom crush winery specializing in sparkling wines. This is where the second fermentation in the bottle was done, transforming a still wine into a sparkling wine. We released it in 2009 at our first Sparkling Holidays party. Mike celebrated the occasion with what has now become a tradition at this party of opening the bottle with a saber.
Sparkling Wines from Non-Traditional Grapes
Our first sparkling wine was made with a grape that is never used in classic French Champagne, Syrah. Traditionally, Champagne and sparkling wines are made from Chardonnay and Pinot Noir grapes. The Australians make a bubbly called Sparkling Shiraz from the Syrah grape, but it is a very deep red color and slightly sweet. Our Sparkling Syrah is a rosé, glittering cranberry in color and quite dry.
Most of the grapes we grow on our own vineyards are Rhône varieties – Grenache, Syrah and Mourvèdre. Using those grapes rather than the classic Champagne varieties, is one of the ways we innovate. The other non-traditional approach we take is to produce sparkling wines from single vintages. Although we don't vintage date them, each bottling comes from a single year (except that first Sparkling Syrah). Most Champagnes and sparkling wines are blends from several vintages. We have the luxury of beautiful California weather, so we don't need to save the "good years" to blend with the bad.
We now have three sparkling wines made from single Rhône grapes: Sparkling Syrah, Sparkling Grenache, Sparkling Mataró (made from 100% Mourvèdre), plus two blends that are made in whole or in part from Rhône varieties: Sparkling Tres and Fusión (a blend of Chardonnay, Grenache and Syrah).
So, what is the best Amista wine? There is no one answer. We have fallen in love with Rhône wines, and we love them all. As a friend is fond of saying, "My favorite Amista wine is the one I have in my glass."
We invite you to put some in your glass. Come Taste with Us.