May 5, 2022 |
Vicky Farrow
A Beautiful, Energy Efficient, Solar Powered, Wine Tasting Space with a Secret Welcome Sign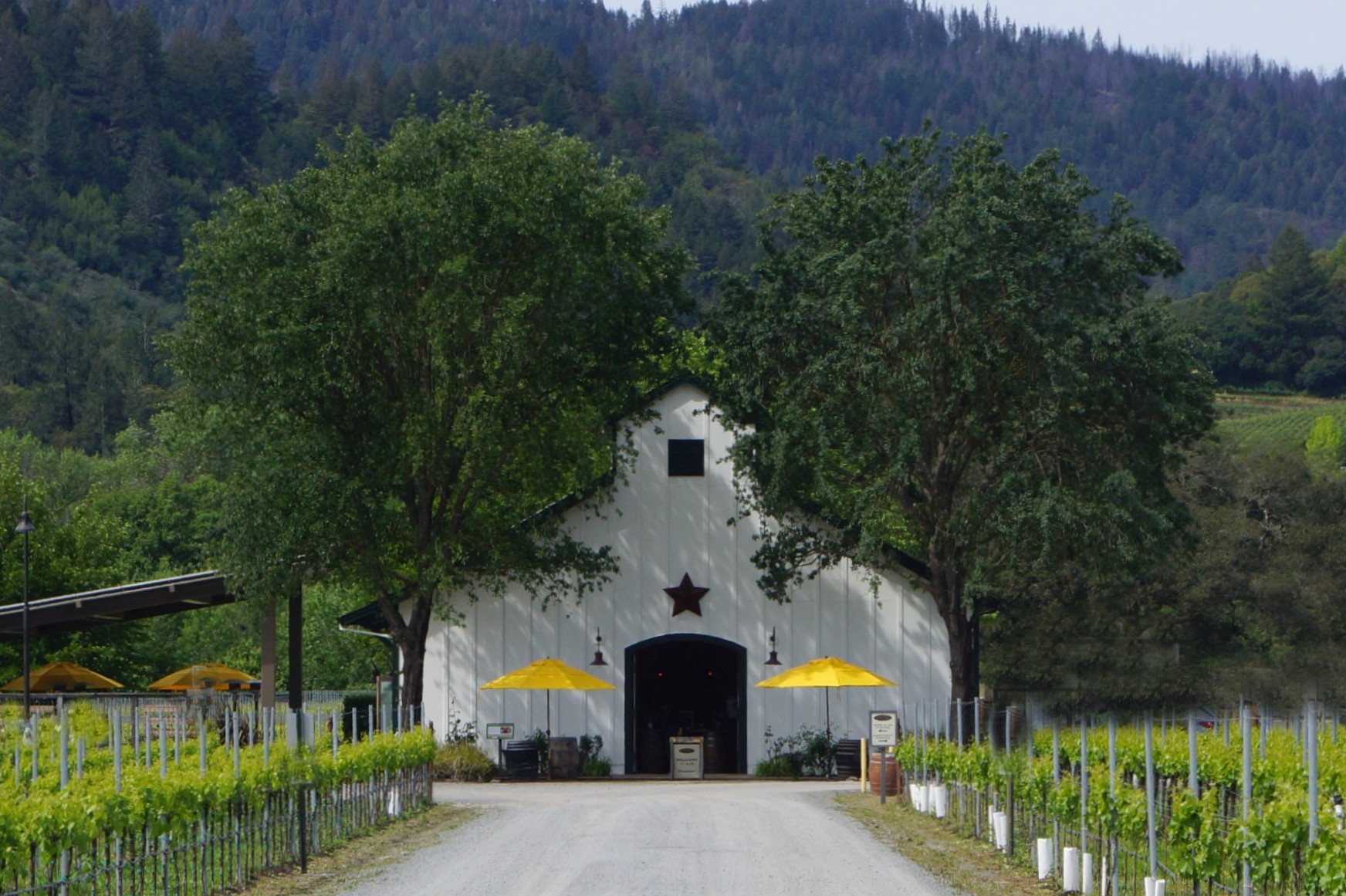 Five secrets revealed...
Painting it White
Paloma Blanca has arrived at Amista Vineyards! That's the name of the new color we painted our barn, which means White Dove. Gone is the sage color that made the building melt into the many shades of green on the hillsides behind it. I secretly wanted to keep it that way. I liked the fact that it blended into its environment. Brian, our estate director, had another idea. His vision was to create a modern farmhouse look. He was right. It provides a stunning backdrop for the indigenous Valley Oaks that frame the barn and our hallmark yellow umbrellas. It looks fresh; it pops; it's beautiful!
Creating a Place for Wine Tasting in Mike's Dream Winery
If our barn could talk, it would reveal a lot of secrets. Like the fact that it was originally designed to be a production facility. It has a concrete pad for crushing grapes. It has a big roll-up door on the "crush pad" side and huge double doors in the front that are sized for a forklift. It has a little back room that was supposed to be the lab, a drain running down the middle of the floor and a wine production-size septic system. It has lots of windows in the clerestory that were intended to bring natural sunlight into the production area. It was Mike's dream winery.
About halfway through the construction, I told him I thought it had a higher purpose. Since our property is in the very heart of Dry Creek Valley and only three miles from the charming village of Healdsburg, I wanted the entire building to become a tasting room. I figured we already had a place to make our wine at a local custom crush facility, but we desperately needed a place to sell it. And we needed a place to welcome guests and host our wine club members.
Without a tasting room, we had come up with the idea of hosting tasting parties in the homes of friends all over the Bay Area. The parties were a big success. We had fun telling our story in a casual setting, met a lot of new people, sold a lot of wine, and signed up a lot of club members. On the other hand, driving for two hours, hosting a party, and then driving home at night made for a long day. Plus, we couldn't even have a glass of wine with our new friends since we had to drive back home. It was not a long-term solution. And that's the story of how Mike's dream winery became a tasting room. He's always been a little sad about it, mostly because he never got his forklift!
Building an Energy Efficient Building
Another secret the barn would reveal is that is constructed of ICF blocks and the walls are a foot thick. ICF's or insulated concrete forms, are blocks with two layers of thermal insulation with space in between to fill with concrete. They are assembled as interlocking modular units that are dry stacked without mortar. The units lock together something like Lego blocks. Once the blocks reach a certain height, they are filled with concrete. The process is repeated until the full height of the building is achieved. The forms stay in place providing both insulation and strength.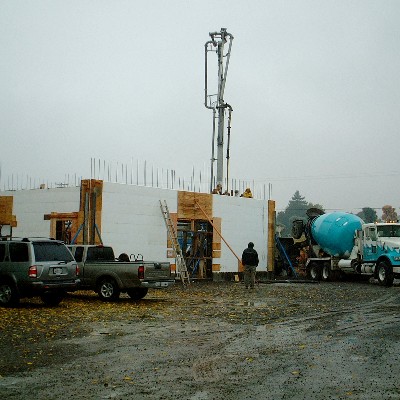 ICF's are more energy-efficient than most construction materials resulting in energy savings and reduced environmental impact. The thick, steel-reinforced concrete walls also protect against fires and earthquakes. Because of the energy efficiency of the walls and the carefully designed system that blows warm air out from vents at the top of the clerestory and draws cool air into the vents near the floor at night, there is no need for air conditioning. Of course, you must keep all the doors closed on warm days for this to work properly – a concept that would have been perfect for a production facility but maybe not so great for a tasting room where everyone wants to see the view!
Adding Solar at Amista
And the view is truly worth seeing – lush vineyards in the foreground with a backdrop of tree-studded hillsides revealing multiple layers and shades of green. People gravitated to the outdoor space, so we put up a large white tent to protect them from the sun.
The tent provided shade for over ten years, but I'm sure that our energy efficient barn secretly yearned for a more suitable partner. In 2020 we finally built a patio with a shade structure entirely covered in solar panels. We also added panels on the south-facing roof of the barn. The new solar system powers the tasting room, our home and all the wells on the property.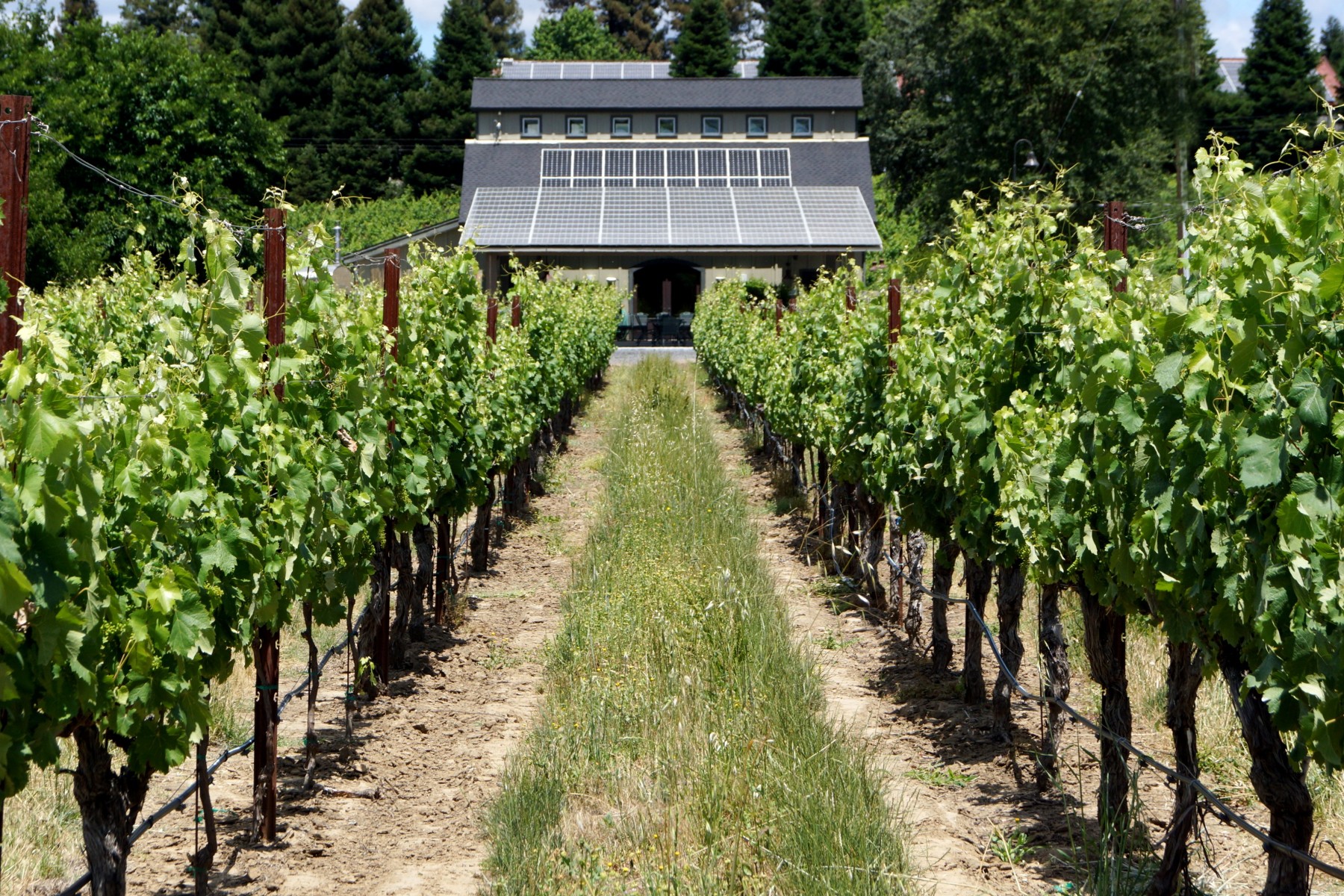 I wonder if the barn carries the secret of who came onto the property in the middle of the night and stole two tons of Mourvèdre grapes that were almost ready to harvest. But that is a story for another time!
Revealing the Secret Amista Welcome Sign on the Door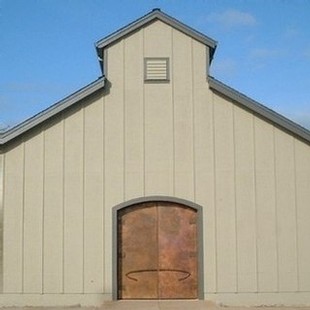 Our barn was completed in 2007, making it 15 years old. I wonder what other secrets it holds. It has certainly had its share of wonderful people coming through its massive copper (on the outside) and brass (on the inside) double front doors. The doors were a gift from my mother, designed and crafted by an artisan blacksmith in Berkely, California. The handles on the outside are in the shape of what I call the Amista "swoop", that surrounds the word Amista on our logo. The swoop represents arms opening, the perfect sign of welcome to Amista, which means making friends in Spanish.
One thing that is not secret is that the barn is the perfect setting for meeting new guests from near and far. It is the place where we welcome our members "back home to Amista". It is where we share delightful wine club celebrations, tastings, and dinners. And it is the "work home" for all the special people who are or have been members of our Amista team over the years.
If you've been before, come see us all dressed up in our new Paloma Blanca. If you haven't, you're invited to come taste with us and experience the warm welcome and gorgeous views for yourself.