March 2, 2023 |
Vicky Farrow
From Veuve Clicquot to Amista's Ashley Herzberg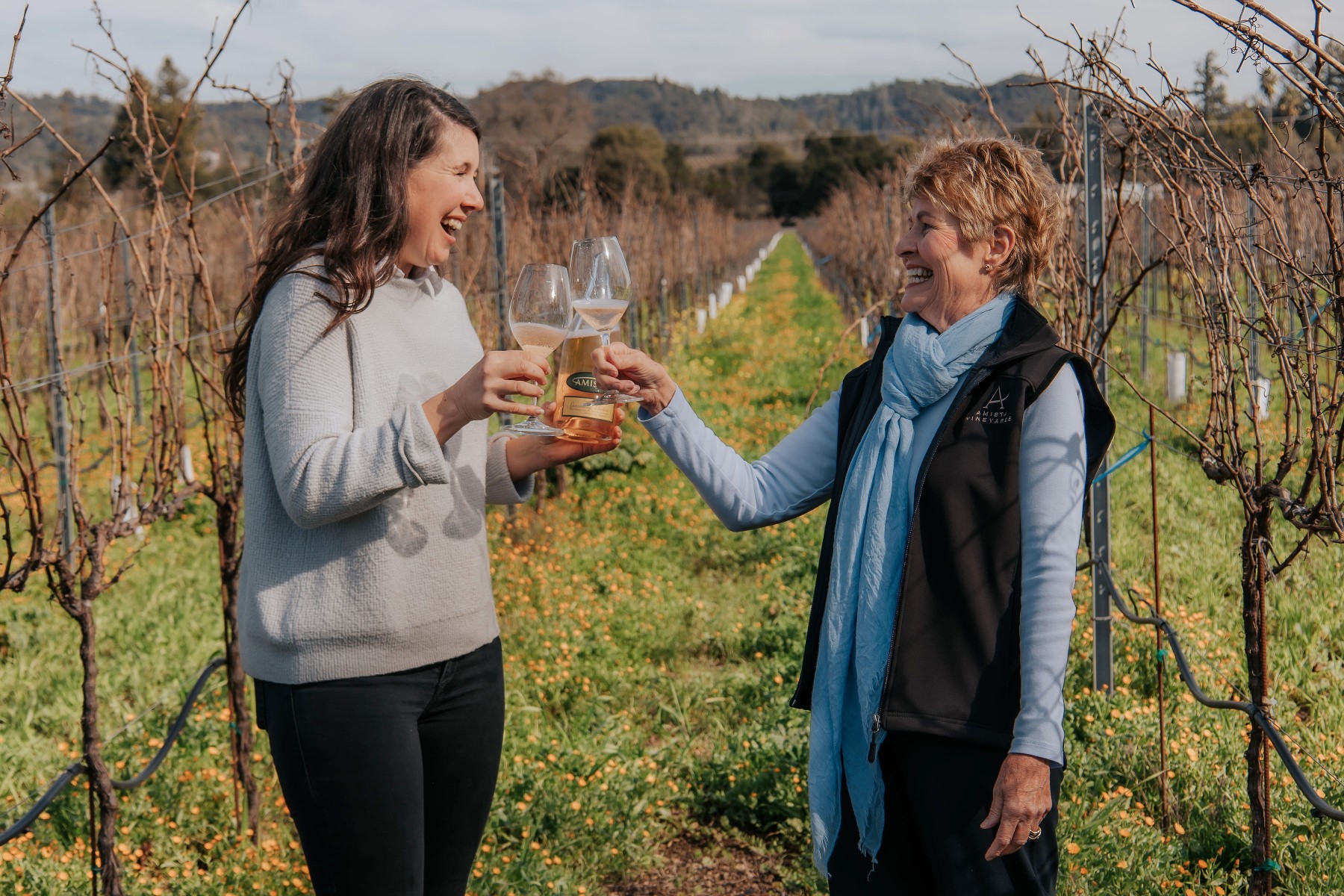 …a toast to the women of sparkling – past and present
I just read an excellent article titled "How three widows came to rule Champagne" about the women who created some of Champagne's most lauded empires. Although women were restricted from owning a business without the permission of their husband or father in 19th century France, widows were exempt from this rule.
Female Ingenuity in Champagne
"Some of the biggest innovations of Champagne came down to the ingenuity of several women…Barbe-Nicole Clicquot-Ponsardin, Louise Pommery and Lily Bollinger – among others – to turn vineyards into empires and ultimately transform the Champagne industry, permanently changing how it's made and marketed," writes Lily Radziemski in BBC.com's World's Table.
Bold Actions by Three Widows
It is good to be reminded of some of the bold actions of these three Champagne widows such as running the blockade into Russia to beat her biggest competitor to market before the borders opened, dramatically reducing the dosage (residual sugar) in her Champagne from the typical 300 grams per liter to what is now called Brut (12 grams or less) to appeal to the British market, or traveling alone across the U.S. to hand sell her Champagne to the American market.
Drawing Inspiration from Women's History Month
I'm inspired by these women who ignored what was considered acceptable for women at the time and daringly stepped in to manage and ultimately transform the businesses they inherited. "The independence and creativity of the three widows paved the way for generations of women to come," explains Radziemski.
Paving the Way for Today's Women in Sparkling
The conversations I have with women leaders in sparkling wine prove her point. I continue to be inspired by the women who are blazing new trails in today's business world. I enjoy the great privilege of having in-depth conversations with some of today's female leaders in sparkling wine through my new project, Sparkling Discoveries. [We include men as well, but given that March is Women's History Month, my focus is on women in this post].
Eileen Crane was hired as the winemaker for Gloria Ferrer, the first sparkling winery in Carneros, and discovered that in addition to making the wines, she would be responsible for constructing the winery and visitor center and launching the new brand. She went on to lead Domaine Carneros, starting one of the first wine clubs, pioneering the installation of solar at a winery and practicing "open book management."
Penny Gadd-Coster became a sparkling winemaker after two previous careers – one in research and the other in hospital emergency rooms. She was told countless times that she could never become a winemaker because, "People didn't think women should be in the cellar. The work was too physical," explains Penny. She went on to be the Executive Director of Winemaking at Rack and Riddle, a custom wine services operation that produces wines for hundreds of sparkling wine houses.
Joy Sterling, owner of Iron Horse Vineyards, had a successful career in broadcast journalism until on her 10th anniversary she abruptly quit her job and moved to Sonoma County with no plan and no experience, to join her family's sparkling wine business. She has become a master at creating new sparkling wines, often contributing part of the proceeds to causes that are dear to her heart such as the Marine Mammal Center (Ocean Reserve) and Redwood Empire Food Bank (Gratitude).
And speaking of close to the heart, I am fortunate to work alongside our woman winemaker at Amista, Ashley Herzberg, for the last 12 years and counting! She a trailblazer when it comes to winemaking, being the first woman to make a "grower sparkling wine" in Dry Creek Valley. She also manages to juggle being a busy winemaker, harvesting from multiple vineyards, working in several production facilities, making still and sparkling wines and attending numerous wine events, with being a dedicated mom to her two children. I am especially inspired by how she weaves together her work, her family, her friends and her community into a seamless life of constant learning, passion and delight.
Ashley and I are honored and proud to be part of a growing community of wineries in Sonoma County that are female led with female winemakers.
Read "How three widows came to rule Champagne"
Check out more Sparkling Conversations with other interesting people from the world of sparkling wine.