May 6, 2019 |
Vicky Farrow
With Help from Family & Friends!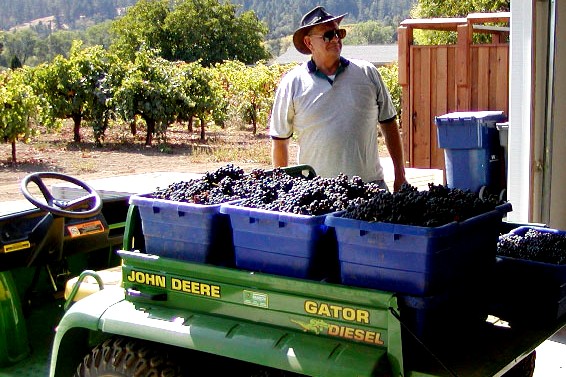 …and a little help from John Deere

We were finally able to move to our Healdsburg vineyard in June 2002. We had replaced half of the Chardonnay vines with Syrah in 2000 and the young vines were just starting to produce fruit. A true viticulturist would have advised dropping all the fruit and letting the vines mature another year. This is so the fruit will not compete with the vine reserves needed to develop the vines and root system. Well, Mike had other ideas. He wanted to MAKE WINE!
He harvested 3 tons – which sounded huge to me – to make wine in our garage. Mike's brother Bob and wife Anne came to help. Our neighbors also came to lend a hand and loaned us a small crusher/destemmer. Having a machine that crushes the fruit and removes the stems in one step not only saved us a lot of time but also results in better wine by making sure all the stems are removed.
We learned right away that Healdsburg is a friendly place and neighbors are always willing to pitch in. The friendly spirit of Dry Creek Valley turned out to be one of the most wonderful aspects of living in this special place.