June 2, 2022 |
Vicky Farrow
My Top Ten Tips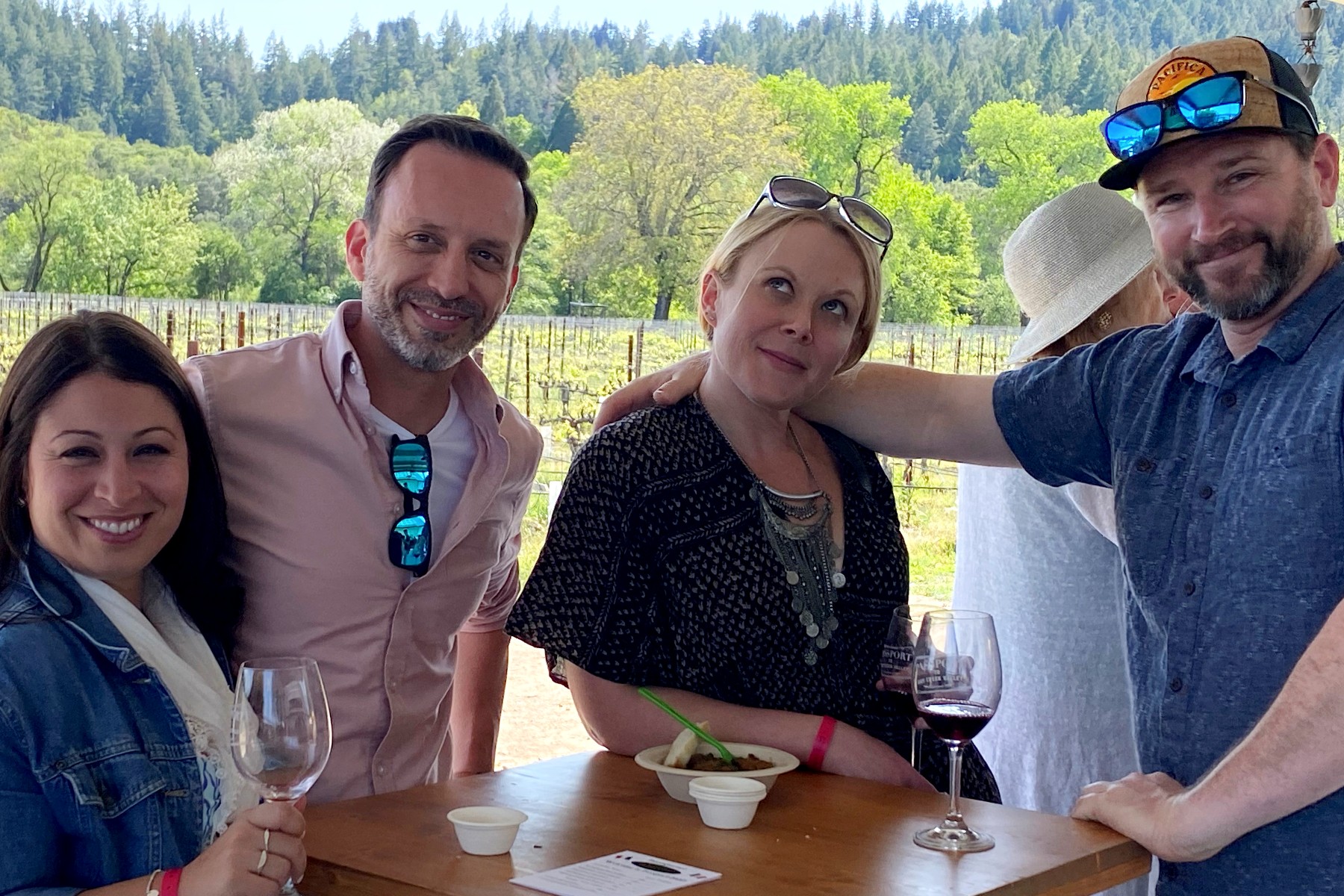 ...based on 20 years of Passport to Dry Creek Valley, the premiere wine and food festival in Sonoma County
I know I'm hopelessly partial, but my favorite wine festival happens right here in Healdsburg, California – where we live. It's called Passport to Dry Creek Valley® and even before we lived here and started our own winery, we loved Passport. Now we are hosts. I've learned a lot about wine events over the years being on both sides and asking the veterans who attend year after year.
Wine festivals can be magical weekends shared with a special person or a whole group of friends. Here are my tips for how to make them remarkable. But first…
What is a wine festival?
A wine festival is an event featuring wine tasting from many wineries all included for a single ticket. The event often showcases a wine growing region or varietal. I am partial to the ones that also include food. And I love the chance to meet the winemaker and owners.
There are two main formats. The first takes place all in one location. The second enables participants to travel from winery to winery.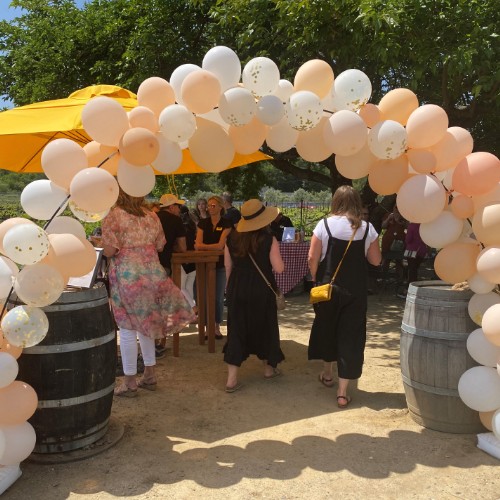 The focus of this post will be on events where participants visit the wineries. This is my clear choice since you can discover the personality of each winery by seeing it in its natural habitat – whether it be a warehouse, an urban storefront or surrounded by vineyards and breathtaking views.

So Why Go to a Wine Festival?
The logical reason is that it's an opportunity to visit and taste the wines of many wineries with just one ticket. But for me, the real draw is that these events are elevated from the everyday and have a festive atmosphere, which makes the perfect inspiration for a memorable getaway weekend.
Most festivals also include something you won't find by visiting at other times, special wine and food pairings, entertainment, education, barrel tastings, opportunities to meet the winemakers and owners, or access to wineries not generally open for tasting.
Here are my Top 10 Tips
1. Choose the event that's right for you.
Small event or large? Do you want an event with many wineries or something more intimate? If it isn't specified, call the organizers and ask the number of wineries and the typical number of tickets sold.

Where and what time of year? You might want to explore a region you've never visited. Wine festivals are held in all parts of the world. On the other hand, we know people who have fallen in love with a particular wine region or event and return every year.

What's your focus? - a specific varietal? food & wine? themes and entertainment? education?

What matches your style and budget? Some events include inspired food pairings by acclaimed chefs along with entertainment. Others are laid back and offer small bites or encourage you to bring a picnic.

2. Leverage your wine club memberships.
Take advantage of preferred wine club access. Many events require you to choose a starting winery where you check in to get your logo glass and event ID, usually a wristband. I suggest you start at a winery where you are a wine club member. You'll usually get special attention and a warm welcome. At our winery we invite club members to come early for a private hour.

Ask about early access to tickets. Sometimes wineries have access to tickets before they go on sale to the public. If you want to attend an event that usually sells out, this is a good way to guarantee your ticket.

Visit your wine club wineries before or after the event. Your wineries love to give you special attention, so take advantage of this while you're in town. It's a great time to arrange a private tasting, barrel sampling or a vineyard tour with the owners or winemaker. You'll most likely get to taste more of their wines since most wineries limit the number of wines they open for large events. This is also the best time to purchase - a quieter time where the staff can help you choose what wines you want take home. Of course, stop by during the event as well!
3. Go with people you really enjoy.
Some people like to attend with one special person - a spouse, a partner, a best friend. We have one couple that comes from New Jersey every year. Others like to get a group of friends or family together and make it a special occasion weekend. A group of seven couples comes every year for their annual wine buying weekend. You're going to be spending a lot of time together, so be sure you're compatible traveling companions!

4. Book your lodging early.
Event weekends bring thousands of people into the area and lodging is booked well in advance. Our regular Passport guests usually book next year's lodging while they're in town for this year's event. The event organizers often provide a list of local lodgings or if you're a club member of a participating winery, they can generally recommend places to stay.
5. Take advantage of ancillary events.
Some festivals have events before and after the main event. These are often more intimate and tailored to special interests. Passport to Dry Creek Valley offers vineyard tours, winemaker dinners and lunches. This provides a great chance to meet growers, winemakers and chefs and ask questions. Some events offer a reserve or library tasting prior to the event - an exclusive opportunity to taste wines that wouldn't otherwise be available. Special seminars on such topics as wine glasses, food pairings or blending wines may be available. Of course, my favorites are the winemaker dinners and luncheons that are sometimes a part of wine festivals.
6. Know what you like and plan accordingly.
Are you the type that likes to get in the car and see where it takes you, in other words, "the best plan is no plan"? Then that's the plan! If you'd rather have an itinerary, take a look at the maps and printed event materials and lay out your game plan in advance. If you have members of both camps in your group, let the planners do one day and the "play it by ear" types be in charge of the other. You might want to choose a focus for the day - just whites or reds or sparkling wines - our speciality!
7. Explore - go to some wineries you've never visited.
One of the wonderful benefits of these events is that you have access to many wineries for just one price. So there's no risk in trying a few wineries you've never visited. If you don't like the vibe or the wine, you can cut short your visit and move on to the next winery. The prize is that you might discover a wonderful gem.
8. Ask for suggestions.
Before the event, ask friends who've been before. Don't hesitate to call the organizers. They are usually very well informed and helpful. You can also call the participating wineries to ask questions or get advice. During the event, guests often plan their second day based on recommendations from other participants on day one. We frequently hear people asking other guests about their favorite stop and we often have people come on Sunday who said we were recommended by someone who had visited us on Saturday.
9. Pace yourselves.
Eat something before and along the way. Wine on an empty stomach is not a great pairing.
Don't try to visit every winery (unless it's a small event).

Minimize driving time by optimizing your route. Either plan it out in advance or drop in to several wineries in the same area.
Take a break. Many wineries have places to sit, relax and enjoy the wine, the food and the beautiful setting.
Taste responsibly. Those little tastes can sneak up on you. If you visit 8 wineries in a day and taste 5 wines at each, you'll consume eight glasses of wine! So don't feel compelled to taste every wine or to finish every taste.
Wineries provide "dump buckets" to pour out any wine you don't want. Some people think we are offended if you pour out part of your taste. On the contrary. in fact, we are not allowed to pour wine for anyone who appears to be intoxicated - even if they're not driving.
Finally, drink lots of water. You'll find water at every winery and it's also a good idea to bring some along to have between stops.
10. Book a driver.
You may want to treat yourself to a limo for the weekend. The drivers (usually) know the area so you don't have to worry about finding your way. Everyone is free to relax and take in the beauty of the area. You'll also be delivered to the front door of each winery and the driver will take care of the parking. The other option is to designate one member of the group as the driver. Many wine events offer a designated driver ticket at a reduced price so the driver can enjoy the food and entertainment while abstaining from the wine.

2022 Passport to Dry Creek Valley
We were overjoyed to host Passport this year after a two-year hiatus. The guests seemed even more ecstatic to be back. The mood was festive and friendly. We featured two of our estate-grown Rhône inspired wines, a 2020 Grenache and 2018 Syrah. They were both big hits. A huge "hunk" of Parmesan, aged 24 months, made a great partner with the Grenache. And the Syrah was the perfect match for braised shortribs with polenta, from our wood fired oven.
For our club members and declared sparkling lovers, we offered entry to the "bubble lounge" where our guests could try the newest addition to our collection of sparkling gems, Sparkling Tres. It is made from three Rhône varieties, Grenache, Syrah and Mourvèdre.
Amista Vineyards
Amista means making friends. Our family-run, boutique winery showcases estate grown
sparkling wines
and
Rhône varieties
paired with a friendly welcome.
Wine festivals give us a chance to welcome lots of new friends to Amista. It's all hands on deck – every member of our team and lots of extras. Despite the hard work, we have our own magical weekend!
Vicky and Mike Farrow

If you come to any of the wine events in our area, we invite you to visit Amista just outside the charming town of Healdsburg, California. We'll be standing out front welcoming you or meandering through the crowd.
Or come Taste with Us any time!