July 5, 2021 |
Vicky Farrow
Here's How We Do Dosage Trials at Amista Vineyards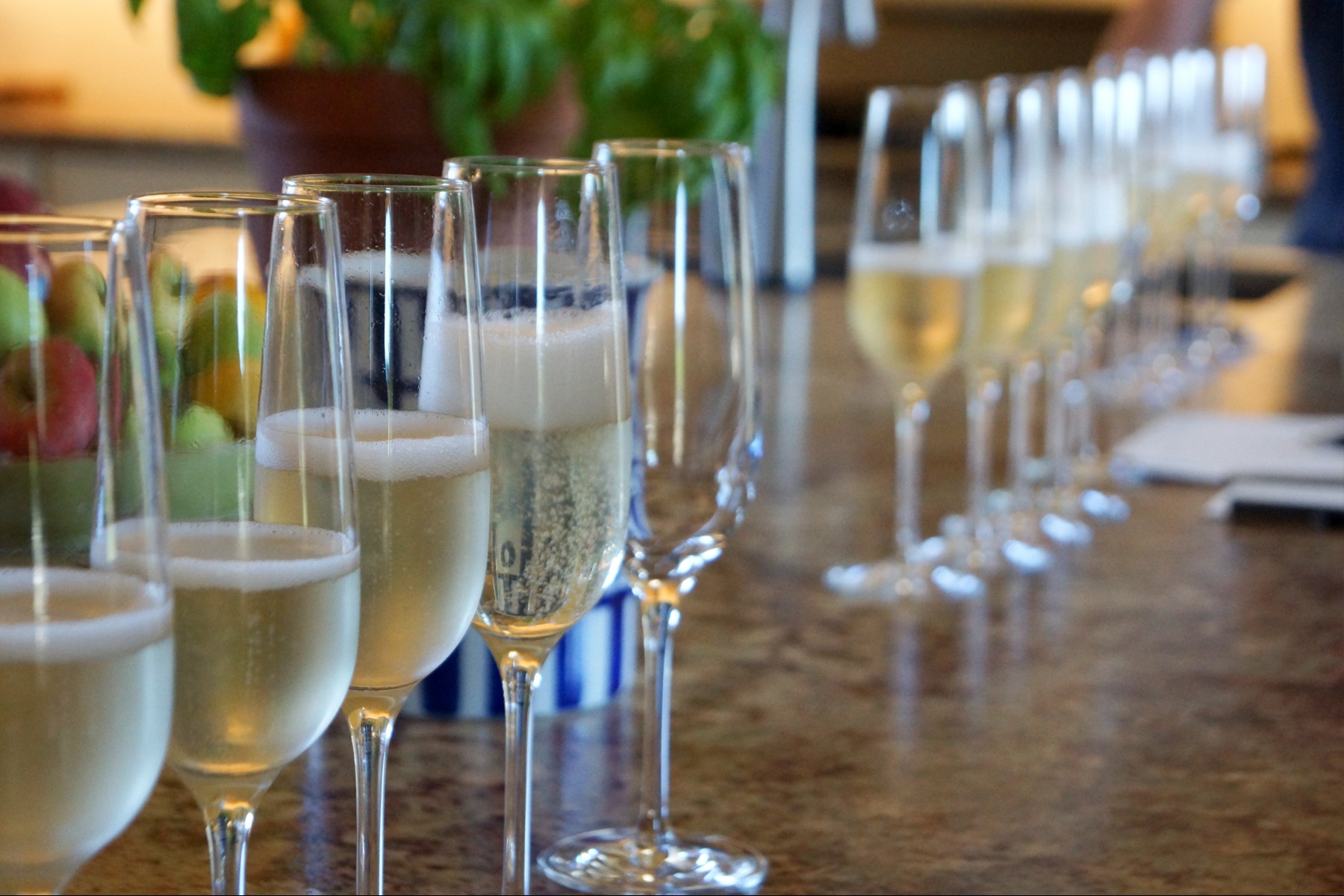 ...and it's the most fun part of my "job"!

The dosage is added to the finished wine to "top up the bottle" just before inserting the cork. Dosage is just a fancy word for the addition of a sugar syrup or liqueur. A dosage trial is done to determine the level of dosage to add to a sparkling wine to help balance the acidity and showcase the natural flavors. Here's how we do it.
Assemble a group of tasters who love bubbles (easy). We always gather in our kitchen around our big island.

Prepare five – sometimes six – bottles of one of our sparkling wines, one bottle of the base wine and each of the others with a different level of "dosage". We leave this to winemaker Ashley Herzberg (hard).

Line up the appropriate number of glasses in front of each taster and pour one of the samples into each glass (easy).

Sniff each sample and make notes about the aromas. This step is supposed to be done in silence (hard). If we're tasting just one sparkling wine, we pretty much follow the rule. If we're doing three or four, not so much!

Taste each glass and make notes of the flavors and the way the wine feels in your mouth. Again, in silence (hard).

Winemaker Ashley Herzberg then calls on each of us to share our notes, and pick the sample we think is best, reminding us there are no right or wrong answers (hard).

Then we all discuss the samples and try to come to a consensus on which one achieves the perfect balance of acidity, flavors, and mouthfeel. Surprisingly, we almost always reach agreement (easy). In those rare instances where we don't agree, we all agree that the final decision rests with winemaker Ashley!
Note: Watch Ashley's video showing how the dosage is done