March 25, 2022 |
Vicky Farrow
The Stories of What They Did...

...…and the lessons I learned from them
Let's raise a glass of bubbles and celebrate women, wisdom and wine! There are many bright female threads woven through the evolution of Amista Vineyards - women who have made a profound difference in our journey. Yes, there are men who have had an important impact as well, but that's a story for another time.
Sometimes I am amazed that we have gone from making wine in our garage to becoming the first grower sparkling wine house in Healdsburg with a thriving tasting room and a vibrant wine club. I am deeply grateful for all the friends who have supported and guided us along the way.
This is Women's History Month and today is National Women in Wine Day, a perfect time to say thank you to seven women who have touched our lives, especially mine. Here are the stories of how they shared their wisdom, made a lasting difference and the lessons I learned from each of them.

One Small Step for a Woman, One Giant Leap for Amista
When the idea to start Amista was still in its infancy – we had our first wines in the barrel but nothing yet in the bottle – we decided to sign up to host a vineyard tour at Passport to Dry Creek Valley, the premiere wine and food event in Sonoma County.
My friend Meg and her husband Dale flew out from Colorado to attend Passport with us and help us with the vineyard tour. Meg helped me make cookies and quiche to serve for the morning tour but that wasn't the small step that had such a lasting effect on Amista.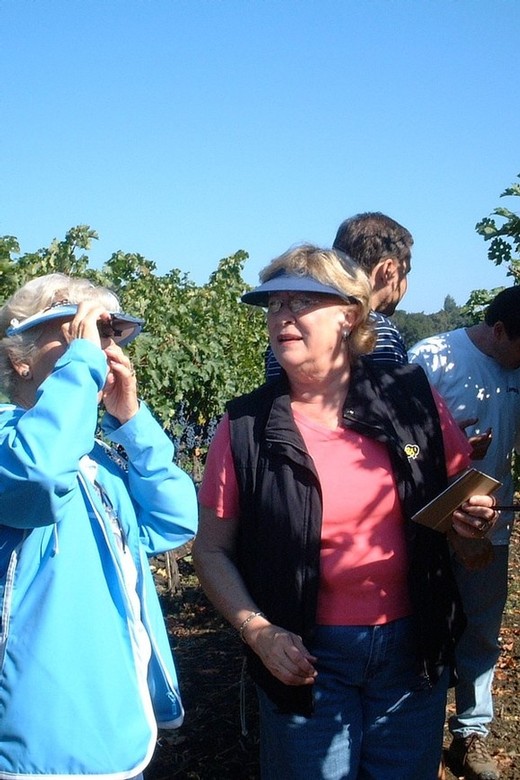 Meg proposed that we have everyone who attended the tour sign up for our mailing list. Mailing list? We didn't have one. It hadn't occurred to me.
At the time, my husband Mike was the one with a passion for making wine. I was busy doing executive coaching and consulting and hadn't given much thought to building a wine business.
Meg's simple idea led to ongoing friendships with a whole gang of people and their friends who showed up at that first vineyard tour and signed up for our brand new mailing list.
They've truly become part of the family – having barbecues at our home and brunches at the winery, joining our wine club, celebrating their marathons, their birthdays, and their family reunions either at Amista or with Amista wines in their glasses. We've watched their kids grow up and some of their moms and grown children join our wine club.
In retrospect, it is astonishing and a good reminder that sometimes a seemingly simple act can lead to such a huge impact. You can read the whole story about the gang of friends we met at Passport in another post, "The Best Wines are Those Shared with Friends."
Passion Over Price
I'll never forget the day we bottled our "Garage Syrah". My mom, Lori, and her husband Don drove from their home in Arizona to help. We had a dozen people gather in our garage one overcast, rainy day in December where we made quick work of bottling three barrels of 2002 Syrah, the very first wine Mike made from our new vineyards in Healdsburg, California.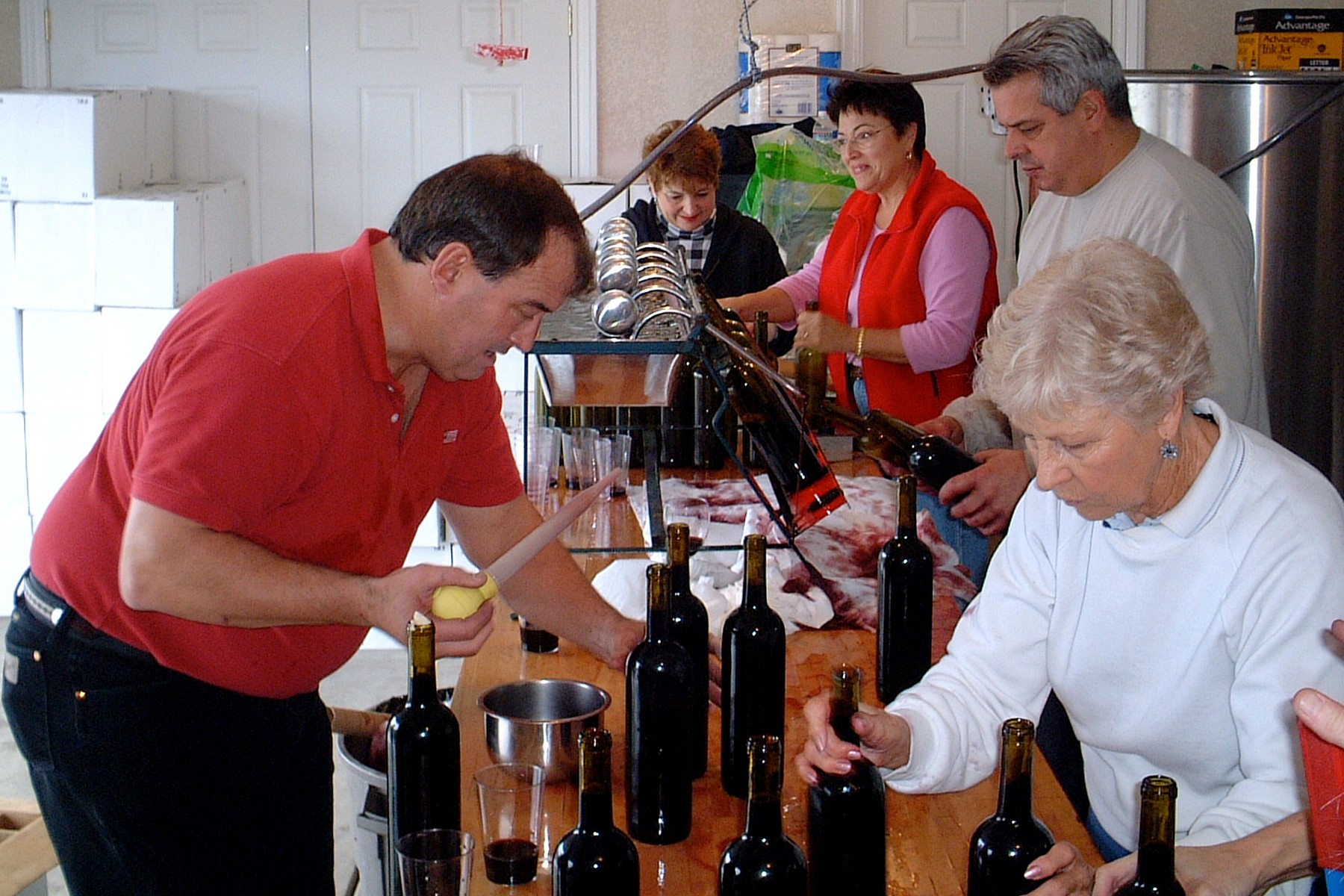 We let everyone take home several cases of wine to thank them for their help. Most couples took two to six cases. My mom sheepishly asked if she could take ten. At that time, she and Don weren't that much into wine, so I was surprised but secretly pleased. They had so much wine in their trunk that their luggage had to go in the back seat!
About five weeks later I was talking with my mom on the phone, and she was raving about how much they liked the "Garage Syrah" and sharing it with their friends. "The only problem," she admitted, once again somewhat sheepishly, "is that we ran out." I couldn't believe they had already gone through 10 cases. She explained that there were a lot of gatherings in their neighborhood, and our wine was a big hit.
I know, I know, you're probably thinking the fact that it was free is what made it so popular. There is some truth to that, but what I've learned over the years is that much more important than the price of the wine is the genuine enthusiasm of the person who is offering it. For the rest of her life, my mom remained our biggest fan and cheerleader.
You're Both Right!
Winemaker Ashley Herzberg joined us in 2011, although she had worked with us and our wines for nearly four years as assistant winemaker at a custom crush facility where we make our wines. She had already gotten to know us when she approached us with the idea of becoming our winemaker.
Ashley had decided to strike out on her own as a consulting winemaker, in part for a new challenge and in part because she wanted the flexibility to be a mom. We were thrilled! Secretly we hoped she already had an idea of what it would be like to work with owners who are husband and wife and still learning the wine business.
Her first act was rescuing a problem Zinfandel that we had all but given up on. It started with a stuck fermentation (meaning the wine would not go dry and remained at about 6% residual sugar). We tried suggestions from anyone who knew anything about winemaking, but nothing worked. We then decided to blend it with Syrah, which didn't fix the problem, it just doubled it!
Ashley proposed making a dessert wine from the sweet red blend – "if you can't fix it, feature it" – by adding a dose of brandy. We decided to call it Ilusión, the Spanish word for illusion, because it took a bit of Ashley's magic to transform a mistake into a delightful wine.
What she might not have known before she joined us is that Mike and I don't agree on much of anything, at least initially. In fact, the more difficult the situation, the more vociferously we disagree on the path forward. Ashley was often caught in the middle, but her calm demeanor and confidence have been among her greatest gifts to us.
Her typical response after patiently listening to our opposing points of view is, "You're both right." Then she proceeds to craft a solution that considers both of our perspectives…or is it just the path she envisioned all along?
There have been so many challenging situations where she has helped us navigate a solution - finding a way to reinvigorate our vineyards that were slowly failing, figuring out what to do after a middle-of-the-night theft of 2 tons of our Mourvedre crop and scrambling to pick as much fruit as we could before the smoke from the 2020 fires affected the grapes.
She is a talented, hard-working, creative winemaker and we are grateful every day for her abilities. I've learned a lot about winemaking from Ashley, but not enough to be one, even on TV. What I have learned from her is that patience, creative problem-solving and the attitude of "Yes, and" rather than "Yes, but…" are the secrets to success.
The Yin and Yang of Business
"Goals - we don't need no stinkin' goals." That was us when we first started. We didn't even have a goal to get into the wine business; it just unfurled.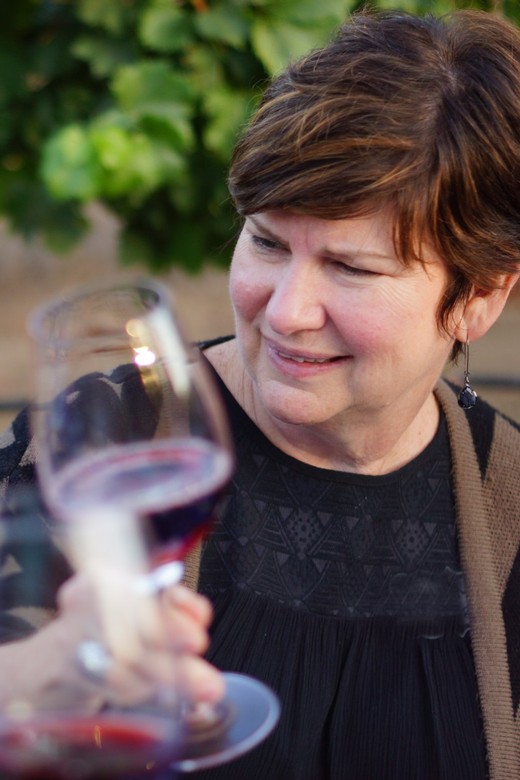 Thankfully, I met Tammy Boatright, the woman who taught me the value of setting goals, measuring results, and monitoring key metrics (Key Performance Indicators) on a daily, monthly, and yearly basis.
I knew how to do this in my corporate and later my consulting life, but the wine business felt so different to me, and I was in so far over my head in the early days, it didn't occur to me to use the tools I already had in my toolkit.
It was my good fortune to meet Tammy as part of a roundtable for women in the wine business. She was my informal sounding board on the business side of wine for several years before she started her own firm helping wineries with a DTC focus (DTC or Direct to Consumer is selling directly to customers rather than selling through distributors). I may have used Key Performance Indicators in my past lives, but I had no idea of how or what to measure in a wine business. Tammy did!
One of the tools her company offered was a simple dashboard with the five key metrics that are most critical to a successful tasting room. The dashboard drew directly from our systems, so there was nothing required on our part except we had to set goals for the dashboard to work.
Setting goals was a game changer for me and my team. Now we had something to shoot for. We could celebrate when we met our goals and figure out what changes to make when we didn't.
Tammy isn't all about Yang (strategy, focus, drive, and ambition). She is equally good at the Yin of business (creativity, intuition, compassion, and empathy). She helped me develop creative solutions and innovative ideas for wine clubs, unique offers, staff incentives and even merchandise.
Her intuition is remarkable. She could walk into my tasting room and tell if the energy was positive or if something was off. Typically, she saw it first in the numbers, for example our sales were down, and then she would "feel" it when she walked through the door.
Running a business is lonely and Tammy has been a valuable and trusted advisor. She tells it like it is and when she senses something is wrong, she lets me know. Then she helps me figure out what to do. The lasting and most precious gift Tammy gave me is the consistent practice of setting goals, measuring results and at the same time tuning into the "feel" and the energy of our business.
ABC – Anything but Chardonnay
One day in June of 2004, we invited our club members for a Barrel Tasting party. In the Fall of 2003, we had harvested our first grapes for Amista Vineyards. We brought in Syrah from our estate vineyards and Zinfandel and Cabernet Sauvignon from neighbors in Dry Creek Valley. We were excited to share our new creations with our founding wine club members. We all went to the winery where we were making our wines and tasted the young wines from the barrels.
Then we came back to our house – our winery building was only an application on paper at the time – for a barbecue lunch. As we were sitting around after lunch, two of my friends and club members, Janice and Cheryl, gazed out over our acres of Chardonnay vines and asked, "Why don't you make Chardonnay?"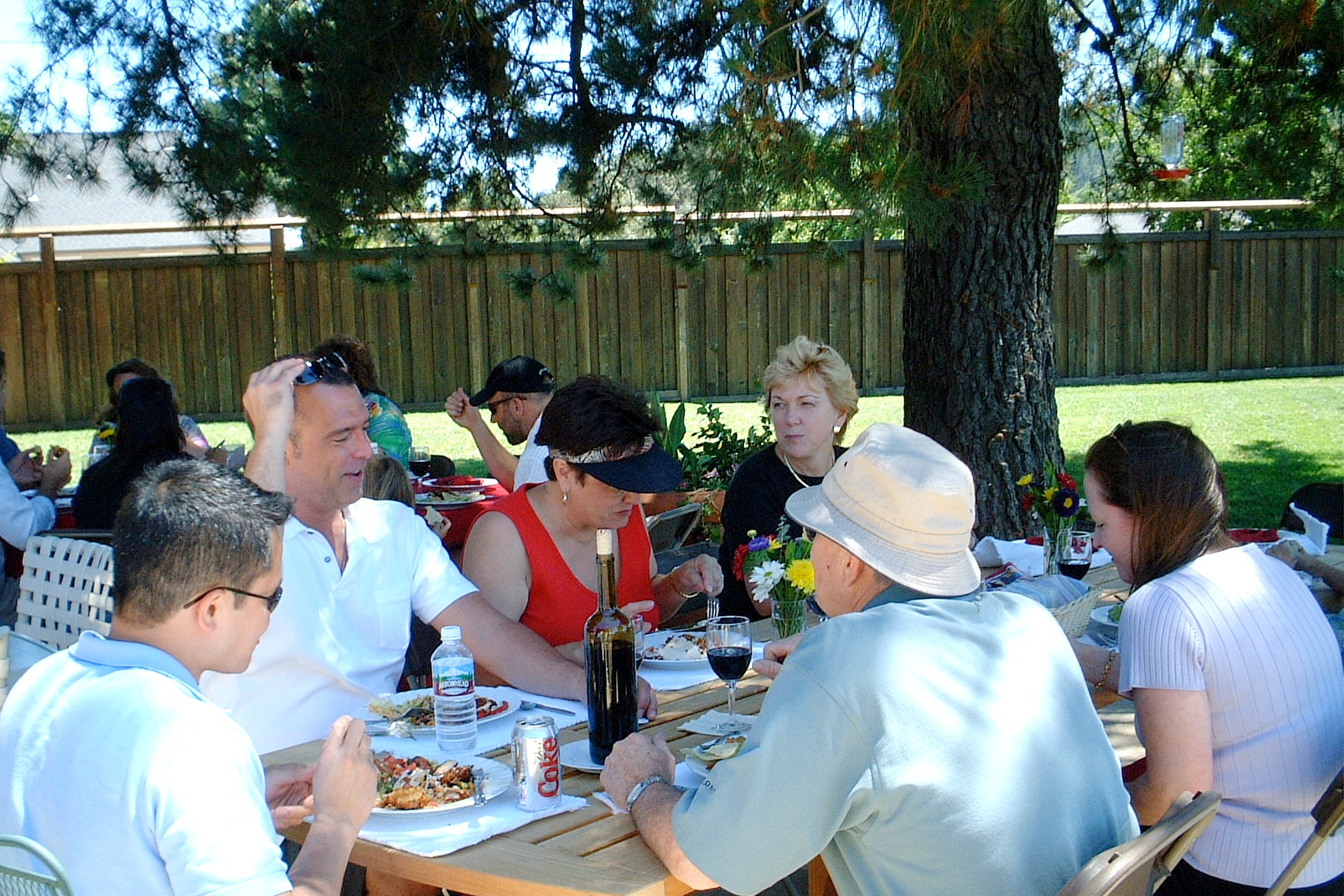 I answered, "Because we don't like Chardonnay!" Their retort, "But we do!" So I asked them, "If we make it, will you drink it?" and they answered with a resounding yes. I was just barely starting to get the hang of the wine business at this point, but at least had the sense to ask, "Will you buy it?" Once again, I was met with a resounding yes. The next year we harvested Chardonnay from the blocks right outside our bedroom windows and have been making it ever since.
To be honest, the reason we didn't care for Chardonnay is because we had only tried the heavily oaked, buttery Chardonnays that were popular in California at the time. We agreed to make it if we could find a style we liked. That led to several months of trying various Chardonnays and discovering that we didn't have to ferment in new oak barrels. We could ferment in stainless steel or neutral oak barrels – those that had been used for several years – thus imparting no oak flavor to the wine.
We decided to make a more Burgundian style Chardonnay and ferment in neutral oak barrels. Mike had great fun using four distinctive yeasts, each offering a slightly different flavor component to the wine and then blending them all together. The result was a bright Chardonnay that let the fruit – rather than the oak – shine through and offered layers of complexity from the different yeasts.
I am quite certain that without the prompting from Janice and Cheryl, we would have never made a Chardonnay. My lesson learned was to listen to our customers and at the same time, be true to ourselves.
The Art of Creative Combinations
We had just released our first wine in the late summer of 2005, when I was invited to pour at a reception in Oakland at a conference for women in business. I had only one wine to pour, our 2004 Chardonnay since our red wines were still in barrel.
I had never poured wine at an event in my life, but I was the logical choice because it was a women's event. The Chardonnay was a big hit, and I collected a whole bunch of business cards from the women who tasted.
Best of all, I met a women named Hallie, who has touched Amista in countless ways since that fortuitous reception. Her first act was born of her passion for good food and her gift of making splendid combinations. As we talked and she tasted, she wrote out a recipe for "Hallie's Roasted Garlic & Onion Jam Crostini." She thought it would pair well with our Chardonnay. It does!
Her next act was introducing us to her friends and colleagues who came to our Amista launch parties, joined our founders wine club, came to our events, and bought our wines. She is always full of creative ideas and connections. She even found a fabulous private chef, Cindy, who catered some of our first tasting parties and founders' event.
Later Hallie and the Cindy cooked up a fashion and wine pairing show with Susan, another of her friends who did trunk shows. Susan chose five outfits each for a different occasion like a Girlfriends Holiday Luncheon. Cindy created a menu for each occasion, and I paired each menu with an Amista wine. As the models showed off each outfit, we described the occasion and the menu while the guests sipped on the wine.
One of my favorites was a casual outfit for a Game Day Tailgate Party. Here is the menu, which I last looked at in 2006. It still sounds delicious!
Grilled Flatbread with Sun-dried Tomatoes, Basil, and Goat Cheese
Crostini with Fennel Sausage and Taleggio
Spicy Chicken Taquitos with Smokey Paprika Sauce and Pickled Onions
Barbecued Country-Style Ribs with Dry Spice Rub and Tangy Barbecue Sauce
Central American Black Beans and Rice with Cilantro and fresh Ginger
Amista Vineyards 2003 Zinfandel, Dry Creek Valley
And speaking of delicious, Hallie and my husband Mike once did a wine club event we called Battle Pizza. Hallie taught everyone how she makes pizza dough and then created an artisanal pizza. Mike made a more traditional pie and they baked up both in our wood fired oven. Then everyone got to enjoy the results. It was great fun.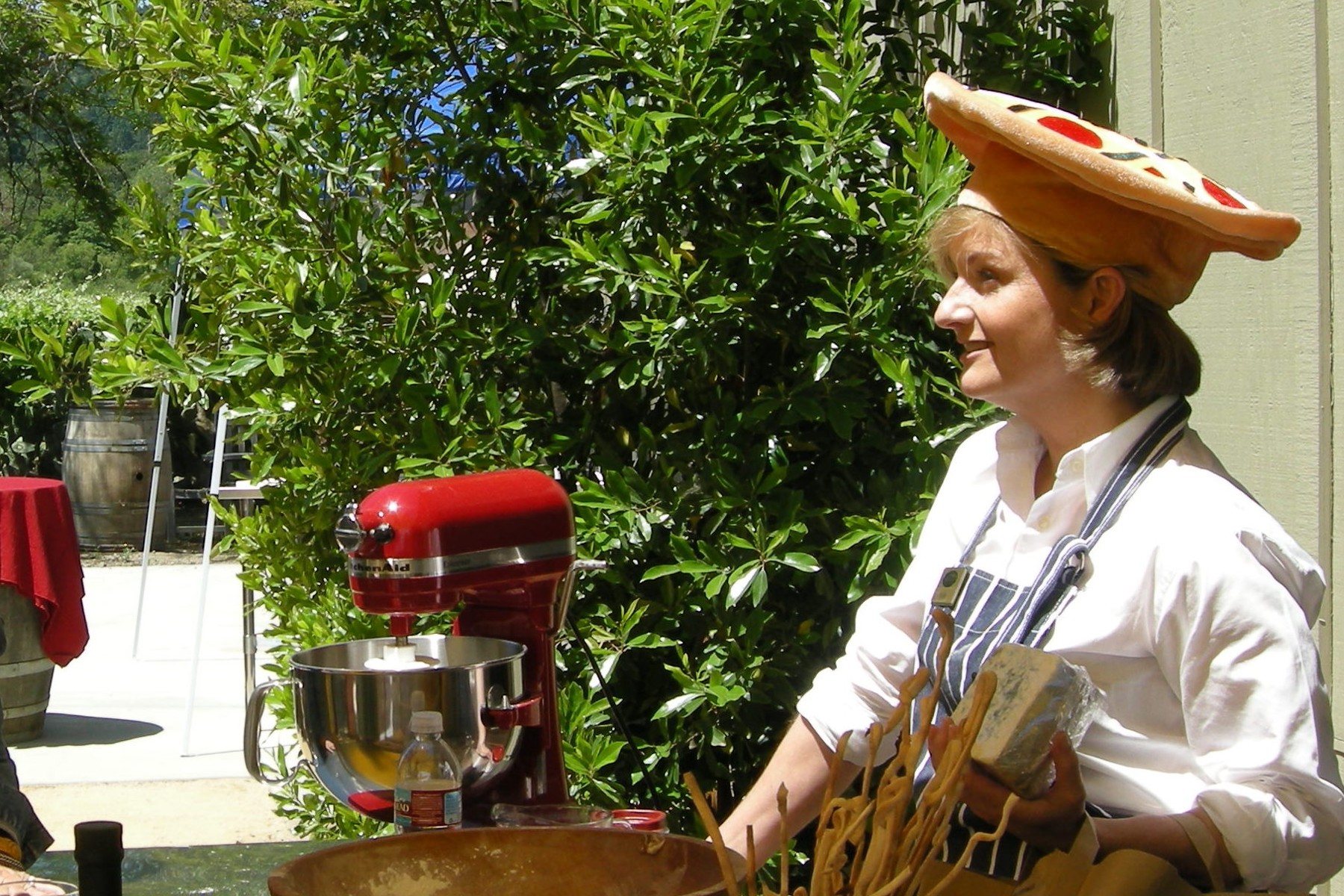 What I've learned from Hallie is the art of creative connections. Her imagination shines through in bringing together combinations that wouldn't occur to everyone – foods, wine, projects, and people.
The Tin Woman, the Scarecrow, and the Lion
Amista, roughly translated, means making friends in Spanish. That is how our Hospitality Manager, Tammy Toth came to Amista, through one of her daughter's friends who saw our ad and said, "This is the perfect job for your mom."
Tammy embodies everything that Amista stands for – friendly, bubbly, engaging, and approachable. She joined us in April 2017 and has turned out to be the heart and soul of Amista. She is genuinely curious and interested in everyone who comes through the door – guests, club members, team members and partners, (even owners!) – and makes everyone feel welcome. She also has a great sense of humor. Tammy is on the right in the photo below, beneath our 200-year-old oak.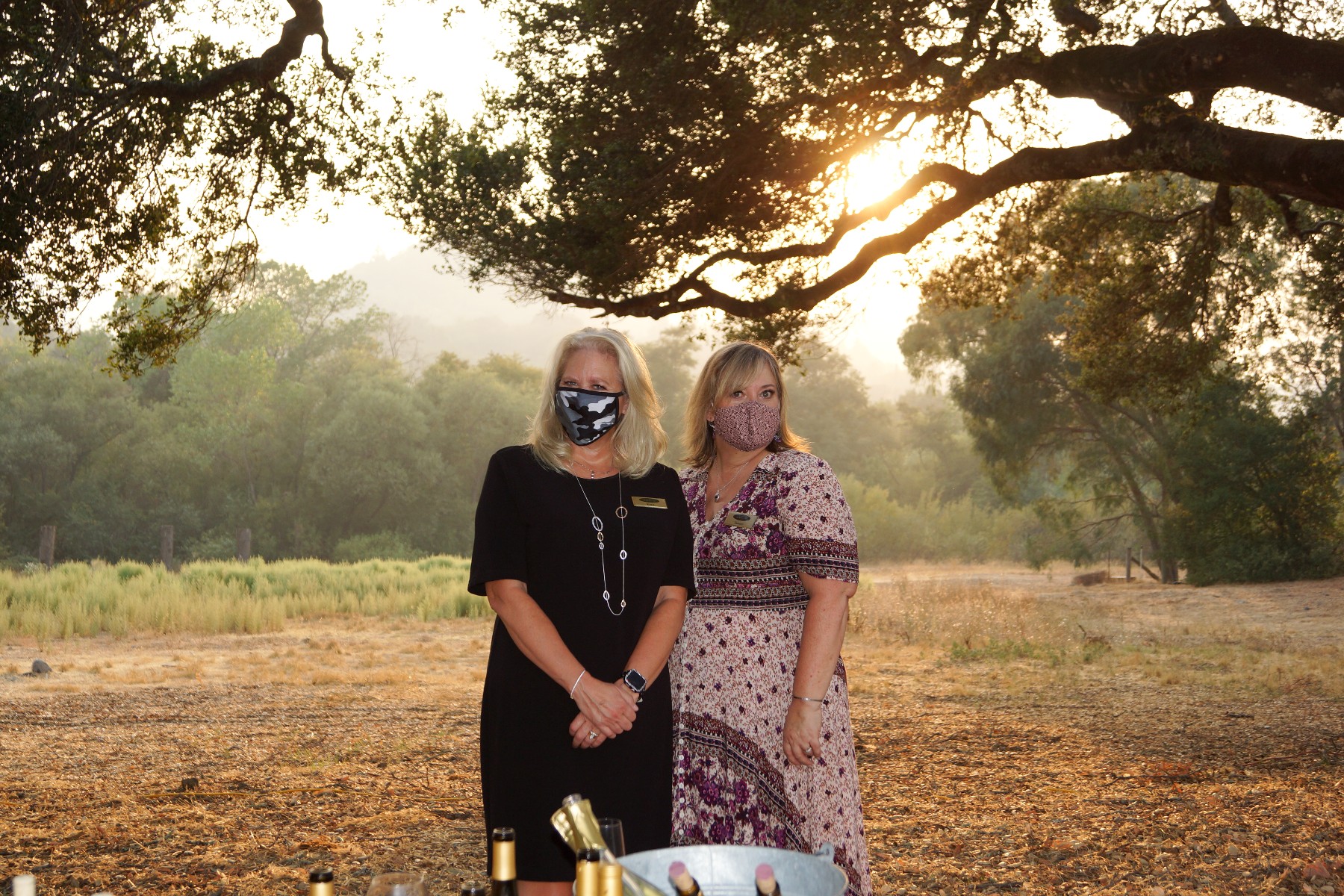 She has an astute business focus and drive to succeed. She is always first to check the numbers and see how we are doing against our goals and the benchmarks. She is constantly looking for ways to improve results, helping her team achieve their goals and celebrating their successes.
She puts their success ahead of her own and cares deeply about each person, encouraging them to constantly push themselves, not only to be more successful but to be more fulfilled (even when that means watching them leave Amista for their next adventure).
It's rare to find the combination of a great hospitality person who also has a fierce focus on business success. It's even more rare to find a leader who also has the courage to stand up for what's right – for the business and her people. Tammy is someone I can count on to have the most difficult conversations with me about things I honestly wish I didn't have to hear but need to know.
Tammy embodies the combination of what each of the characters in the Wizard of Oz was searching for. She has heart, she has brains, and she has courage. This combination is what results in her attitude of finding the good, the positive and the hope in every situation.
I'd like to say that I've learned these lessons from Tammy. The truth is that remaining positive and confident in the face of adversity is sometimes a struggle. What I know is that I have a lot of wonderful women around me who will help if I have the courage to ask for their advice and support.
Thank you to these seven wonderful women and all the others in my life who've had an impact on me and Amista Vineyards.
And cheers to all the women in wine on this second annual Women in Wine Day - click the link and scroll down to see Ashley and me stomping grapes!