March 3, 2022 | Sparkling Moments in Wine | Vicky Farrow
5 Secrets of a Sparkling Winemaker
How Ashley Herzberg led Amista Vineyards to Make Sparkling Tres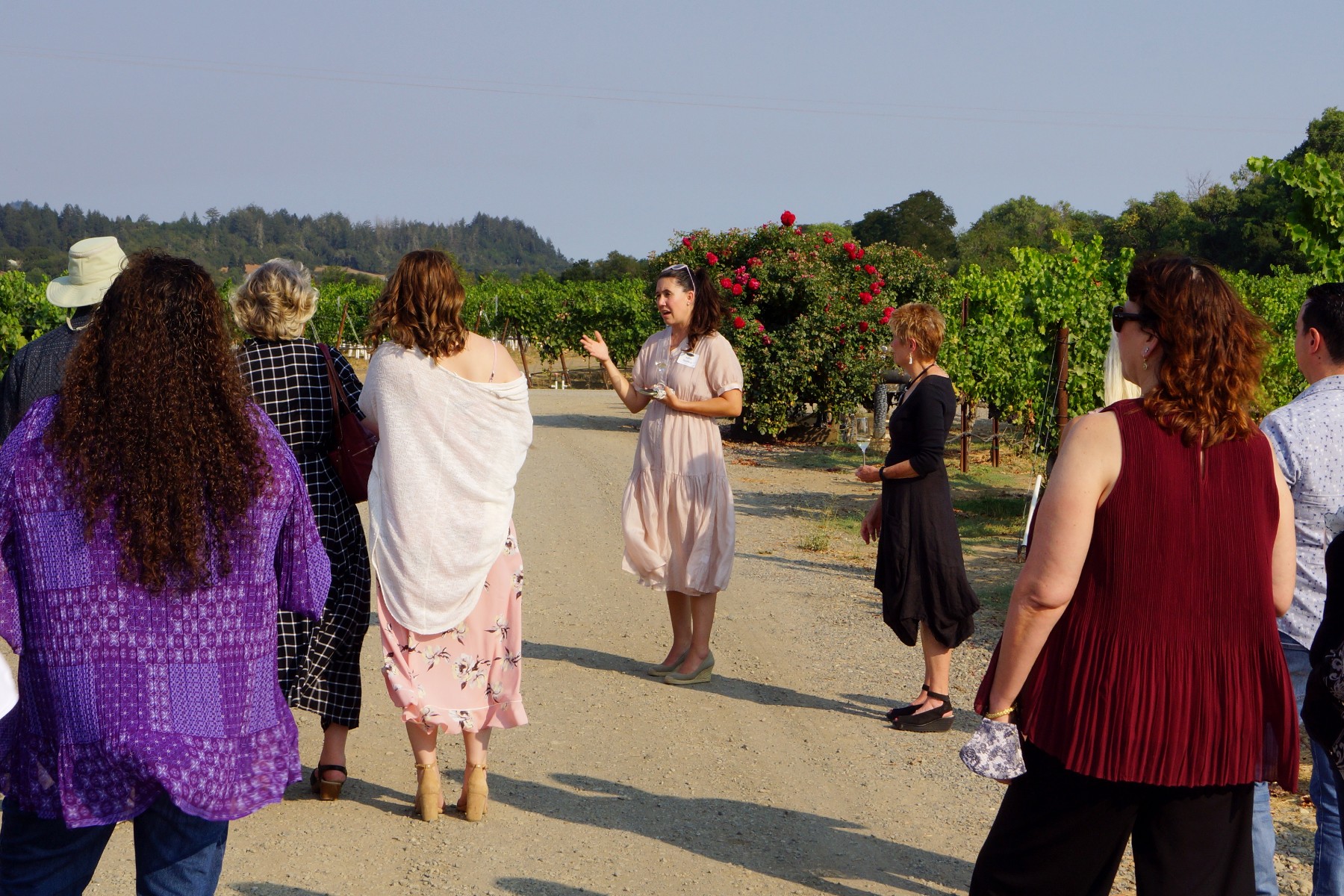 ...…a sparkling blend of Grenache, Syrah and Mourvèdre.

This is a story about Ashley Herzberg, our amazing winemaker and how she persuaded us to make our newest sparkling wine. We debuted Sparkling Tres, the sixth wine in our collection of sparkling gems, last month, February 2022, so it's a fitting time to reflect on the journey.
Ashley is a fantastic winemaker, but this story isn't about her talent as a winemaker. It's about her leadership and influence skills. They make her an even better winemaker and a joy to have on our team.
The story of how we came to make Sparkling Tres is a good way to illustrate her leadership abilities. As a former executive coach and student of leadership, I have a deep fascination and appreciation for what makes a great leader. I love to watch leaders in action and distill the things they do that make them successful. Here are my picks for the top five things Ashley did to help us become the 1st sparkling wine house in Healdsburg and add the sixth wine to our collection of bubbles.
Take a good thing and make it better
When Ashley joined us as winemaker in 2011, she enthusiastically embraced the wines we had been making since we started Amista in 2004. We made Syrah and Chardonnay from our own estate grapes and Cabernet and Zinfandel from the vineyards of our Dry Creek neighbors. We also made two rosés from our Syrah – one still and one sparkling.
She didn't come blazing in with plans to plant new varieties, introduce new wines or buy more fruit. With her quiet confidence and winemaking talent, she took what we had and made everything better each year.
There was just one new project the first year Ashley joined us that she and I cooked up together. A few months after she arrived, I asked her if she thought we could make a Blanc de Blanc from our chardonnay grapes. She had yet to make a sparkling wine, but she too loves bubbles and said, "Absolutely".
During her first harvest at Amista, she picked some of our Chardonnay early to make Blanc de Blanc. The inaugural release of our Amista Blanc de Blanc in 2013 scored 91 points and won a gold medal in the Press Democrat's "Best of the Best" North Coast Wine Challenge.
Plant the seeds for change
Every wine we made during our early years was from a single variety (except Ilusión, a port-style dessert wine, but that's a story for another time). Although making single varietal wines requires skill and has its own set of challenges due to the vagaries of weather and water with each vintage, winemakers love to do blends.
I'm not a winemaker, but my impression is that making a wonderful wine from a single varietal is like grilling a perfect steak. You start with a great piece of meat, season it with just the right amount of salt and pepper, get the grill blazing hot, put the steak on, turn it after it browns on one side and take it off immediately when it reaches the right temperature. Don't get me wrong, it isn't as easy as it sounds without practice. It takes skill and experience to do it perfectly.
But making a blended wine must be more like a chef creating and preparing a complex dish that brings together several ingredients, requires many steps and techniques and results in a tapestry of flavors and textures. Think of cassoulet with confit of duck or a chocolate souffle with crème anglaise. It's more challenging than grilling a steak and tests the creativity, the palate, and the experience of the chef.
So, I totally understand why Ashley would want to make a blend. She loves to learn, and she greets every challenge as a chance to learn something new. But my husband Mike and I had never made a blend and it seemed daunting to us. So, she planted a seed.
We had budded over some of our Syrah vines in 2011 creating about an acre each of Grenache and Mourvèdre, thinking it would be fun to make a couple more Rhône style varieties. Apparently, she had another idea.
One day she said casually, "We'll have some new Grenache and Mourvèdre fruit coming on next year. What do you think about making a GSM (Grenache, Syrah, Mourvèdre) blend from our three Rhône varieties?" We gave our usual answer, something like "Hmmm. We were planning to make a standalone Grenache and Mourvedre. We'll have to think about it."
She gently raised the idea on several more occasions, sharing her excitement and confidence that she could make a beautiful blend. She had us try a few GSM blends so we could see if we liked them.
It didn't take long before we agreed. During the 2012 harvest, which was only her second at Amista, she picked those three varieties to make Tres (three in Spanish). We released it in 2014 and it quickly became Mike's new favorite wine.
Share genuine excitement
Part of the reason we agreed is because Ashley was so excited about the prospect of making our first blend. One of the things I most admire about Ashley is that she loves what she does, and she shows it. She bubbles with enthusiasm as she talks about her work. And she loves to share what she has learned.
One of the favorite parts of our annual winemaker dinner in the vineyards is Ashley's vineyard walk. Our guests ask her endless questions, and she not only has thoughtful, easy to understand answers about the most technical aspects of grape growing and winemaking, but her joy in sharing it is palpable. People who truly enjoy their life's work are inspiring and the excitement is contagious.
Seize opportunities
The next step in the journey was to make a rosé from the same three grapes. Ashley wanted to try doing a saignée when she crushed each of the varieties for Tres. A saignée involves draining off a portion of the juice from a tank of crushed red grapes. This technique increases the ratio of skins relative to juice in the tank and typically results in a more concentrated red wine that is richer, deeper in color and has more tannins.
Often the juice that is bled off is flushed down the drain. Ashley thought it would make a delicious rosé. It sounded like a great deal to me – harvest grapes for a red wine and get a rosé as a bonus. We debuted our first Rosé de Tres in 2018, and it turned out to be a beautiful wine, from the bright rose color to the crisp acidity.
Keep building on your success
Ashley seized many opportunities to add new winemaking techniques and new wines to our portfolio over the next several years. A huge focus has been on making a collection of sparkling wines. She continues to make Sparkling Syrah, the only sparkling wine we were making when she joined us, and the Blanc de Blanc from our Chardonnay that she made in her first year.
She was especially keen to make a Sparkling Grenache, a delicate sparkler that has become a crowd favorite and earned Amista the honor of being selected as one of 10 Hot Brands from across the US in 2017.
As you might guess, she wanted to make a sparkling blend and crafted a wine we call Fusión, made from Chardonnay with a kiss of Grenache and a bit of either Syrah or Mourvèdre.
Her next experiment was to make a sparkling wine from our Mourvèdre, which we call by the Catalan name, Mataró. It turned out to be a brilliant addition to our line-up for its glittering cherry color in the glass and flavors of juicy summer strawberries. From the description, it might sound like a sweet wine, but all our sparkling wines are quite dry, typically Brut, Extra Brut or Brut Nature.
Ashley continues to build on her successes and find ways to experiment with blends. So, the creation of a Sparkling Tres was probably inevitable. The only reason it didn't happen sooner is because we didn't have enough Grenache for all the wines we wanted to make. Once our new Grenache block was producing fruit, her dream of making a Sparkling Tres became a reality and we have Ashley's artistry as a winemaker and her talent as a leader to thank for it.
Read more about Winemaker Ashley Herzberg.