May 4, 2023 |
Vicky Farrow
How about throwing a wine party with a new twist...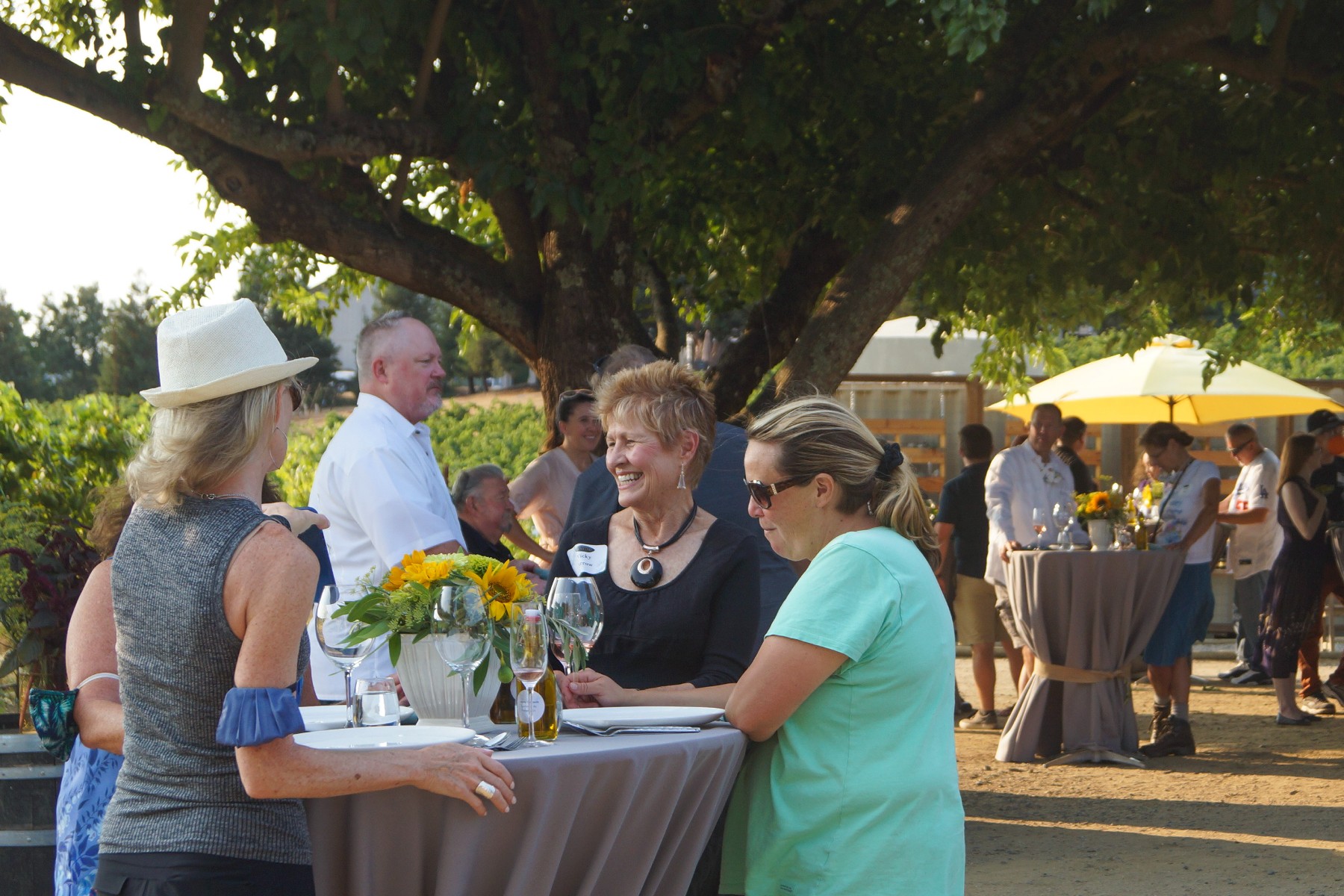 ...that is sure to delight your wine-loving friends!
Did you know that National Wine Day is coming up this month on May 25? It is the perfect occasion to raise a glass to celebrate the exquisite flavors and aromas of wine. At Amista – which roughly translated means "making friends" in Spanish – we think the best way to celebrate is with friends. If you're looking for novel ways to commemorate this special day, here are three parties designed to explore the rich tapestry of wine with your special group of wine-loving friends.
Host a "You Aren't Going to Believe This Great Wine I Found Party"
Gather your wine loving friends, family, or colleagues to celebrate National Wine Day by hosting a wine tasting party. But let's kick it up a notch and ask each guest to bring an unusual wine they've discovered and come to love. It could be an obscure variety, an unusual style or from an unexpected part of the world. Each guest takes a turn telling the story of how they discovered their special wine and why they love it. Then everyone has a taste.
Such a party needs some equally interesting nibbles. Of course, there is the usual cheese and charcuterie spread, which is always welcome. But a "You Aren't Going to Believe This Great Wine I Found Party" demands a twist. At Amista, we serve freshly popped popcorn. It's so popular that when our popcorn machine broke one day, our guests went on strike.
We use a lemon-herb salt which showcases our sparkling Blanc de Blanc. To make it work for your party, assemble an assortment of at least a half dozen spice blends that can be sprinkled on the popcorn – a kind of popcorn bar. Choose a variety of blends that go with different wine flavor profiles. It's novel, it's easy and it's fun to see what herbs and spices pair with each of the wines.
If I were going to the party, I would bring our Amista Sparkling Syrah. This wine never ceases to amaze people. Its cranberry color fools them into thinking it's going to be sickly sweet and yet it's quite dry – always Extra Brut (6 grams of sugar per liter or less). Also surprising is that it goes so well with diverse foods from Thanksgiving dinner to sushi to Peking duck. It even works with panna cotta and raspberry coulis! And the interesting tidbit is that we would never have made it if it weren't for a class project at our local junior college.
If you want to create a delightful ambiance to celebrate National Wine Day, throwing a "You Aren't Going to Believe This Great Wine I Found Party" will do the trick. The wines, the personal stories and the popcorn bar will provide a rich backdrop for exploring new wines, flavor combinations and conversations among friends.
Throw a "My Favorite Winery Party"
The invitation list for this party requires that your guests have a favorite winery they have visited in person. If you don't have any friends who have visited a winery in person, I would say you need to make some new friends! But if you're reading this blog post, you undoubtedly have friends who have gone wine tasting, so I'm assume you're good to go. Invite them to celebrate National Wine Day with you by bringing any bottle of wine from their favorite winery.
Have each guest describe the wine they picked and why this is their favorite winery. Then everyone gets a chance to taste the wine. I suggest you start with the guests who brought sparkling wines, then whites, followed by rosés and then reds, from lighter to heavier in body, and ending with dessert wines.
It's always good to have snacks when you're tasting a lot of wine. It can be something very simple but tasty like bowls of kettle chips, popcorn, pretzels and nuts. You can also add a selection of cheeses, charcuterie and dried fruits.
If I was invited to such a party, I would proudly bring an Amista wine and it would have to be my go-to bubbly, our Amista Blanc de Blanc. This is the wine that marks the end of my workday and the beginning of my evening. It frequently continues as the wine that accompanies our dinner since we often have a fish dish or light pasta, which makes an amazing combination.
Hosting a "My Favorite Winery Party" allows your friends to share (and re-live) the wines and experiences they have savored on their wine journey. Celebrating wine is more than the wine itself. It's the stories; it's the experiences; it's the landscapes; it's the people that we remember when we visit a winery. Very often those moments are experienced with friends and create a lasting memory of shared happiness and joy.
Organize a "Bring Your Own Best Pairings (BYOP) Dinner Party"
National Wine Day presents an excellent opportunity to elevate your culinary experiences by pairing wines with delicious dishes. Whether your friends are seasoned chefs, enthusiastic home cooks, or discerning takeout experts, the versatility of wines allows for exciting pairings. Ask each guest to bring a dish and a wine that exemplifies their perfect pairing. You can assign hors d'oeuvres, first courses, entrees, sides and desserts. Or if you feel especially adventurous, you can leave it all to your guests and be prepared for a surprise!
Much like a winemaker dinner, have each guest describe their dish and the wine they chose for the perfect pairing before the dish is served. Hopefully there will be enough food and wine to try some of the dishes with different wines. Who knows, perhaps an even more perfect pairing will be discovered!
My perfect pairing would be a classic French cassoulet with our Amista Syrah. I adore beans – go figure - but when you combine them with chicken, duck confit and sausage and cook them slowly for hours with a crust of crispy breadcrumbs, well, I'm in heaven. And while I often describe our Syrah as a crowd pleaser, the perfect wine to take to a dinner party because it works with so many dishes, the cassoulet elevates it to a whole new level and vice versa.
The "Bring Your Own Best Pairings (BYOP) Dinner Party" is a unique variation on a classic winemaker dinner. It's a way for everyone to channel their inner winemaker and inner chef and experience the varied tastes of a whole group of friends. What better way to celebrate the spirit of National Wine Day.
National Wine Day provides an excellent opportunity to appreciate the artistry of winemaking and the distinctive flavors of wines from around the world. Although seriously, there's no need to wait for a special day. You can choose any day to raise your glass and toast to the pleasures of fine wine, good food and dear friends. Cheers!
You're invited to explore the sparkling wines and Rhône varieties at Amista. We hope we'll become your new favorite winery. Come Taste With Us!