June 1, 2023 |
Vicky Farrow
All You Need to Know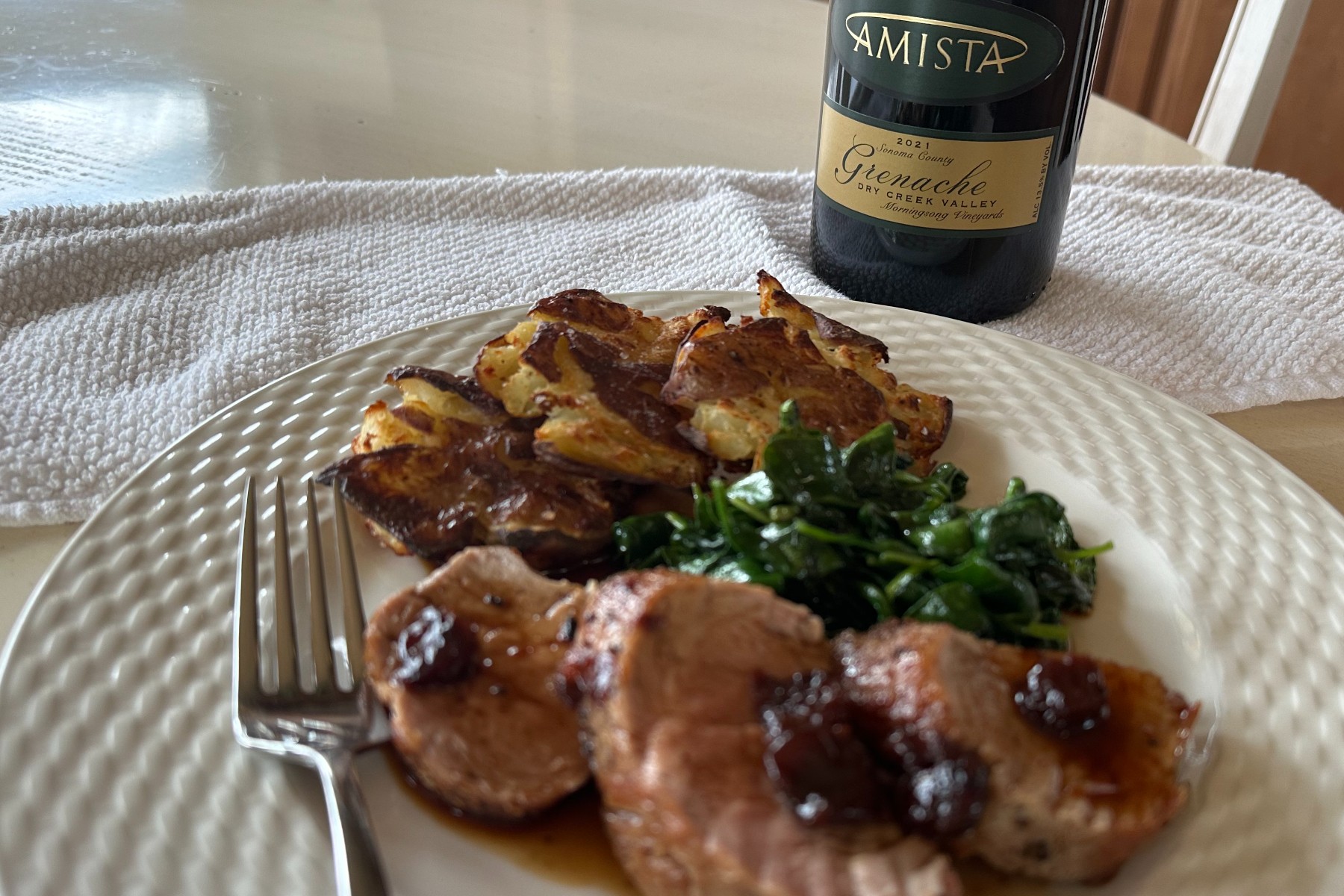 ...plus a delicious Grenache pairing
Why care about Grenache, you might ask? Grenache has gained significant popularity and recognition in the world of wine. Its flavor profile appeals to a wide range of wine lovers and its medium body and medium tannins enable it to pair with a vast array of dishes and cuisines.
I have fallen in love with Grenache since we first added some to our estate vineyards in 2011. But what prompted me to write this post was a recent quote from a wine writer who attended the 40th anniversary celebration of the Dry Creek Valley AVA. Wine writer Mike Dunne proclaimed, "Forty years after federal authorities designated Dry Creek Valley an American Viticultural Area, the appellation's signature wine has emerged – Grenache!"
That was music to my ears! We added our first Grenache vines despite the widely held opinion that Zinfandel was considered the signature grape in Dry Creek. I didn't know much about Grenache then, but I knew I loved its medium body and that it was a great match for Mediterranean dishes, such as grilled meats, roasted vegetables, tapas, and even spicy foods – all the foods I love.
Pork tenderloin garnished with a raspberry balsamic sauce goes beautifully with Grenache. Add crispy smashed potatoes and sauteed spinach for a sensational taste experience.
5 Surprising Facts About Grenache
3 Interesting Tidbits about Grenache at Amista
Today Grenache makes up 30% of the planted acres on our Morningsong estate vineyards
Amista crafts the only Sparkling Grenache north of the Bay Bridge in California
Grenache is used in seven of our Amista wines
Garnacha or Grenache?
Garnacha and Grenache are the same grape variety, known by different names in different regions. "Garnacha" is the Spanish name for the grape, while "Grenache" is the French name. The grape is believed to have originated in the region of Aragon in northeastern Spain.
While the grape variety itself is the same, there can be stylistic differences in the wines produced from Grenache depending on the terroir and winemaking techniques used in different regions. For example, Garnacha wines from Spain, particularly from regions like Priorat and Rioja, often exhibit a ripe, fruit-forward character with a touch of spiciness. Grenache wines from France, particularly from the southern Rhône Valley and Châteauneuf-du-Pape, can be more complex, showcasing a range of flavors including red and dark fruits, herbs, and floral notes.
A Widely Planted Wine Grape Variety
Although not as widely planted as Cabernet Sauvignon, Grenache/Garnacha is the 7th most planted grape in the world. Here are the top ten as of 2020 according to OIV (International Organisation of Vine and Wine).
Top grape varieties by planted hectares
1. Cabernet Sauvignon, 840,000 acres (340,000 hectares)
2. Merlot, 657,300 acres (266,000 hectares)
3. Tempranillo, 570,800 acres (231,000 hectares)
4. Airén, 538 700 acres (218 000 hectares)
5. Chardonnay, 518,900 acres (211,000 hectares)
6. Syrah, 470 000 acres (190,000 hectares)
7. Grenache Noir, 402,780 acres (163,000 hectares)
8. Sauvignon Blanc, 299 000 acres (121,000 hectares)
9. Pinot Noir, 285,000 acres (115,000 hectares)
10. Trebbiano Toscano / Ugni Blanc, 274,300 acres (111,000 hectares)
Grenache Plays a Starring Role in Châteauneuf-du-Pape
Grenache is one of the stars in the production of Châteauneuf-du-Pape wines and GSM blends. Châteauneuf-du-Pape is a renowned wine appellation located in the southern Rhône region of France. It is known for producing rich, complex, and full-bodied red wines that are highly sought after by wine enthusiasts around the world.
In Châteauneuf-du-Pape, Grenache is the dominant grape variety and is often the star of the blends. It thrives in the region's warm and sunny climate, where it can fully ripen and develop its characteristic flavors and aromas. It is accompanied by other varieties to create a harmonious and balanced wine. The most common blend, known as a GSM blend, consists of Grenache, Syrah, and Mourvèdre. Each variety brings its own unique characteristics to the blend, resulting in a wine with layers of flavors and a complex profile. The combination showcases a balance between fruitiness, spiciness, and structure. The wines are often full-bodied, with a silky texture, well-integrated tannins, and a long, lingering finish.
The Rhône Variety that Originated in Spain…or Italy
The origins of the Garnacha grape variety, also known as Grenache, have been the subject of some controversy and debate among wine experts and historians. While it is widely accepted that the Garnacha grape has Mediterranean roots, the specific location of its origin is still uncertain.
There are several theories regarding the origin of Garnacha. One theory suggests that Garnacha originated in the region of Aragon in northeastern Spain, where it has thrived for centuries, and it is home to some of the oldest Garnacha vineyards.
Another theory suggests that the grape may have originated in the region of Sardinia, Italy. Proponents of this theory point to genetic similarities between Sardinian grapes and Garnacha, as well as historical records that indicate the presence of Garnacha in Sardinia before it became widely established in Spain.
Grapevine cultivation and trade have taken place across the Mediterranean for thousands of years, making it difficult to pinpoint the exact origin of many grape varieties. Genetic studies have shed some light on the relationships between different grape varieties, but they have not definitively settled the debate about Garnacha's precise origin.
Today Grenache is Known as a Rhône Variety
Ironically today Grenache is known as a Rhône variety. This is due to its historical and significant cultivation in the Rhône Valley of southern France. The Rhône Valley is renowned for its production of red wines, and Grenache has been growing there for centuries. I wonder if it also due to the fame of Châteauneuf-du-Pape, which has no such rival in either Spain or Italy.
Still Thirsty?
If you want to learn more about Grenache, here is a curated list of resources.
www.jancisrobinson.com/learn/grape-varieties/red/grenache