June 3, 2021 |
Vicky Farrow
Amista Vineyards, A Grower Sparkling House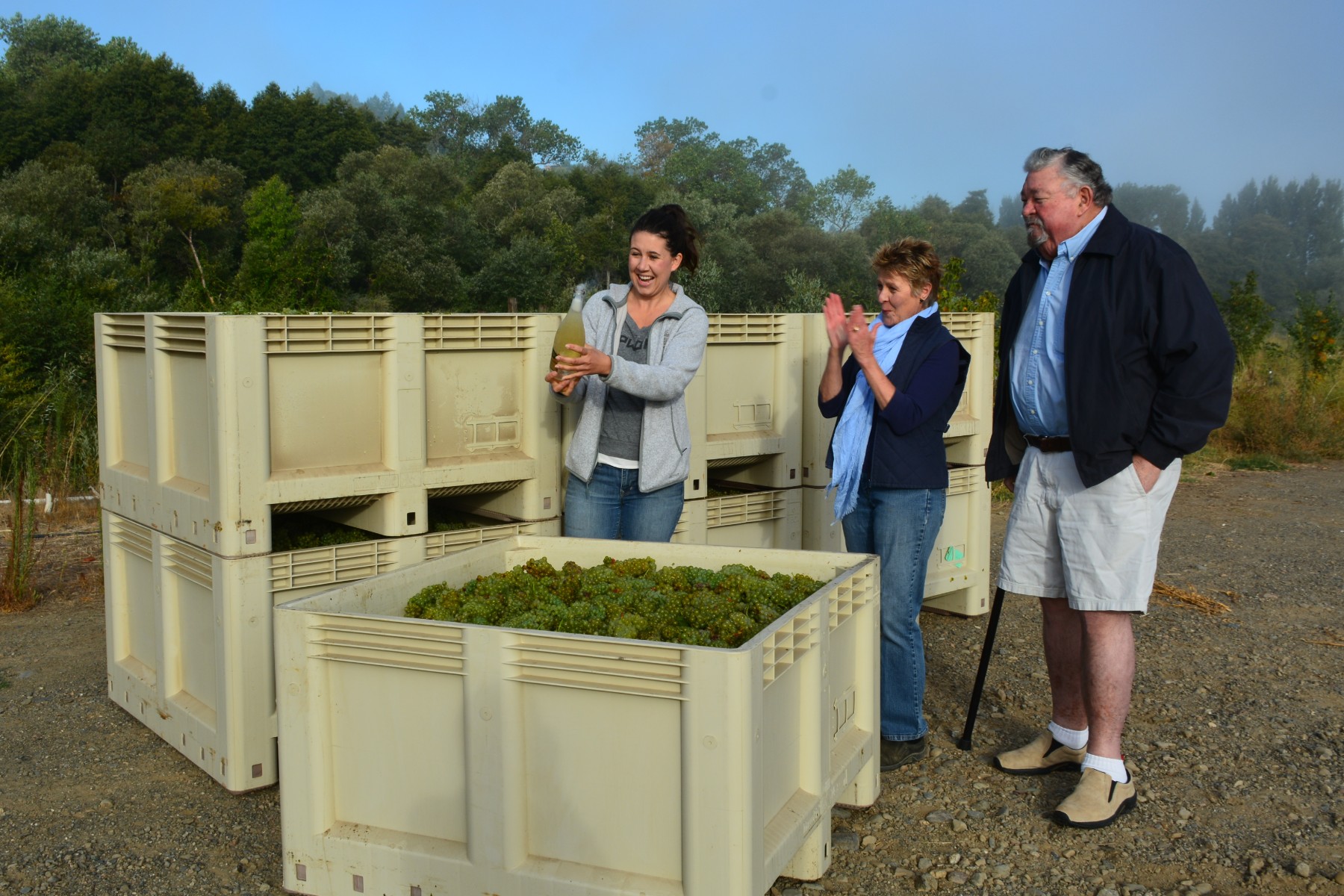 ...and the 1st grower sparkling house in Healdsburg

Is Amista a Grower Sparkling House?
Yes! We grow our own grapes from a single estate and craft them into Amista Vineyards sparkling wines. In the picture above, my husband Mike Farrow, winemaker Ashley Herzberg and I bless the grapes during the first harvest of the season.
Not only is Amista a grower sparkling house, but we were also the 1st in Healdsburg. We made our first sparkling wine from our estate-grown Syrah in 2008. But what does it mean to be a grower sparkling house and why should you care? Let's start with some background from Champagne, the quintessential region for making sparkling wine.
What is Grower Champagne?
Grower Champagnes are grown and produced by the same entity. The makers have their eyes (and hands) on their own vines year-round, meaning that they are the ones controlling how the land is being cultivated and when the grapes are picked. And they make and bottle the wine according to their winemaking style and philosophy rather than selling the grapes and letting someone else make the finished product. Grower Champagne houses are usually small, and family owned.
That may not be such an unusual idea in the U.S. since most wineries are small, family owned and produce wines from their own vineyards (even though the largest volume is produced by a few large companies). However, that is not the norm in Champagne.
How is Grower Champagne Different from the Large Champagne Houses?
Traditionally, Champagne is produced by large houses – "maisons" in French. They purchase grapes from thousands - yes, thousands - of growers in the Champagne region of France. These production houses are multi-national corporations that make hundreds of thousands of cases. They are essentially Champagne factories. They are well known because they also have big advertising budgets. You'll recognize the big names like Moet & Chandon, Veuve Clicquot, and Perrier-Jouet.
Another difference is that the large houses blend their wines from that vast number of vineyards across multiple vintages. The climate in northern France is variable and challenging and not every year is perfect for growing grapes. Blending across vineyards and vintages produces a more consistent flavor profile and style. When you are making large volumes sold around the world, people want the product to taste the same year after year.
Why Grower Champagne Has Become Sought After
Grower Champagne has become more popular in the last two decades as growers in Champagne decided to make their own wine in addition to selling to the large houses. Grower Champagnes are treasured because they are limited and hard to find. People love to discover hidden gems!
Grower Champagnes are rarely known outside of France because they are made in extremely tiny quantities. Unlike the large production houses, they typically don't make enough to export. So, you have likely never heard of them unless you travel to France.
The other reason they are coveted is because they have become known for producing exceptional quality Champagne. When it comes to Grower Champagne, these farmers are working with the same parcels every year, carefully managing how the vines are farmed and choosing the right time to harvest to bring out the best flavors in the wine.
Sparkling Wine Comes to California
The early sparkling houses in California were introduced by iconic French Champagne houses like Louis Roederer and Moet & Chandon, which began investing in California in the 1960s and 1970s.
In California, it is more common for a winery to grow and produce wines from its own grapes. Sure, there are very large wine production corporations that source grapes from hundreds of growers and make the equivalent of hundreds of thousands of cases of wine, sold in bottles, boxes, and cans.
But over 80% of the wineries in California are under 5,000 cases. It is common for the smaller wineries to grow and produce their own grapes. The idea of "grower wines" is more traditional in California that has been the case in Champagne.
But that wasn't the case for the new sparkling wine producers in California. The early sparkling houses followed the model of Champagne – large production houses that purchased fruit from many growers rather than growing their own.
Grower Sparkling Houses Emerge in Sonoma
As happened in Champagne the Sonoma sparkling wine scene is also transforming. The pioneers of sparkling that came in the first wave, are large producers owned by a parent corporation in Champagne and most continue to source grapes from other growers.
In the second wave, family-owned wineries emerged that craft sparkling wines from their own vineyards. These also tend to be large producers since making sparkling wine is more complicated and requires a greater capital investment in production equipment than needed for making still wines. Producing in volume enables the winery to take advantage of economies of scale.
Only recently, in the last 15 years has Sonoma seen the emergence of a handful of small, sparkling wine houses making wines from their own estate vineyards – "grower sparkling houses". This was enabled in part due to the opening of a local custom crush facility with the equipment to make sparkling wines. Small, family wineries suddenly had a facility where they could make sparkling wines from their estate vineyards crafted by their own winemaker.
Why Should I Care about Grower Sparkling Wine?
For those of you like me who are true lovers of bubbles, there a several reasons to care. One is the pure joy of finding beautiful sparkling gems made in very small batches and knowing that the same winery and winemaker nurtured that wine all the way from the grape to the glass.
If you appreciate experiencing the little variations from vintage to vintage based on the idiosyncrasy of the vineyard and the weather the year the grapes were grown, then you will enjoy exploring grower sparkling wines. It is more of an adventure than sipping the brand-consistent character of big sparkling houses – not that they aren't delicious, just less varied and interesting.
Another reason to care is because the wine is hand crafted by small wineries rather than produced in large volumes by a big corporate producer. It is a way to support the small family growers who have an intimate connection with the land, understand its peculiarities and can control the farming practices to ensure optimum quality.
You get a sense of their stewardship of the land and their love of turning their grapes into a finished product for others to enjoy. It's the same reason I go to the farmer's market and choose a variety of freshly picked ripe tomatoes and talk directly with the farmer who grew them.
Come taste with us and explore a grower sparkling house for yourself!