August 2, 2021 |
Vicky Farrow
No, It's not icky and sweet!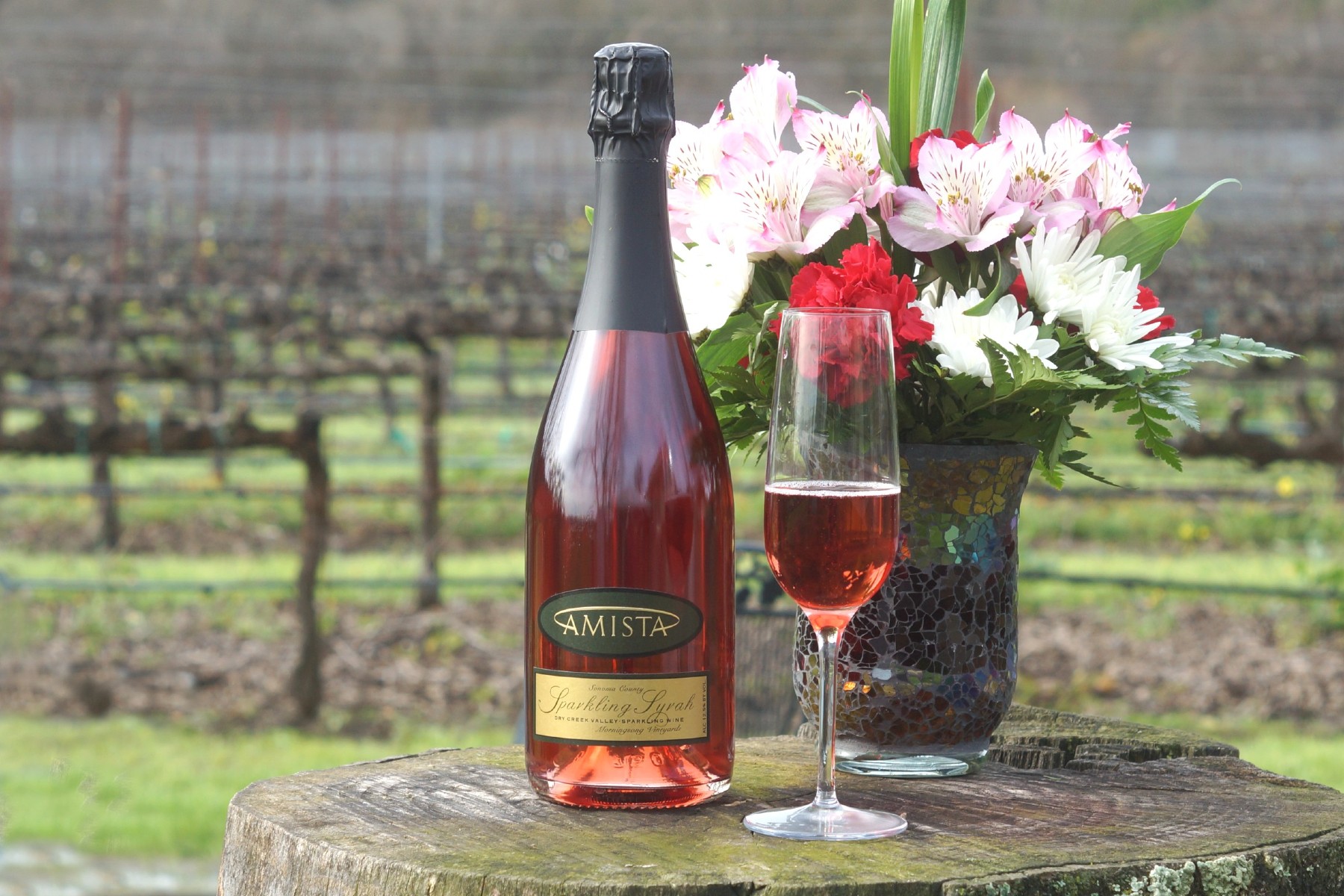 ...although Winemaker Ashley thought it would be. She stuck hers in the closet. Learn what she discovered.

Who would have thought of making a sparkling wine from Syrah? Oh yeah, the Aussies. They call it sparkling shiraz. It's deep red in color and typically somewhat sweet.
Ours is a rosé, cranberry in color and dry. I call it "joy in a bottle". It's festive! It shimmers! It's delicious!
But Winemaker Ashley Herzberg wasn't so sure. She received two bottles as a gift from my husband Mike before she became our winemaker. She stuck it in her closet thinking it would be icky and sweet. One night she pulled it out to serve to her girlfriends - a good way to get rid of it. They immediately started raving about it so she took a taste. She became a convert and has been making and sipping "joy" ever since.

Still Thirsty?
If, like Ashley, you're still not convinced to try Sparkling Syrah, here is a bit more information to tease your palate.
What is Sparking Shiraz?
Sparkling Shiraz is an Australian tradition, first produced in 1878. Fine Sparkling Shiraz is made using the Méthode Traditionnelle, the same process used for making French Champagne (and all our Amista sparkling wines), where the wine undergoes a second fermentation in its own bottle to produce the bubbles. It is made from the Shiraz grape, also known as Syrah, a dark-skinned grape variety grown throughout the world and used primarily to produce red wine.
The story I've always heard – although I don't know if it has any basis in reality - is that Sparkling Shiraz became popular for the holidays, which happen in the summertime in the Southern Hemisphere. It has the body to go with holiday meals while also being refreshing due to the effervescence and the fact that it is served slightly chilled.
How did Amista Decide to Make Sparkling Syrah?
Since launching Amista in 2004, we'd been making Chardonnay and Syrah from our estate vineyards in the heart of Dry Creek Valley just outside the charming town of Healdsburg. We also made Zinfandel and Cabernet with fruit from our Dry Creek neighbors.
In 2005 we decided to make a Rosé of Syrah. It was a big hit. In 2007, our winemaker asked if he could have some of the rosé juice to make a sparkling wine in his winemaking class using the traditional Methode Champenoise. We said, "Sure, as long as we get to taste it!"
It was delicious, so in 2008 we decided to try making our own Sparkling Syrah. It turned out to be both luscious and beautiful – a glittering raspberry color – with tiny pink bubbles. We've been making it ever since and this uncommon sparkling wine has developed a cult following.
How Does Amista's Sparkling Syrah Differ from a Sparkling Shiraz?
Let's start with the two things they have in common. First, both are made using the traditional Methode Champenoise, which produces an elegant sparkling wine with tiny bubbles and complex flavors. The second is that both wines are made from the same grape, although in Australia they refer to it as Shiraz, and we call it Syrah.
The difference between our style and those from Australia is that ours is a Rosé, which spends only a few hours fermenting on the skins resulting in a light cranberry color. The Australian sparkling Shiraz is deep red in color due to greater skin contact. The Sparkling Shiraz will typically be heavier, bigger, and slightly sweeter in nature. The Amista Sparkling Syrah is a lighter, more delicate – like all Roses – and dry, either Brut or Extra Brut.
What Pairs Well with Amista Sparkling Syrah?
Sparkling Syrah is a great choice for a barbecue. It can stand up to ribs, sausages, and pork, and it offers a refreshing counterpoint to the richness of the grilled meats. And don't forget "shrimp on the barbie".
It's also delicious with pizza. We especially like it with a local pie called "Old Grey Beard" made with red sauce, mozzarella, fontina, Italian sausage, Calabrian peppers, hot honey, and orange zest. The honey and orange zest make the Sparkling Syrah pop.
Our Sparkling Syrah is surprisingly versatile. It goes with appetizers, like cranberry and goat cheese in phyllo cups, as well as desserts like a creamy panna cotta with a raspberry coulis. And it's perfect with spicy stir fry's, Thai dishes, curries, and sushi.
I would be remiss if I didn't mention how wonderful it is for the holidays. It looks festive on a holiday table and pairs beautifully with the wide array of Thanksgiving dishes – roast turkey, stuffing, cranberries, and sweet potatoes.
What Else Does Ashley Have Hiding in Her Wine Closet?
That, I cannot answer. I hope she doesn't have any more hidden gems that she and her friends could be enjoying!