February 3, 2022 |
Vicky Farrow
Secrets from my Journey into Sparkling Wine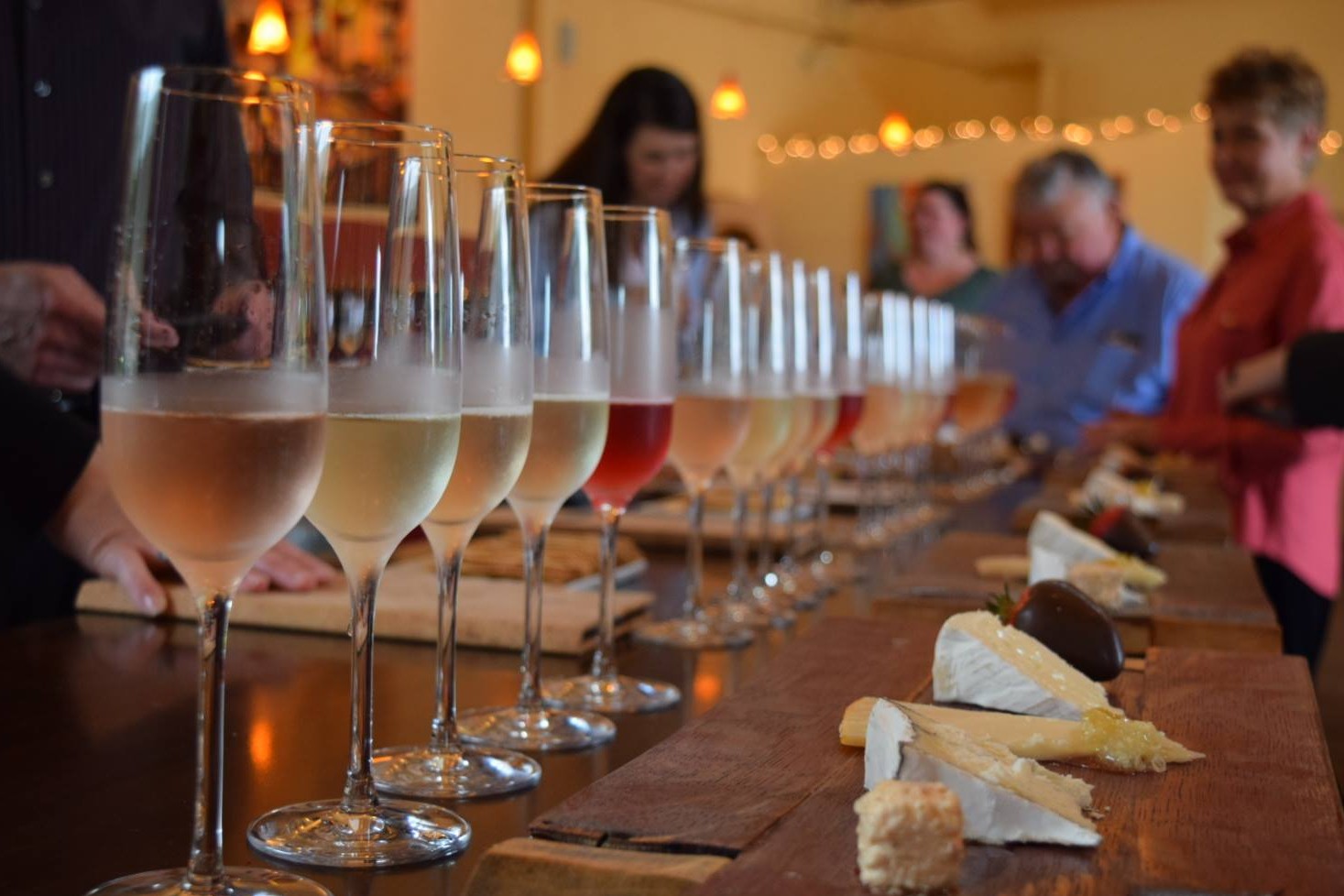 ...and it isn't complicated!

At Amista Vineyards, we are on a journey to make the best sparkling wine. It wasn't a plan. It simply evolved. Now it's an adventure and a passion that excites me every day.
I want to let you in on the secrets I've learned along the way about finding the best sparkling wine. They aren't rocket science. They aren't complex. It turns out I knew the answer all along. I was just over-complicating things. Here are my five simple tips for enjoying the best sparkling wine.
Who says what is the best sparkling wine?
Tip #1. You!
My biggest revelation about being in the wine business is that no one is a better judge of what is the best than I am – or than you are. I used to think there was a right and wrong answer. Now I realize that everyone has a different palate, including every critic, writer, wine expert and every one of your friends. In fact, some of them don't even like sparkling wine. That's OK.
Did you ever wonder why someone raves about a wine and you find it blah? Or why you can't wait to share a wine with a friend, and they don't fall in love with it? Everyone's taste is unique. You don't have to like what everyone else likes. You just have to find the wines you enjoy.
And don't be surprised if your tastes change. That's the other thing that has been so much fun about my adventure into wine and sparkling wine in particular. Sometimes it's the food that makes a wine taste best. Sometimes your tastes change over the years.
Sometimes it is the setting. I can remember a warm afternoon after driving across Tuscany with our best friends and finally ending up on the terrace of a lovely bed and breakfast with a view of the towers of San Gimignano. We were tired from the drive. Our hosts brought out glasses of wine and plates of cheese and charcuterie. It was a special moment and that was the best wine in the world!
How do I find the best sparkling wine?
Tip #2. Explore
There are so many countries that make sparkling wine – the classic Champagne from France, Spanish Cava, South African Cap Classique, Sekt from Germany and Austria, American sparkling wines and more. Take a virtual trip around the world and try a few from each country.
There are also many varieties of grapes that are made into sparkling wines. The traditional grapes of Champagne are Chardonnay and Pinot Noir. Today, sparkling wines are made from a wide array of grape varieties.
At Amista we are on a mission to make the best sparkling wine from our estate grown Rhône varieties like Grenache, Syrah and Mourvèdre, although we give a nod to tradition and make a Blanc de Blanc from the Chardonnay that we grow in our estate vineyards.
You can also find sparkling wines made from Zinfandel, Pinot Gris, Riesling, Gewürztraminer, Muscat, Cabernet, Cabernet Franc, Sauvignon Blanc, Tempranillo, Pinotage, Malbec, and various Italian varietals like Vecchio. And the list goes on.
If you truly want to find your best sparkling wine, put each of these varieties on your bucket list and try a few bottles from different producers each month. OK, so it might take a few years, but what a great adventure!
In fact, how about getting a group of friends who want to explore with you and having a different person chose a variety (or a country) and host a tasting each month – a sparkling wine of the month club!
If that isn't enough, you can explore the styles of sparkling wines from dry (brut nature) to sweet (doux) or the length of time the sparkling wines are aged in the bottle. There is so much to discover!
What glass do I use for the best sparkling wine?
Tip #3. It depends
Here again, I used to think there was a right answer. What I discovered is that the right answer seems to change over time partly because Champagne and sparkling wine have changed – becoming more effervescent, dryer and more aromatic. Tastes have also changed. In the 17th century, the coupe was the ideal glass.
Later the flute, became the proper glass. Scenes of tall, elegant glasses being raised in a toast come to mind and evoke celebration. Flutes are usually notched inside the base causing that beautiful stream of bubbles to rise in the glass. I must admit, I love flutes, the taller the better, and I love watching that stream of bubbles ascend and create a little ring on the top of the liquid.
Lately, I have come to appreciate a glass more closely resembling a white wine glass, with one condition – it must be notched. I want to see, and I want everyone around me to see that it is sparkling wine in my glass! If you can't tell it's sparkling wine by the shape of the glass, then you must have the telltale stream of tiny, elegant bubbles floating up through the wine.
You can choose to go with what is currently in vogue, pick the one you like best and stick with it, or have a set of each kind of glasses to match your mood and the occasion. It all depends on you.
What foods do I serve with the best sparkling wine?
Tip #4. Experiment
I have always loved bubbles since long before we started making them, but I never thought much about how they went with food. I now pay a lot more attention and I've learned two things.
First, try a lot of wines with a lot of foods to discover the best sparkling wine pairings. There are some traditional favorites like Blanc de Blanc with oysters or blinis and caviar. Be sure to treat yourself to these classic pairings.
The second thing I've learned is not to be afraid to try sparkling wines with simple, everyday foods. The best sparkling wines don't have to be saved for fancy, elegant dishes. At Amista we pair our Blanc de Blanc with freshly popped popcorn with a drizzle of olive oil and lemon herb salt.
At home, we regularly have sparkling wine with pasta dishes, stir fry, curries, sushi, taco salad, roast chicken, grilled fish – you name it, we try it. Most of the time it works; sometimes it doesn't!
How do I truly enjoy the best sparkling wine?
Tip #5. With friends.
Amista means making friends, so the answer to this question is very simple for me. The best sparkling wine is the one you enjoy with good friends.
We invite you to Taste With Us on your journey to discover your best sparkling wines.