April 7, 2022 |
Vicky Farrow
The Best Wines are Those Shared with Friends

...an unexpected pleasure of starting a winery – making friends!
The most rewarding thing about the creation of Amista Vineyards is the friendships we've made and deepened along the way. We've often talked about how our friends were involved in every step as we launched our winery, which is why we searched for a name that had something to do with friendship. Amista, roughly translated, means making friends in Spanish. Little did we know that it was only the beginning and that we would make many more wonderful friends on this journey.
Friendships Sown in the Vineyard
This is the story of one friendship that started while standing in our vineyard in Healdsburg, California in 2005, before we had a tasting room or sold our first bottle of Amista wine. We had signed up to host a vineyard tour as part of the annual Passport to Dry Creek Valley, a fabulous food and wine event held every year during the last weekend in April.
Our dear friends Meg and Dale had flown out from Colorado to attend Passport with us and offered to help with the vineyard tour. The tour was scheduled for early Sunday morning and after the four of us enjoyed attending Passport on Saturday, we came home to prepare for the tour. Meg made cookies and I made quiches.
All of us worked on the "speech" my husband Mike and I would do during the tour. It didn't even occur to me, but Meg suggested we have all the guests sign up for our mailing list (we didn't have one yet!), so we quickly made up some signup cards.
On Sunday everyone assembled in our vineyards at the site of what would be our future tasting room. The hot coffee, quiches and cookies were a big hit in the chilly morning air. I climbed atop an upside-down yellow mop bucket so I could see everyone (Mike is 6'3 and needed no such bucket) and talked about our plans for Amista. There were lots of great questions and lively conversations.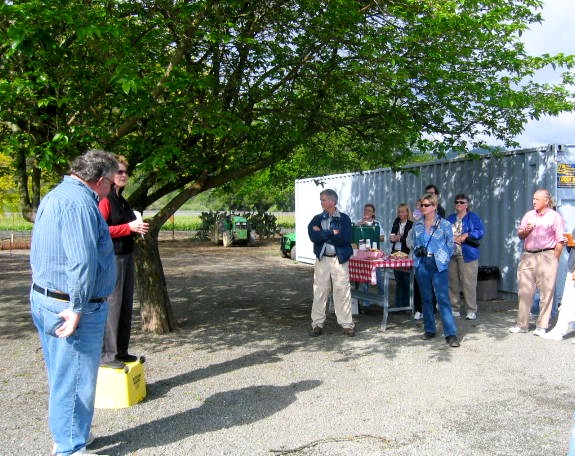 Among the guests was a guy named Jack who had been bringing a group of his friends to Passport for many years. Several of his friends were with him. They all signed up for our newly created mailing list.
Friendships Nourished at a Barbecue
Fast forward to Passport 2006. We still didn't have a tasting room (the reason is a story for another post), but we had plenty of wine to sell. We decided to have a Passport welcome happy hour at our house on Friday evening and invite the people who had attended the vineyard tour the previous year.
Jack came with several of his friends, and we were all having so much fun, that he called other members of his group who joined in the party. Jack's gang had a tradition of preparing an upscale barbeque – think Thai grilled beef and noodle salad not grilled hot dogs – at the bed and breakfast where they typically stayed. This year however, they couldn't stay at their usual place and didn't have a spot to do their barbecue.
When he heard them talking about it, Mike said, "Hey, if you bring the food, you can host your barbecue here and use our kitchen and our grill." The next night Jack and his usual cooking buddies, Bruce and Mary, arrived early with coolers full of food ready to cook.
They took over the kitchen, fired up the grill and proceeded to turn out a feast of red curry coconut grilled chicken breasts, grilled asparagus, and French bread. The whole gang of about 20 people arrived and had a fantastic evening of food, wine, and friendship.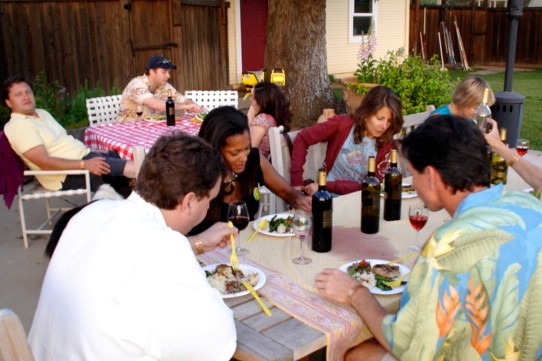 It was fun to hear their stories of how they had all met and how they reunite each year at Passport. One couple even got married at a Dry Creek Valley winery during the Passport event.
Not only did the group do all the cleanup after dinner, but they also purchased many cases of wine, which meant our first-year sales at Passport were a big success!
Passport 2007 rolled around, and our winery was finally under construction but not ready for us to participate in the event. We hosted another happy hour on Friday and invited Jack and his group to return for their Saturday night barbecue.
We couldn't wait to taste what Jack, Bruce and Mary were cooking up for this year's feast. I was especially excited that my mother, Lori, and her husband Don were visiting us and could be part of the festivities. They enjoyed getting to know Jack and his friends as much as we had.
Friendships Sustained through the Years
The next year and every year since, Jack and his group have held their Saturday night Passport barbecue at Amista (except in 2020 and 2021 when Passport was cancelled during the pandemic). We moved from our house to the winery in 2008, when our building was finally complete.
Jack fires up the grill to finish his creations. Every year the menu is a little different, inventive, and delicious. Every year we have some new wine to share with our friends. In 2008 it was our first Sparkling Syrah, the wine responsible for Amista becoming the 1st grower sparkling wine house in Healdsburg. No matter what we're eating or drinking, the company and conversation are always outstanding.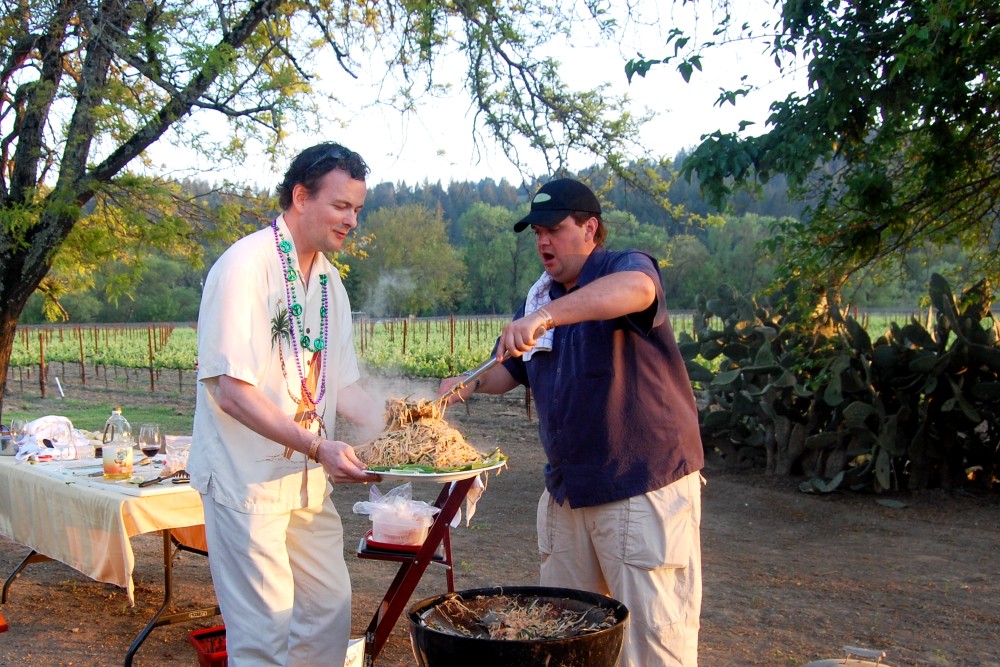 Nearly everyone in Jack's group is part of our wine club and we've had the privilege of following how their lives have evolved – watching their children and now their grandchildren grow. Some of the "kids" joined our club when they became of age along with the mother of one member of the group, so we now have three generations in our Amista family.
Along the way, Jack met and married a wonderful woman, and we now welcome the talented and lovely B to the annual barbecue. She immediately took over the responsibility for the hors d'oeuvres and presented the most gorgeous and delicious cheese board I've ever seen!
Jack and B purchased a vacation home just a mile away from us, so now we get to see them more than once a year. They can often be seen with Ashley and the picking crew during our harvest. The crew fell in love with them when they presented them with a box of 2 dozen doughnuts.
Last year when Ashley decided to foot tread some of the grapes for our sparkling wines in the vineyard, B jumped in the bin and went to work alongside Ashley and her kids and members of our tasting room team. B had a blast – she's the one with her arms in the air and a big smile on her face.
Friendships Enriched during Challenging Times
During the pandemic Passport was cancelled. No one could quite believe that this long-standing event wasn't going to happen for the first time in 30 years. Trips were cancelled; long time guest were disappointed not to enjoy a weekend of food and wine and everyone missed reuniting with their friends. We had to do something.
We asked Jack if he was willing to create a pairing for each of the wines that we had planned to pour at Passport in 2020 and co-host a virtual tasting with us. No surprise, he was excited to do it!
He even prepared each of the dishes for us and left them on our doorstep - since everyone was quarantining at the time - so we would have them for the virtual tasting. Jack introduced each dish; our winemaker Ashley Herzberg described the wines and B made sure each item was artfully plated. They were imaginative creations that paired beautifully with our wines.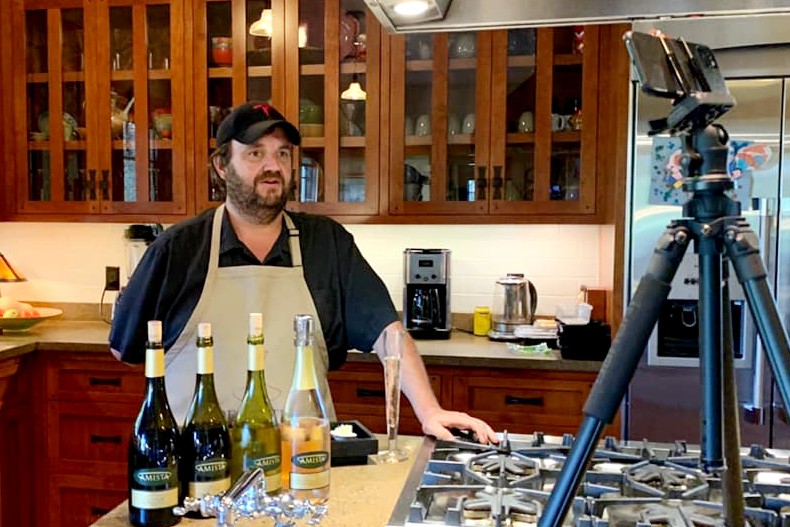 Friendships Celebrated with Gratitude
A few weeks ago, we asked Jack and B to join us for dinner. I was nervous because I volunteered to make the meal, something that Mike typically does. My role is generally relegated to making salads. We decided to serve Cassoulet, a complicated dish with many steps, even though all the meats, including the duck confit, were ready to sauté and layer into the bean mixture I had prepared the day before.
I was especially nervous to be handling the cooking duties since we were serving the results to such an accomplished home chef as Jack. It turned out fine (although next time I will make sure it stays juicy) but more importantly, the chance to gather around the table with Jack and B after nearly two years of not having guests in our home, was priceless.
We reminisced about how we first met and the many Passports we have experienced together. We caught up on each other's lives. We talked about what we learned during the pandemic. And we gave Jack a special gift thanking him for his 15-plus years of being a supporter, an ambassador, a member, and a friend.
I am proud, and frankly surprised, that Mike and I have been able to build a thriving winery even though we have never owned our own business, never worked in hospitality or agriculture, and never worked together! Far more important, I am grateful for the friendships and treasured memories we've experienced on our journey.

If you love delicious food, check out the wine and food pairings with recipes that Jack created for our Passport to Dry Creek virtual tasting.
If you enjoy luxury accommodations and hospitality, check out Jack and B's beautiful vacation rental, Decanter Healdsburg, just a few minutes from Amista.
If you want to experience the friendly spirit of Amista, Come Taste with Us and enjoy sparkling and Rhône wines surrounded by gorgeous vineyard views in Healdsburg, California in the heart of Sonoma wine country.