Ashley Herzberg, Winemaker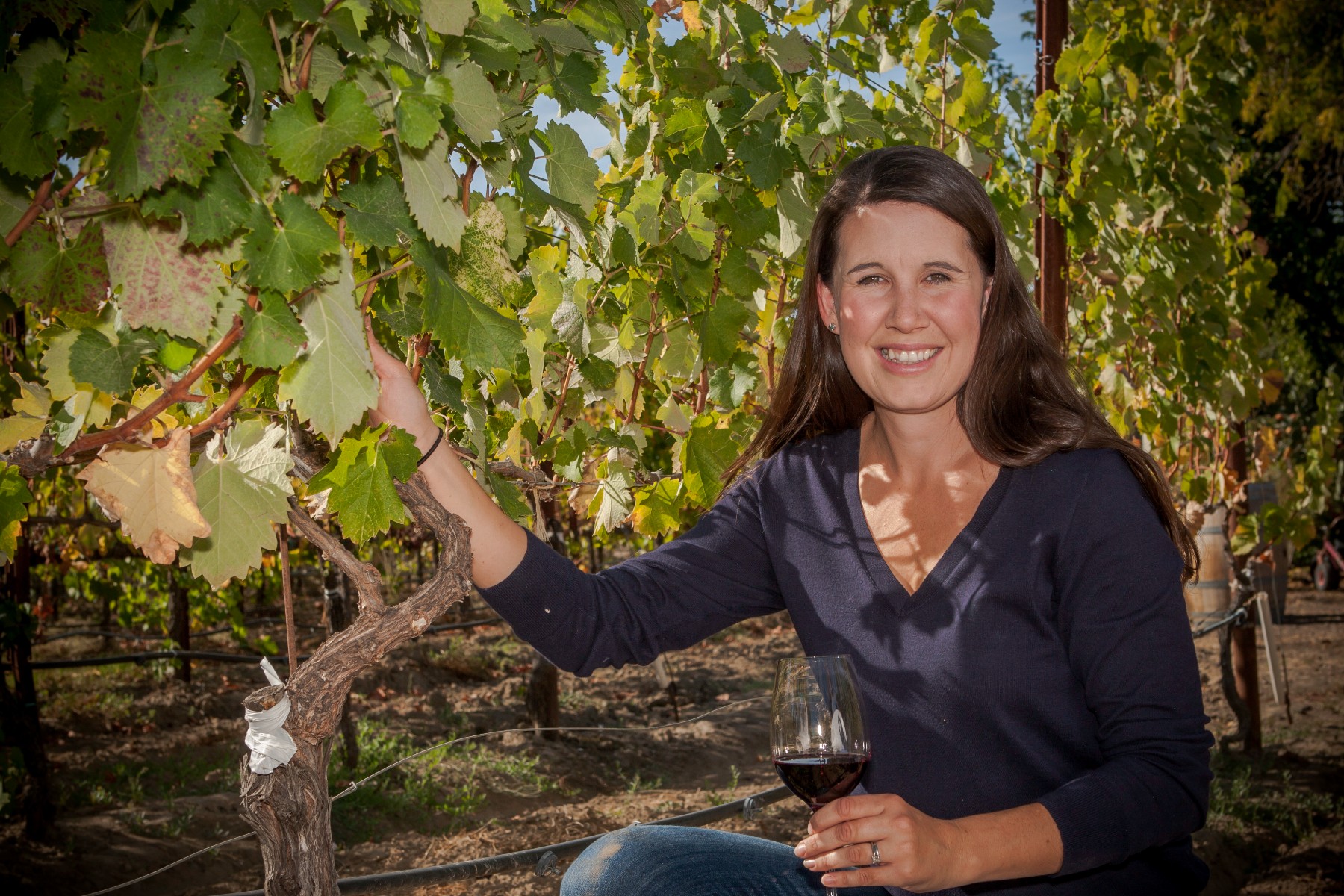 I got a degree in Chemical Engineering from the University of Nevada, Reno in 2006. In May 2006, I moved to Sonoma County to work a wine harvest at Owl Ridge, a winery custom crush facility, as a lab technician, eventually becoming lab manager. In July 2007 I moved to Mauritson Winery in Dry Creek Valley as the Enologist, and then Assistant Winemaker. After nearly four years at Mauritson I decided to strike out on my own. I started as the winemaker for Amista Vineyards in January 2011.
My Story
I fell into the wine industry in a roundabout way. My mom and dad love to cook and make dinner together and wine was always on our table. I like how wine brings people together, but I never thought it would eventually be my career. In college, I decided to study Chemical Engineering, thinking that would be a good degree to prepare me for medical school, which had always been my plan. During college, I worked in a hospital doing wound care and working with patients in the physical therapy department, and although I loved it, I realized being inside a hospital was not where I was meant to be.
After graduating, I decided to work a harvest in Sonoma County just for fun before I returned to graduate school. I started work at a custom crush winery in Sebastopol called Owl Ridge. By day two, I knew I was in love with this work and would never go back!
As a custom crush facility Owl Ridge made wines for over 40 clients, which gave me the opportunity to see a variety of styles and approaches to winemaking. I was fortunate to work with and be mentored by some of the top vintners in California such as Merry Edwards, Greg Lafollette, Anthony Austin, and Scot Covington.
By mid-2007, I was offered an opportunity at Mauritson Wines in Dry Creek Valley as Enologist and soon was named Assistant Winemaker. In addition to making its own wines, Mauritson also does custom crush, so I was again able to work with several winemakers and make a wide variety of wines.
In 2011, after four years there, I had my daughter and decided I was ready to take the leap into consulting. I joined Amista Vineyards in January 2011. When I first started, we were making Chardonnay, Syrah, Cabernet, Zinfandel, and a Sparkling Syrah. I love sparkling wines and was excited to have the opportunity to make them. We have decided to specialize in Rhône varietals and sparkling wines made from our estate Morningsong Vineyards.
Over the years we have expanded our collection of sparkling wines., all made in the classic Methode Champenoise which is used to make fine French Champagnes. Although we use the traditional method for crafting our Amista sparkling wines, I love to use non-traditional grapes. The classic grapes used in Champagne are Chardonnay, Pinot Noir and Pinot Meunier. Since we specialize in red Rhône varieties, we make several Rhône sparkling wines. Each one has turned out to be a pleasant and delicious surprise.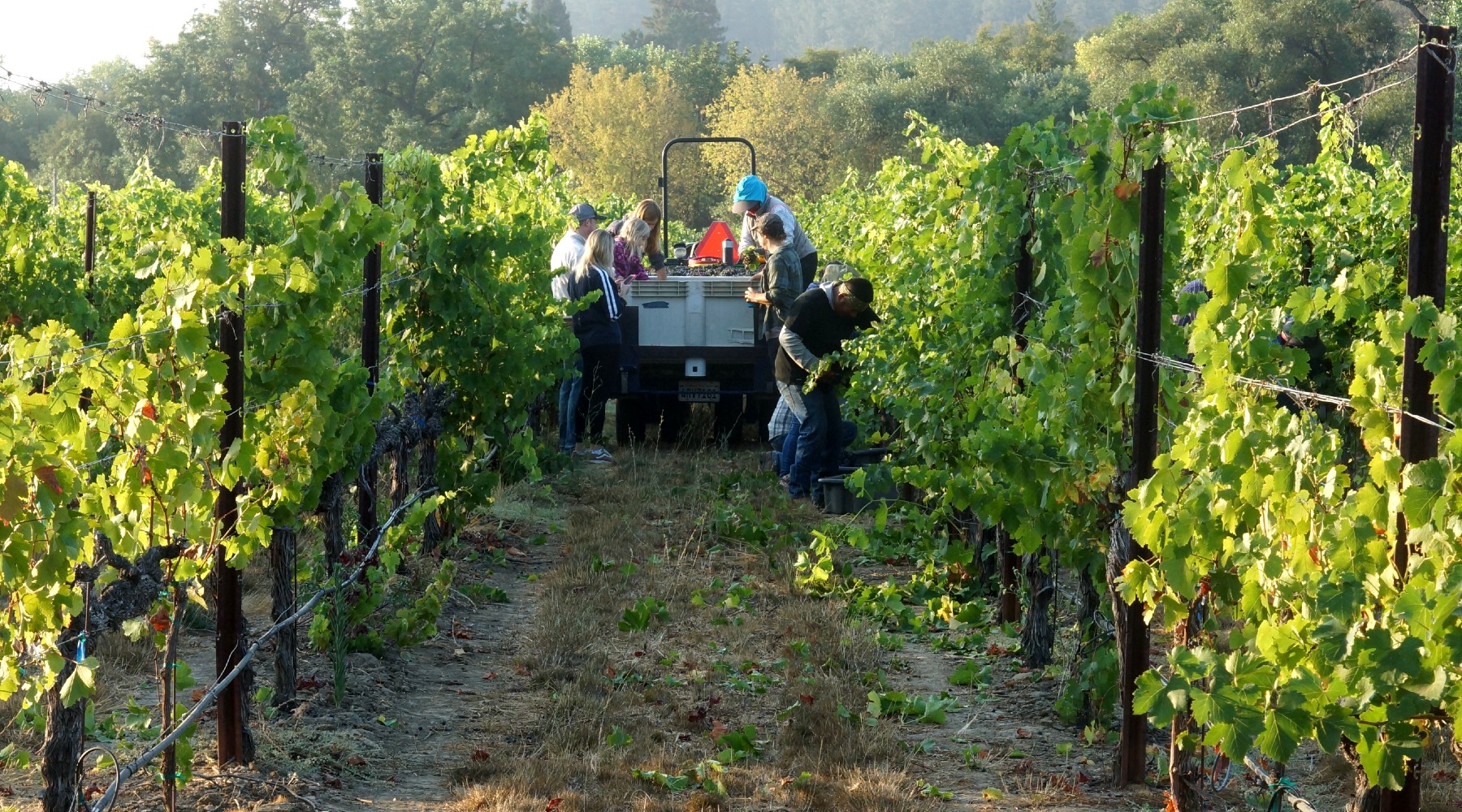 Wine is more than a job for me, it's a lifestyle. My two children spend lots of time wandering the vineyards and sampling with me. They have become quite adept at determining when a block is ready to pick. And they love to get up at dawn and help with the harvest. I can't imagine doing anything else with my life - getting to do what I love and sharing that love with my children.
I also enjoy traveling and visiting wineries in other regions around the world in my (limited) free time. I am an avid gardener and created the first Amista Vineyards Winemaker Garden in 2021. Plus I love to cook, ski, and spend lots of time outdoors. In addition to Amista Vineyards, I also consult with Bacigalupi Vineyards and Cast Wines.
I Love Champagne and Sparkling Wine
Making sparkling wines is a dream come true for me as a winemaker. I love bubbles but I had never made sparkling wines until I joined Amista Vineyards. We currently have five sparkling wines and will be introducing our latest creation, Sparkling Tres, a blend of Grenache, Syrah and Mourvèdre, in February 2022. Our sparkling wines are all made using the Methode Champenoise, also known as Méthode Traditionnelle. This is the method used for making fine French Champagne.
Sparkling Syrah
Proprietors Mike and Vicky made their first sparkling wine, a Sparkling Syrah, in 2008. When I joined them in 2011, Mike gave me a couple of bottles. I knew that Sparkling Shiraz was popular in Australia where it is a deep red color and slightly sweet. The Amista wine is a rosé of Syrah and a beautiful cranberry color, but I assumed it would be icky and sweet, so I stuck it in my closet. One night I pulled it out to serve to some girlfriends - a way to share it without having to drink it all myself! To my surprise, my friends started raving about it. I had to have a taste. It was dry and delicious, and I've been a fan ever since. It's as much fun to make as it is to drink.
Sparkling Blanc de Blanc
When I joined Amista, we were making one sparkling wine, the Sparkling Syrah. I had only been on board a few months when Vicky asked, "Do you think we could make a sparkling wine from our Chardonnay grapes?" Turns out she loves bubbles as much as I do. I told her, "Sure!" That year we harvested some of our estate Chardonnay grapes to make our first Blanc de Blanc. Vicky and I both fell in love with it. I was excited that the inaugural release scored 91 points and won a gold medal in the Press Democrat's 2013 "Best of the Best" North Coast Wine Challenge.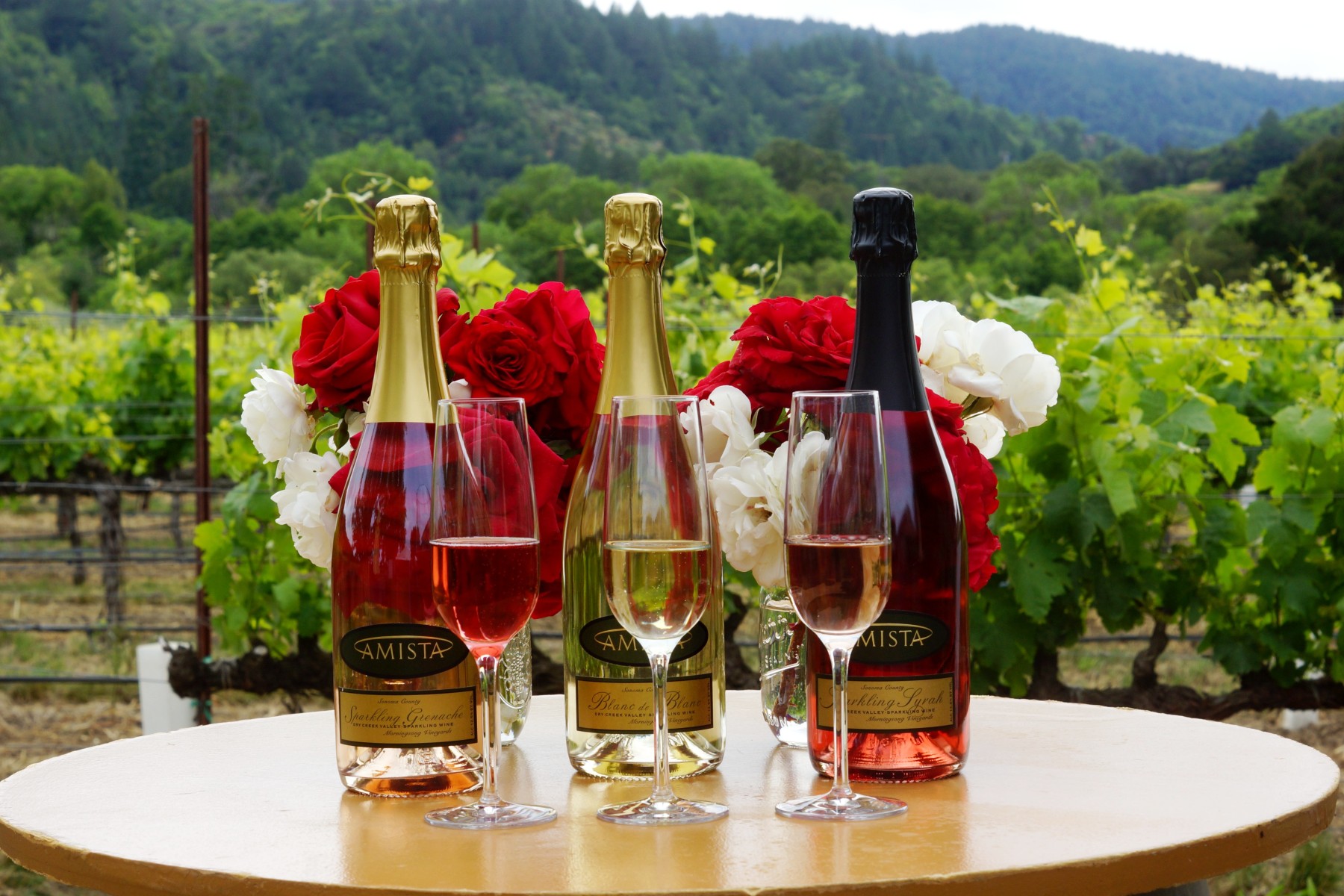 More Sparkling Wines
In 2011 we budded over some of our estate Syrah vines to add two more Rhône varietals, Grenache and Mourvèdre. In 2013 I thought it would be interesting to make a sparkling wine from the Grenache. Vicky was on board immediately – Mike, not so much. Not that he doesn't love our sparkling wines, he just thought we were adding too many (a concept Vicky and I don't quite understand). Vicky and I persuaded him to give it a try and in March 2015, we released a delicate Sparkling Grenache rosé. In 2017, we were thrilled to learn it was selected as one of 10 Hot Brands by Wine Business Monthly.
Next, we created our first sparkling blend called Fusión, composed primarily of Chardonnay with a small amount of Syrah and Grenache. In 2018 we introduced Sparkling Mataró (the Catalan name for Mourvèdre) made from 100% Mourvèdre. All our sparkling wines are made from grapes grown our estate Morningsong Vineyards.
Sparkling Dosage Trials
One of the favorite parts of my job as a sparkling winemaker is doing dosage trials. The dosage is added to the finished wine to "top up the bottle" just before inserting the cork. Dosage is just a fancy word for the addition of a sugar syrup or liqueur. A dosage trial is done to determine the level of dosage to add to a sparkling wine to help balance the acidity and showcase the natural flavors. We do dosage trials around the island in Mike and Vicky's kitchen. I prepare five – sometimes six – bottles of one of our sparkling wines - one bottle of the base wine and each of the others with a different level of "dosage". Then we sniff and taste each sample.
We all discuss the samples and try to come to a consensus on which one achieves the perfect balance of acidity, flavors, and mouthfeel. Surprisingly, we almost always reach agreement. In those rare instances where we don't, we all agree that as the winemaker, the final decision rests with me!