September 6, 2022 | The Amista Blog | Amista Vineyards
Why We Love Healdsburg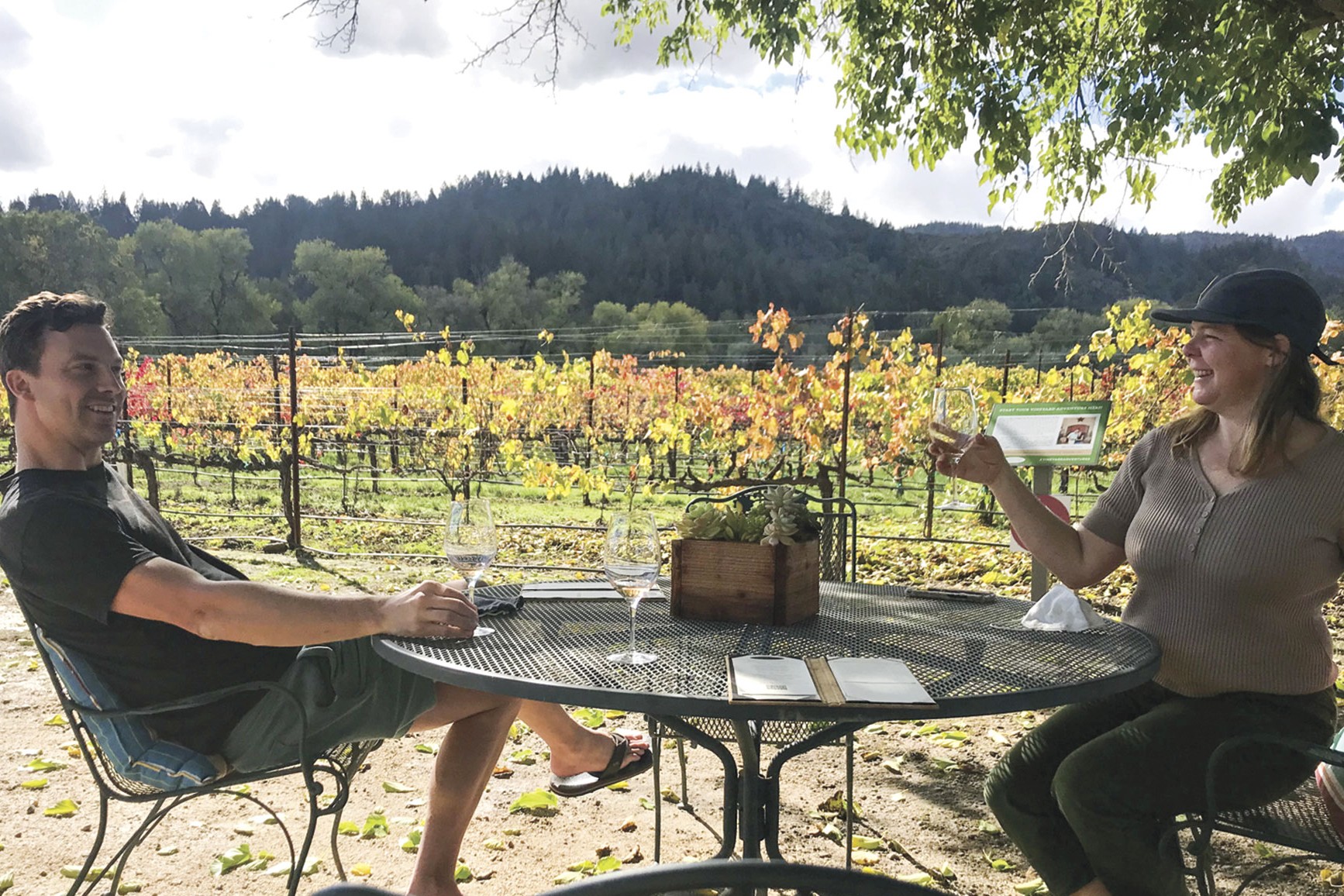 Photo by Craig Outhier
Phoenix Magazine just published an article called "Healdsburg Wine Tour", and we were excited to be among the wineries they showcased. The article says, "Amista Vineyards, known for its sparkling wines, the winery has a comfortable patio with scenic views of its 20-acre vineyard and Mount St. Helena. We enjoy getting a tongues-on primer in the art of making bubbly while noshing on the winery's excellent charcuterie board, much of it derived from the on-site farm and garden." The article reminded us how much we adore our little town of Healdsburg and how much fun it is to share it with visitors.
Healdsburg on Many Best Small Towns in America Lists
When we first started visiting Healdsburg in the 1983, it was a sleepy small town with wineries in the surrounding countryside and a couple of great restaurants. Since then, it has been discovered and is now a popular destination. It has remained small and charming but can no longer be described as sleepy. On most days, the downtown is bustling with people checking out the shops around the town square or sitting on a park bench under the trees overlooking the fountain.
We now have many more great places to dine, and the town is packed with art galleries, boutiques and unique tasting rooms. The article describes all our favorites and goes on to say, "And for a town of 11,000, it boasts one of the densest hospitality biomes you'll find in California, which explains all those best-small-town accolades. It's quaint and seasoned, but unmistakably upscale."
Just Outside Healdsburg - Wine Tasting in Dry Creek Valley
"Still, the thing I love best about the Sonoma County town is leaving it – or more precisely, hopping on a bike and gliding around the rolling, winery-encrusted foothills just a few miles up the road," the writer declares.
Agreed! There are more wineries in Dry Creek Valley than there were when we first visited, including Amista Vineyards! The idea of starting a winery wasn't even in the back of our minds in 1983 when we first saw Healdsburg while visiting from our home state of Colorado. It was nearly two decades and a trek from one coast to the other (Colorado to Silicon Valley to New Jersey to Nevada) before we moved to Healdsburg in 2002. We launched Amista in 2004.
Our little cottage, that we think was first built around 1918, is surrounded by vineyards. I never get tired of waking up to the vines outside our bedroom window. It is a pleasure to walk the vineyard each day with our two Shelties, Dylan and Torin, and pop into our tasting room to meet our guests. We're in the heart of the bucolic countryside and yet only five miles from our adopted hometown of Healdsburg.
If you visit Healdsburg, we invite you to Taste with Us at Amista Vineyards in the heart of Dry Creek Valley. We specialize in estate grown, Methode Champenoise sparkling wines and Rhône varieties. Soak up our gorgeous vineyard and valley views and experience a friendly Amista welcome (Amista means "making friends" in Spanish).
Read more in "Healdsburg Wine Tour", by Craig Outhier for Phoenix Magazine.