December 1, 2022 | Sparkling Moments in Wine | Vicky Farrow
Why Grenache in Dry Creek Valley?
It Started with Syrah and Led to More Rhône Varieties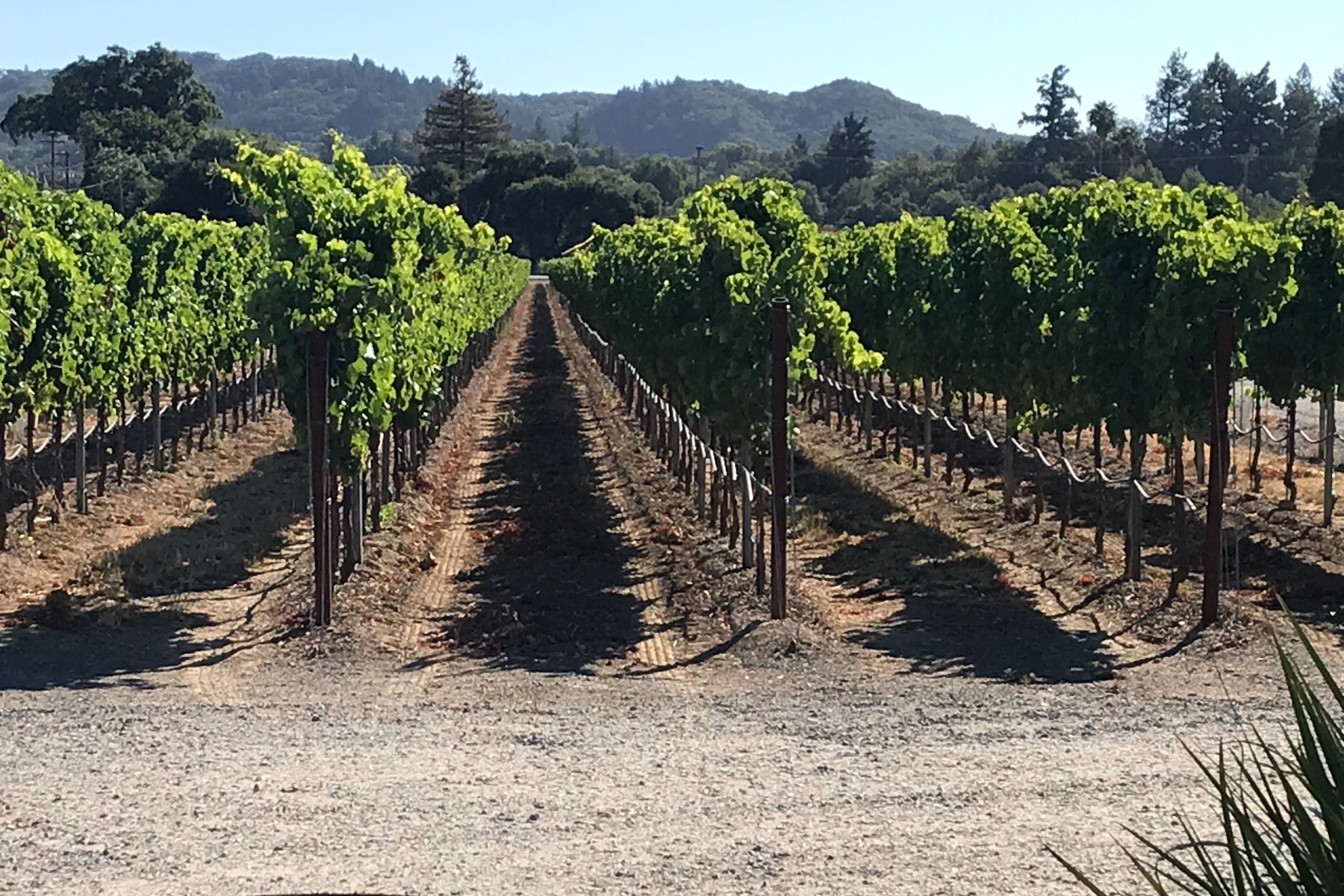 …and now we use Grenache in seven still and sparkling wines!
Planting Syrah, Our First Rhône Variety
The first varietal we planted after we purchased what we came to call Morningsong Vineyards was Syrah. The entire vineyard was planted in Chardonnay when we bought it. Shortly thereafter we killed off the vines in the back of the vineyard. This was not the plan. Unfortunately, we were still living in New Jersey, knew nothing about growing grapes and hired a vineyard manager who wasn't familiar with our vineyards. It turns out the soil in the back half of the property is very gravelly, being near Dry Creek, and needs more water than the front. It didn't get enough water, which weakened the vines and made them susceptible to disease.
We had to rip them out. But what should we plant? We drank wine in those days, but our favorites were Cabernet and Zinfandel. We were advised that those varieties were not well suited to the valley floor, where our vineyards are located. Syrah was supposed to be the next hot grape variety at that time, so we planted Syrah. I'm not sure we had ever even tasted a Syrah. Even though Syrah has not (yet) become "the hot variety", we have fallen in love with it. So have our guests and members. We use it in many of our wines and it was the gateway grape that got us into Rhône varieties.
We Want More Rhônes!
In 2011 we decided to replace some of the Syrah vines. We were anxious to experiment with other Rhône varieties. Rather than rip out the 11-year-old vines, we used a technique called T-budding, where a T-shaped cut is made and a bud from the new variety is placed in the graft. We grafted about an acre each to Grenache and Mourvèdre. Another advantage of grafting is that you don't have to wait four years for the vineyards to produce a crop. By the harvest of 2012, the new vines were producing a small amount of fruit and we made our first Grenache and a blend we call Tres, composed of all three of our Rhône grape varieties.
Debut of Our First Rhône Blend
Tres was an instant hit and became Mike's new favorite. It was the first blend we made on purpose (our dessert style wine was technically our first blend, but it started out as a Zinfandel that would never go dry – a story for another day). A major impetus for doing a blend was winemaker Ashley Herzberg, who had joined us in 2011. Our wines had always been single varietal from a single vineyard. That was what we did. But winemakers love to do blends and Ashley patiently talked us into making a GSM-style blend (Grenache-Syrah-Mourvèdre). Mike was prepared not to like it and it is now his go-to wine.
What About Grenache?
The Grenache started out more as a well-kept secret. We didn't put it in the wine club shipments because we made only 44 cases the first year. It was a lighter body wine than any of the other reds we were making at the time. In fact, we referred to it as our Pinot alternative. For Pinot lovers, Grenache was a welcome discovery. For Mike, who thinks most Pinots are too thin, it wasn't a wine he was prepared to like.
Mike Discovers Grenache
One night I served it with dinner and much to his surprise, he liked it. After dinner we moved to our chairs to watch TV and have another glass of wine. The bottle was sitting on the table between us, and I noticed Mike pouring himself another glass. A while later, out of the corner of my eye, I saw him reach over, grab my glass and pour my wine into his glass. Do you suppose he thought I had gone to sleep? That's when I knew that he had made a new friend in Grenache.
Seven Reasons to Love Grenache
Grenache has also become one of the stars of our winemaking program. It became so popular that when we replanted some of the aging Chardonnay vines, we replaced them with Grenache. In addition to making a red Grenache, we now make a Rosé of Grenache and a Sparkling Grenache, and we use it in four blends, Tres, Rosé de Tres, Sparkling Tres and Fusión.
What Foods to Pair With Grenache
Mike has gone from a Grenache skeptic to a fan, and it is frequently the wine he chooses to have with a meal. And speaking of meals, I want to share a recipe for something we had the other night that was perfect with the Grenache. We often have Grenache in the summer, slightly chilled with light dishes – grilled salmon, pastas with fresh picked tomatoes or grilled vegetables. I was delighted that is also paired beautifully with a winter stew that I crave. It's nothing fancy, just one of those heartwarming, comfort dishes that makes you feel cozy.
Here is my recipe for White Bean Stew with Kale and Crispy Prosciutto