August 4, 2022 | Sparkling Moments in Wine | Vicky Farrow
What is Blanc de Blancs?
A Sparkling White Wine Made from White Grapes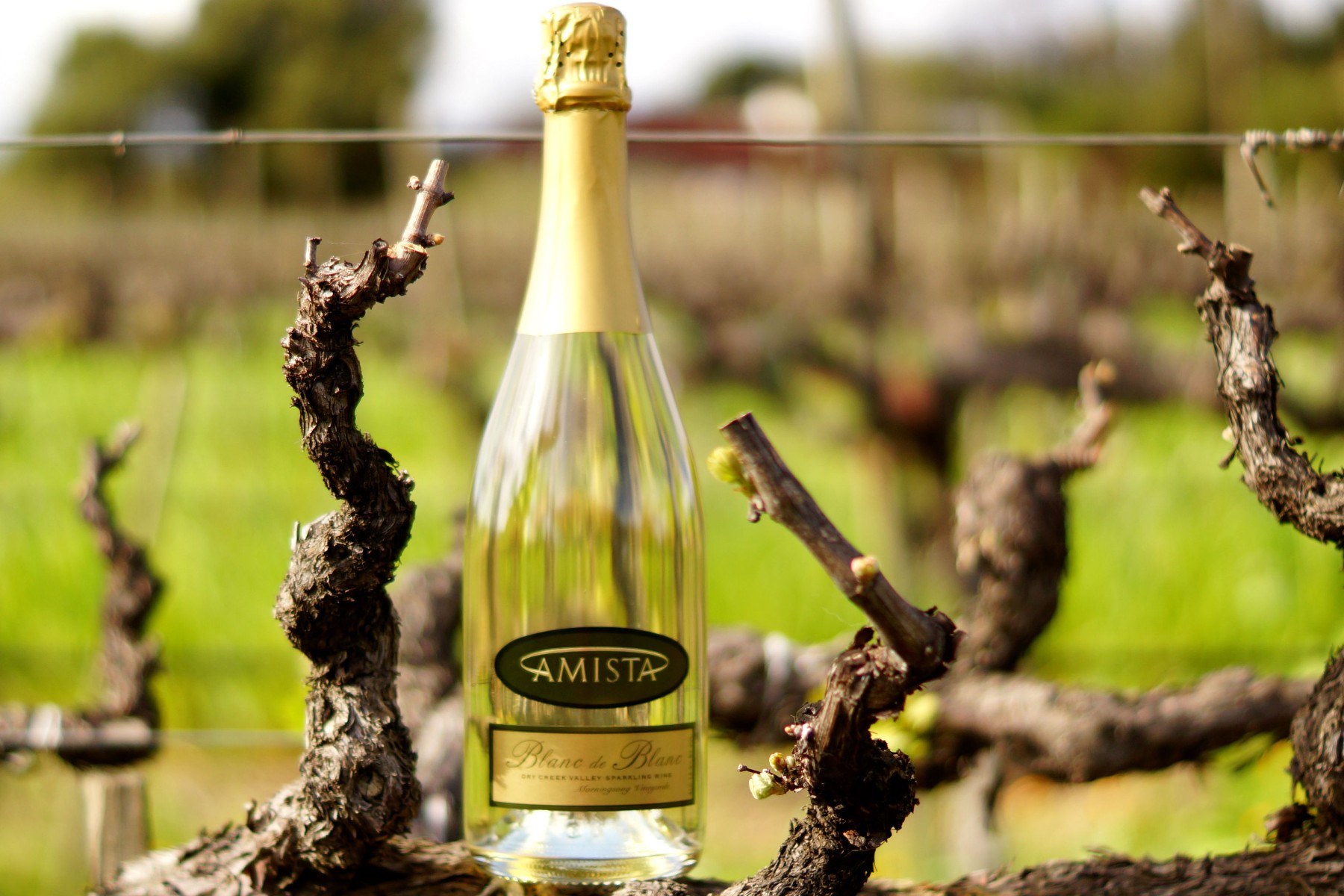 …typically, Chardonnay

First, I must confess that our Amista Blanc de Blanc is the bubbly I drink most often. It marks the end of my workday and the beginning of the evening. I pour a glass and either head for the back deck where my husband Mike and I throw the frisbee for our dogs and gaze out over the Chardonnay vines, or as we prepare dinner. He does the entrée. I do the salad.
White from Whites
But I digress. Blanc de Blancs, translated from French, means literally "white from whites". The term originated in the Champagne region of France where the wine is nearly always made from 100% Chardonnay grapes. This contrasts with most Champagne that is a blend of three grapes, Chardonnay, Pinot Noir and Pinot Meunier.
How Does a Blanc de Blancs Taste?
Typically, a Blanc de Blancs from Champagne will be crisp and clean with a lively acidity and a touch of minerality, and in some cases a yeasty component developed during fermentation. However, the taste varies widely depending on the specific location the grapes were grown, the winemaker's style, the dosage (small amount of sugar added to the finished wine), and the amount of time the wine spends on the lees (the yeast). Wines that spend more time on the lees will have more of the yeasty character.
Is Blanc de Blancs made only in Champagne?
Today, sparkling wines are made around the world in all countries where wine is made and that goes for Blanc de Blancs. You can find lovely examples from elsewhere in France, Spain, Italy, Germany, England, South Africa and of course, here in the U.S. I suppose technically, Blanc de Blancs could be made from any white grape, but they are almost always made from Chardonnay following the French tradition.
Is Blanc de Blanc Sweet?
It's usually dry. Fine Blanc de Blancs from Champagne and elsewhere in the world are typically on the dryer side, designated as Brut, Extra Brut or Brut Nature. The sweetness is determined by the amount of dosage (a mixture of wine and sugar) that is added to the sparkling wine just before the cork and cage are put on the bottle.
There are several levels of sweetness designated for Champagne and sparkling wines as measured by the number of grams per liter of sugar added.
Doux - more than 50 grams of sugar per liter
Demi-sec - 32-50 grams of sugar per liter
Sec - 17-32 grams of sugar per liter
Extra dry - 12-17 grams of sugar per liter
Brut - less than 12 grams of sugar per liter
Extra brut - 0-6 grams of sugar per liter
Brut nature – 0 – 3 grams of sugar per liter
Our Amista sparkling wines are typically Extra brut or Brut Nature. We have found that most of our customers (and I) like our sparkling wines dry.
What Foods Pair with Blanc de Blancs?
In my book, almost everything! There are some classic pairings that are always wonderful like briny oysters on the half shell, crab cakes, grilled sea bass, and sole picatta. It is also lovely with hard cheeses – I especially love aged Parmesan – or as a counterpoint to soft triple cream cheeses.
It goes equally well with comfort foods, especially fried foods like fried chicken, French fries and Fritto Misto. It's perfect with grilled chicken, garden salads and light pasta dishes like linguine with pesto or fettucine alfredo.
I recently heard of another comfort food pairing from a friend that I can't wait to try. He had it with creamy potato soup and crusty homemade bread. He said "This totally worked with a glass of Blanc de Blancs. The Blanc was refreshing and balanced the richness of the soup."
For something more casual, pour a glass and take it to the pool with a bag of potato chips and some crème fraîche for dipping and you'll be happy. We like to serve it in our tasting room with freshly popped popcorn with a drizzle of olive oil and a dusting of lemon herb salt.
Karen MacNeil, author of the Wine Bible says, "Blanc de Blancs Champagne is the best wine ever for a hot summer night." I agree with her, except I would not limit it to Blanc de Blancs made only in Champagne.
How Does Amista Blanc de Blanc Taste?
Our Amista Blanc de Blanc (you may notice we use the singular "Blanc" – don't ask me why), is always crisp, refreshing and bright. Although we don't vintage date it, we make it from a single vintage, so it varies a bit from year to year. It typically has lemony notes with green apple and sometimes the flavors of Asian pear.
If you want to discover for yourself, please Come Taste with Us. We have several sparkling wines made in the classic Méthode Champenoise, as well as a collection of estate grown Rhône wines.