August 26, 2017 | The Amista Blog | Amista Vineyards
It's Harvest Time at Amista!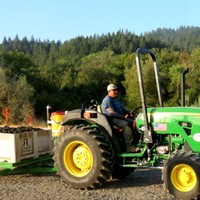 There's always an air of excitement when harvest begins. The mornings are cool and the afternoons are hot - today we hit 108 degrees. We picked Chardonnay on August 18 and Syrah on August 25. We get an early jump on harvest since we pick for our sparkling wines weeks before we pick for our classic wines.
Get into the spirit of harvest at our Sparkling Harvest Gallery, or better yet, come for a visit and taste the grapes, measure the sugars and help us predict when the next varietal will be ready to pick.