"Thank you, Mother Nature, for giving me something to look forward to and dream about every year," declares Amista winemaker Ashley Herzberg. Sonoma Magazine asked Sonoma winemakers to share their favorite wine story. Ashley's favorite story is about the harvest and especially harvesting for sparkling wines. She reveals why she finds it so much fun.
"I love harvest season—and so do my kids! As a sparkling wine producer in Dry Creek Valley, we pick grapes for our sparkling wines earlier than those for still wines at Amista Vineyards. School hasn't started, camp is wrapping up and my kids adore getting out of the house and into nature. I love being out on these early mornings, hot tea in hand, watching them get as excited as I do. Being able to share my excitement with them is one of the most wonderful aspects of winemaking," says Ashley.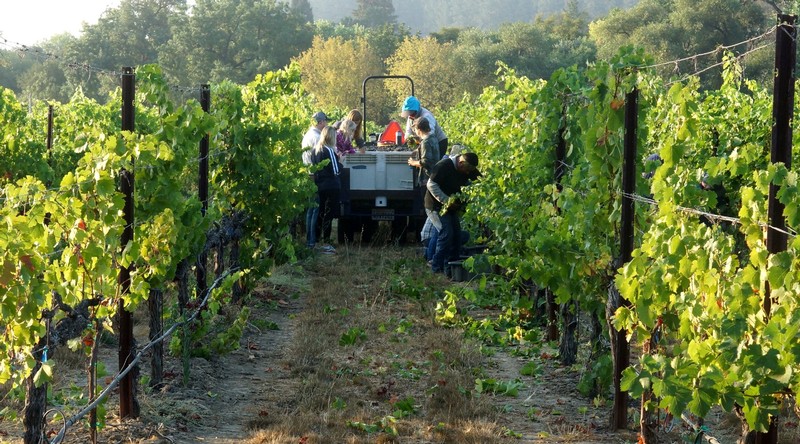 Ashley talks about how her kids grew up in the vineyards. "Having been the winemaker for Amista Vineyards for 10 years now, my daughter and son have grown up walking the rows of Morningsong Vineyards, owned by Proprietors Mike and Vicky Farrow. My kids have toddled through the vines for years, searching for the ripest grapes. They've grown to learn how to use a refractometer to take more professional samples as both they and the vines have matured.
I love watching them sample grapes, help with leaf sorting, and experience the early mornings, the chill in the air bundled up until the work and sunrise warm them and sweatshirts are shed. It's such a unique way to grow up. I hope these opportunities instill a sense of respect for the land, for growing and harvesting a crop and then transforming it into something others can enjoy."
Read Ashley's story and those of other notable Sonoma County winemakers by Karen Hart In NorthBay Biz. the "Wine Stories".
More About Ashley Herzberg, in Her Own Words
I got a degree in Chemical Engineering from the University of Nevada, Reno in 2006. In May 2006, I moved to Sonoma County to work a wine harvest at Owl Ridge, a winery custom crush facility, as a lab technician, eventually becoming lab manager. In July 2007 I moved to Mauritson Winery in Dry Creek Valley as the Enologist, and then Assistant Winemaker. After nearly four years at Mauritson I decided to strike out on my own. I started as the winemaker for Amista Vineyards in January 2011.
I fell into the wine industry in a roundabout way. My mom and dad love to cook and make dinner together and wine was always on our table. I like how wine brings people together, but I never thought it would eventually be my career. In college, I decided to study Chemical Engineering, thinking that would be a good degree to prepare me for medical school, which had always been my plan. During college, I worked in a hospital doing wound care and working with patients in the physical therapy department, and although I loved it, I realized being inside a hospital was not where I was meant to be.
After graduating, I decided to work a harvest in Sonoma County just for fun before I returned to graduate school. I started work at a custom crush winery in Sebastopol called Owl Ridge. By day two, I knew I was in love with this work and would never go back! I have loved harvest since that very first year.
As a custom crush facility Owl Ridge made wines for over 40 clients, which gave me the opportunity to see a variety of styles and approaches to winemaking. I was fortunate to work with and be mentored by some of the top vintners in California such as Merry Edwards, Greg Lafollette, Anthony Austin, and Scot Covington.
By mid-2007, I was offered an opportunity at Mauritson Wines in Dry Creek Valley as Enologist and soon was named Assistant Winemaker. In addition to making its own wines, Mauritson also does custom crush, so I was again able to work with several winemakers and make a wide variety of wines.
In 2011, after four years there, I had my daughter and decided I was ready to take the leap into consulting. I joined Amista Vineyards in January 2011. When I first started, we were making Chardonnay, Syrah, Cabernet, Zinfandel, and a Sparkling Syrah. I love sparkling wines and was excited to have the opportunity to make them. We have decided to specialize in Rhône varieties and sparkling wines made from our estate Morningsong Vineyards.
Over the years we have expanded our collection of sparkling wines., all made in the classic Methode Champenoise which is used to make fine French Champagnes. Although we use the traditional method for crafting our Amista sparkling wines, I love to use non-traditional grapes. The classic grapes used in Champagne are Chardonnay, Pinot Noir and Pinot Meunier. Since we specialize in red Rhône varieties, we make several Rhône sparkling wines. Each one has turned out to be a pleasant and delicious surprise.
Wine is more than a job for me, it's a lifestyle. My two children spend lots of time wandering the vineyards and sampling with me. They have become quite adept at determining when a block is ready to pick. And they love to get up at dawn and help with the harvest. I can't imagine doing anything else with my life - getting to do what I love and sharing that love with my children.
I also enjoy traveling and visiting wineries in other regions around the world in my (limited) free time. I am an avid gardener and created the first Amista Vineyards Winemaker Garden in 2021. Plus I love to cook, ski, and spend lots of time outdoors.