February 23, 2023 | The Amista Blog | Amista Vineyards
Amista Wine - Sparkling Grenache an Effervescent Dream!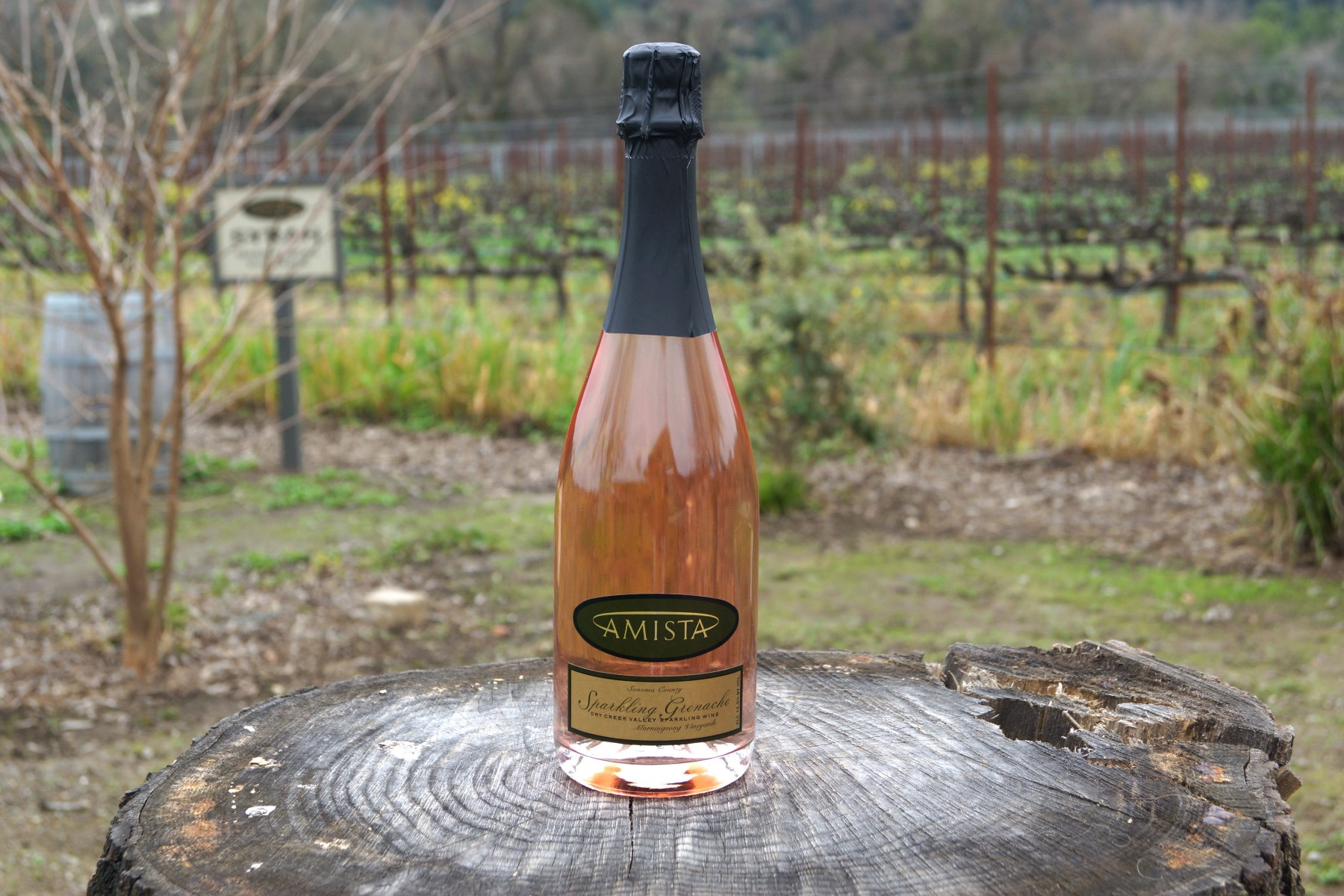 "This effervescent dream benefits from being made using the Methode Champenoise, which is the process used to make fine French Champagne," suggests a feature called Special Sips in the Scottsdale Airpark News.
If you happen to be in the Scottsdale airport, you might see Amista featured in this magazine. We are delighted to be included with so many other fine wines from Sonoma County along with a few from Napa Valley. Our Sparkling Grenache is described as an "effervescent dream" adding, "If nothing else, try this one for its nose, which is bursting with tangerine, grapefruit, and Meyer lemon."
But what would be the point of just sniffing the wine when you can experience the joy of bubbles dancing on your tongue and treat your palate to the flavors of freshly picked strawberries?
Why Sparkling Grenache?
At Amista we specialize in estate grown red Rhône varieties. We also specialize in making sparkling wines using the classic method used in Champagne. So, it's no surprise that we love to make sparkling wines from our Rhône varieties. Winemaker Ashley Herzberg loves all bubbles – Champagnes, especially those made by small grower/producers, Crémants, Cava's and sparkling wines made in the U.S. She had been making a sparkling rosé from another Rhône grape from our estate vineyards since she joined us in 2011. In 2013 she was ready to make another sparkling rosé and thought the Grenache grown on our estate Morningsong Vineyards would be perfect. She was right!
Our First Sparkling Grenache
She harvested the grapes earlier than for the still Grenache to achieve the right balance of sugar, acid and flavors for a sparkling wine and left them on the skins for just a few hours to achieve a delicate pink color. She calls is "ballet slipper pink". I will never forget experiencing this wine for the first time. We were in the cellar, and she took a small sample from the tank. The color was amazing, and yep, it was ballet slipper pink. Our first taste was before its secondary fermentation in the bottle, which is what produces the delicate bubbles. Even as a still wine it was beautiful on the palate.
Amista Sparkling Grenache Selected as One of Ten Hot Brands
It would be 18 months before we could taste the resulting sparkling wine. We feel in love. But we weren't alone. Wine Business Monthly selected the inaugural release of our Sparkling Grenache and Amista as one of 10 Hot Brands in 2017.
"Sparkling wine isn't just for celebrations anymore. That's not to say we shouldn't be drinking sparkling on momentous occasions or for holidays - if you asked Vicky Farrow and Ashley Herzberg, we should be drinking it every day of the year. Maybe they're a little biased - they're in charge of the sparkling wine program at Amista Vineyards, tucked away along Sonoma County's famed Dry Creek Road - but it does sound like they're on to something big." says Wine Business Monthly.
We now have a collection of six sparkling wines with a seventh to debut in 2024 to celebrate the 20th anniversary of Amista. Stay tuned!
Check out "Special Sips" in the Scottsdale Airpark Magazine.