November 3, 2022 | Sparkling Moments in Wine | Vicky Farrow
Let's Build a Sparkling Wine Community
Interest in sparkling wine is booming...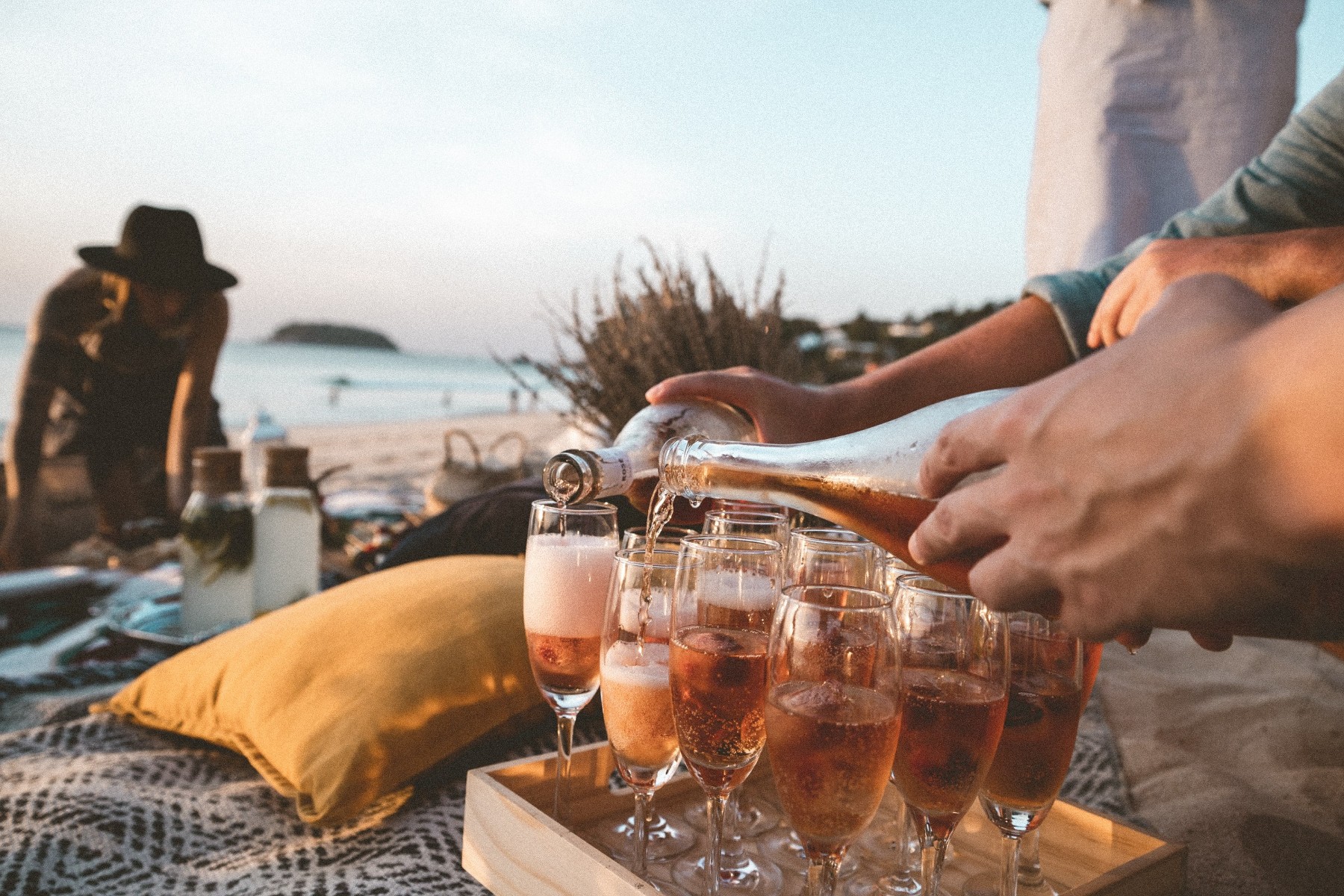 ...and the time is right to come together.
Have you heard the news? I am excited about the launch of Sparkling Discoveries, a brand-new community for sparkling wine producers, enthusiasts, and leaders. We went live on Global Champagne Day, which fell on October 28 this year. This is my latest project and like most things in my life, it started as a seed of an idea that germinated, blossomed and grew with the help of friends and colleagues.
I've been writing this blog, Sparkling Moments in Wine, for the last several years to answer the frequently asked questions about my experiences as I moved from the corporate world to becoming a winery owner and advocate for sparkling wine.
Learning the Stories of the People Behind Sparkling Wine
Anyone who knows me, knows I love bubbles, but I am equally fascinated to discover how others got involved and the twists and turns in their journeys. Sparkling Discoveries started as an idea to tell the stories of those people. Initially I was thinking of winemakers and owners of sparkling wine houses in Sonoma County.
It's a Sparkling Wine Boom!
As I kicked around the idea with friends and colleagues, we realized that we are experiencing a sparkling wine boom, made up not only of those who make sparkling wine, but other thought leaders and enthusiasts. And it isn't just happening in Sonoma County. There are fascinating stories from all over the country and all over the world.
Let's Build a SparklingWine Community
This needed to be something more than a blog. We decided we wanted to build a sparkling community. And it needed to go beyond Sonoma County. We also realized there is no single site dedicated to sparkling wine that is brand neutral, providing information and resources on everything from what's happening in the world of sparkling, to how it's made and what foods pair with different kinds of sparkling wines.
So, we created a section called Sparkling 101 with some basics on the difference between Champagne and sparkling wine, how and where sparkling wines are made, and different styles and types of sparkling wines. As we get questions and ideas, we'll add more resources. In the future we'll add sections on wine and food pairings and events.
We are also inviting sparkling wine lovers, wine professionals, and the community at large to nominate those who are making an impact on the growth, promotion, and future of sparkling wine. Nominees can be winemakers, marketers, social media influencers, hospitality workers, winery owners, and beyond. The nomination period will be open through December 31, 2022, and individuals nominated will be celebrated online, through social media channels, a promotional campaign, and a signature event in 2023.
We're building a community one sparkling wine enthusiast at a time. We already have nominees from Napa, the Finger Lakes region of New York, Michigan, Oregon, Paso Robles, Sacramento, Healdsburg, and a U.S. based family member representing a grower Champagne house in France.
Fascinating Stories from the People of Sparkling Wine
The centerpiece of the platform is Sparkling Conversations, in-depth profiles of sparkling wine makers, thought leaders and advocates. I've had the privilege to tell some remarkable stories - all different, all fascinating.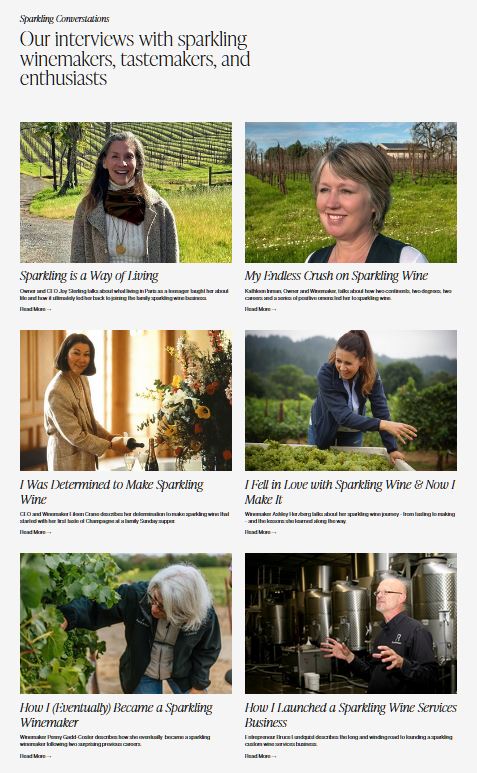 Owner and CEO Joy Sterling, Iron Horse Vineyards, talks about what living in Paris as a teenager taught her about life and how it ultimately led her back to joining the family sparkling wine business. She revealed her inspirations - from the creation of unique bottlings of sparkling wine, to her favorite food pairings to the way she leads her team.
Entrepreneur Bruce Lundquist, co-founder of Rack & Riddle, describes the long and winding road to founding a sparkling custom wine services business and recounts the lessons he learned in his career and what he hopes his six kids learned from his experience.
Winemaker Penny Gadd-Coster of Rack & Riddle, Breathless Wines and Pénélope Wines, describes how she eventually became a sparkling winemaker following two surprising previous careers, her unique approach to sparkling winemaking, her favorite pairings and the best and worst moments in her sparkling career.
Our own Amista Vineyards Winemaker Ashley Herzberg reveals her goals for making sparkling wines, how she hopes people will feel when they pop the cork and her fascination with grower Champagnes, including the ones she has in her fridge right now.
Kathleen Inman, Owner and Winemaker of Inman Family Wines, talks about how two continents, two degrees, two careers and a series of positive omens led her to sparkling wine.
Retired CEO and Winemaker Eileen Crane of Domaine Carneros describes her determination to make sparkling wine that started with her first taste of Champagne at a family Sunday supper and her happiest moments - the best pairings with sparkling wine, open book management and the most rewarding time in her career.
If you love sparkling wine, we invite you to join us. Here are some options:
And next time you're in Healdsburg, come Taste With Us and explore the sparkling wines of Amista Vineyards.