June 20, 2018 | In the News | Amista Vineyards
Amista Makes Rhones Sparkle!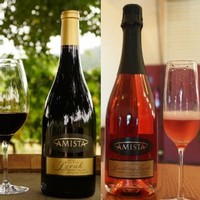 Here at Amista, we love Rhone varietals. The first wine we made when we moved to Healdburg was Syrah – but that was just for fun, with friends in our garage - and we called it Garage Syrah. Syrah remains our flagship varietal plus we have added Grenache and a GSM blend (Grenache, Syrah Mourvedre) to our collection of Rhone-style wines.
But we do something else with Rhone varietals. We make sparkling wines using the classic Methode Champenoise, the same process used to make fine French Champagne. We found a great article in the Wine Enthusiast about Rhone wines and want to share it with you.
Check out What Do We Mean When We Say Rhône-style Wine? By Anne Krebiehl MW