November 1, 2022 | Amista Vineyards
3 Sonoma Sparklers I Love This Holiday Season - Amista Blanc de Blanc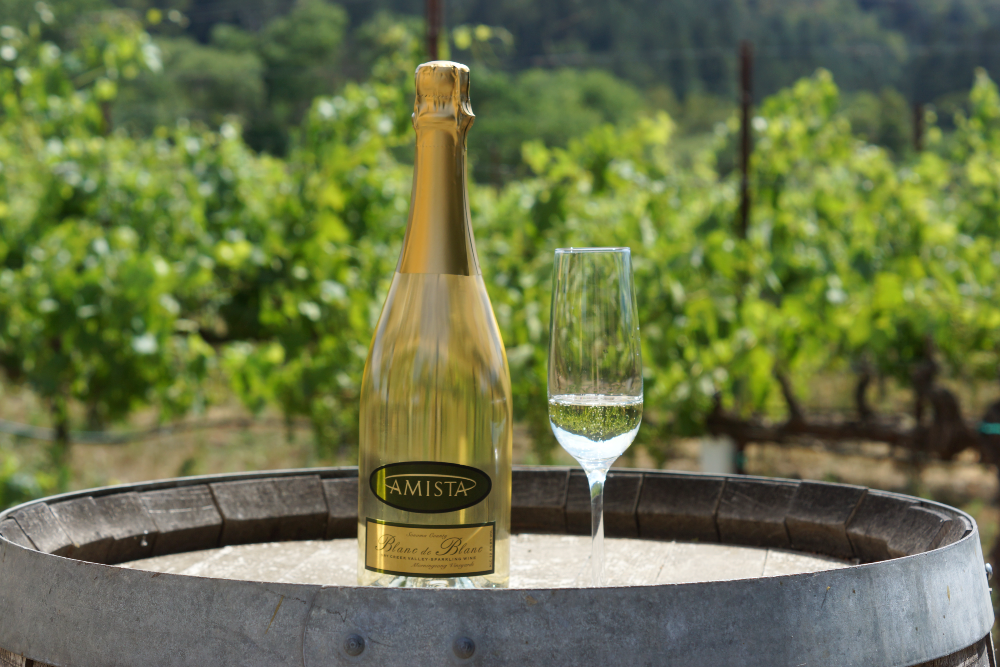 We are honored that Sonoma Magazine featured Amista Vineyards Blanc de Blanc as one of wine expert Manveer Sandhu's top three favorites! Manveer is Executive Director of Winemaking at Rack & Riddle, a custom wine services business, and oversees the production of millions of cases of sparkling wine made by hundreds of producers. That truly makes him an expert on sparkling wine in our region.
With so many wines to choose from, we are thrilled that he chose our Amista NV Sparkling Blanc De Blanc, Dry Creek Valley, as one of the three sparkling wines he loves for the holidays. He goes on to say, "Amista is also doing great things with different sparkling varieties, like Grenache, Syrah, and Mataró."
Still Thirsty?
Amista Made Its First Sparkling at Rack & Riddle in 2008
Amista has a long history with Rack and Riddle, making our first sparkling wine, a Sparkling Syrah, at their facility in Hopland in 2008 just a year after they opened their doors. That was the wine that gave us our start in Methode Champenoise sparkling wines. We have been making our wines at Rack and Riddle since then as we've expanded to six, soon to be seven sparkling wines.
Making Sparkling Wine Feasible for a Small Winery Like Amista
Ashley Herzberg, Amista winemaker, creates our wines according to her vision using the equipment and facilities at Rack and Riddle. They make it viable for a small producer like Amista to craft sparkling wines. It is almost impossible for a small winery to make the huge investment in capital equipment – from highly automated bottling, riddling and disgorging to hundreds of tanks – required to make sparkling wines using the traditional method, the same way they are made in Champagne.
Two Winemakers, Similar Paths from Medicine to Wine
It also turns out that Ashley and Manveer followed a similar path to winemaking. Wine took center stage when both were just getting started in their career journeys. The article reveals that Manveer was a pre-med student focusing on neurobiology. He landed a job in the viticulture lab at UC Davis to make extra money. "But after a few months of working in the vineyard and expanding his knowledge in the lab, Sandhu was hooked on the science of wine," continues the article.
Ashley was a chemical engineering student planning to continue to medical school. After graduation, she decided to work a harvest in Sonoma County just for fun before she returned to graduate school. She too started in the lab and never looked back. She knew winemaking was where she was meant to be. I'm sure they both would have made great doctors, but we consider ourselves especially fortunate to have them in our wine community.