December 2, 2021 | Sparkling Moments in Wine | Vicky Farrow
11 Ways to Celebrate the Holidays with Sparkling Wine
Let us help you impress your friends
with spectacular sparkling wine and food pairings!

Ashley Herzberg (Amista Winemaker), my husband Mike and I love our Sparkling Holidays Soiree and look forward to it every year. The holiday season is a time for gathering with family and friends, enjoying special treats, and proposing toasts to health, happiness, and friendship. Sparkling wine goes with an extensive array of dishes and occasions, but it's a must for the holidays. For the past eleven years, we have hosted a sparkling holiday party with superb local chefs who have created some incredible sparkling wine and food pairings.
These pairings wowed our guests, and they are sure to wow yours. I am excited to share my eleven favorite pairings of Amista sparkling wines with delectable dishes. But first I want to tell you how our sparkling soiree came to be. Or you can go directly to the pairings.
We hosted our first holiday party in 2007, having just opened our tasting room that August. We were excited to finally have a place to have a party. We decided on an afternoon open house and did the same thing the following year.
When we were ready to release our first sparkling wine, we decided it would make its debut at our holiday party. But an open house just didn't seem to have the right sparkle. No more mundane open houses for us. We wanted something special for our club members and their guests. We introduced Amista Sparkling Holidays in 2009, an early evening soiree with live music, passed hors d'oeuvres and a massive tree with glittering lights in the middle of a festively decorated tasting room. It's the one time a year we trade in our jeans and vests and get all dressed up. Mike can often be seen in his tux!
Mike performed his first sabrage at that inaugural event, opening the bottle of bubbles with a saber. It only took six tries! How do you perform a sabrage, you ask? After carefully removing the foil and wire cage from the bottle, you hold the bottle in one hand by its end and the saber in the other.
The trick is to find the seam in the bottle and quickly run the saber along the seam from the end of the bottle to the neck. If successful, the lip of the glass and the cork come out with a pop! Be sure to point the bottle away from everyone because the glass lip and cork come out at lightening speed. The glass cuts cleanly making it possible to safely pour the wine and our guests always line up to get the first taste of those festive bubbles.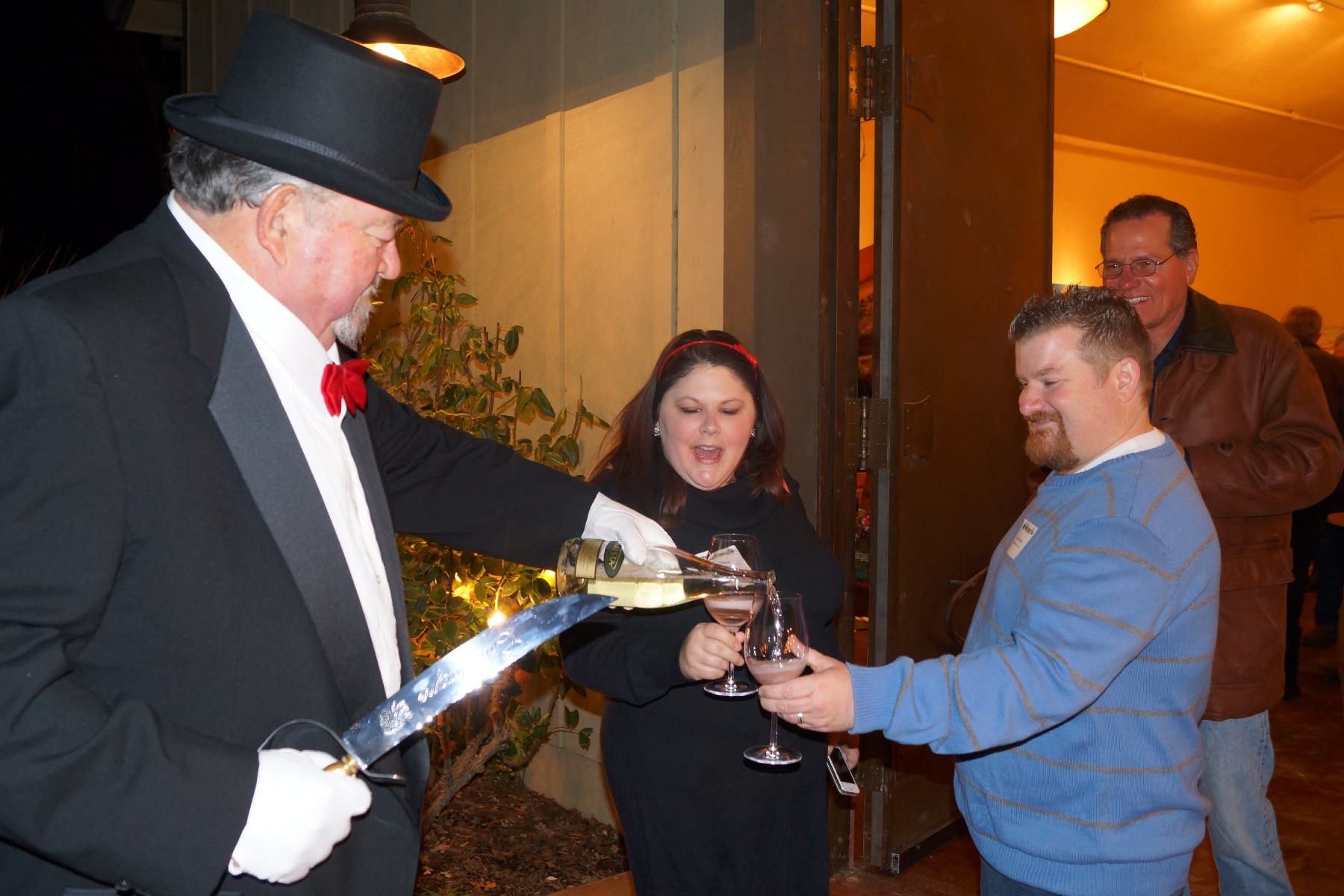 Our sparkling soiree and the sabrage ceremony have become traditions over the last 11 years.The tradition has become so important that we even found a way to have the party during COVID. We moved the tree outside under our new solar covered patio and set up small bistro tables, six feet apart for our guests.
It was a very chilly evening and the heaters we ordered had not yet arrived because it seemed everyone was buying heaters at the time. Our club members were undaunted and dressed up for the affair complete with face masks and multiple layers of clothing plus scarves, gloves, and hats. Everyone was thrilled to be out after spending so many months cloistered at home and the mood was celebratory.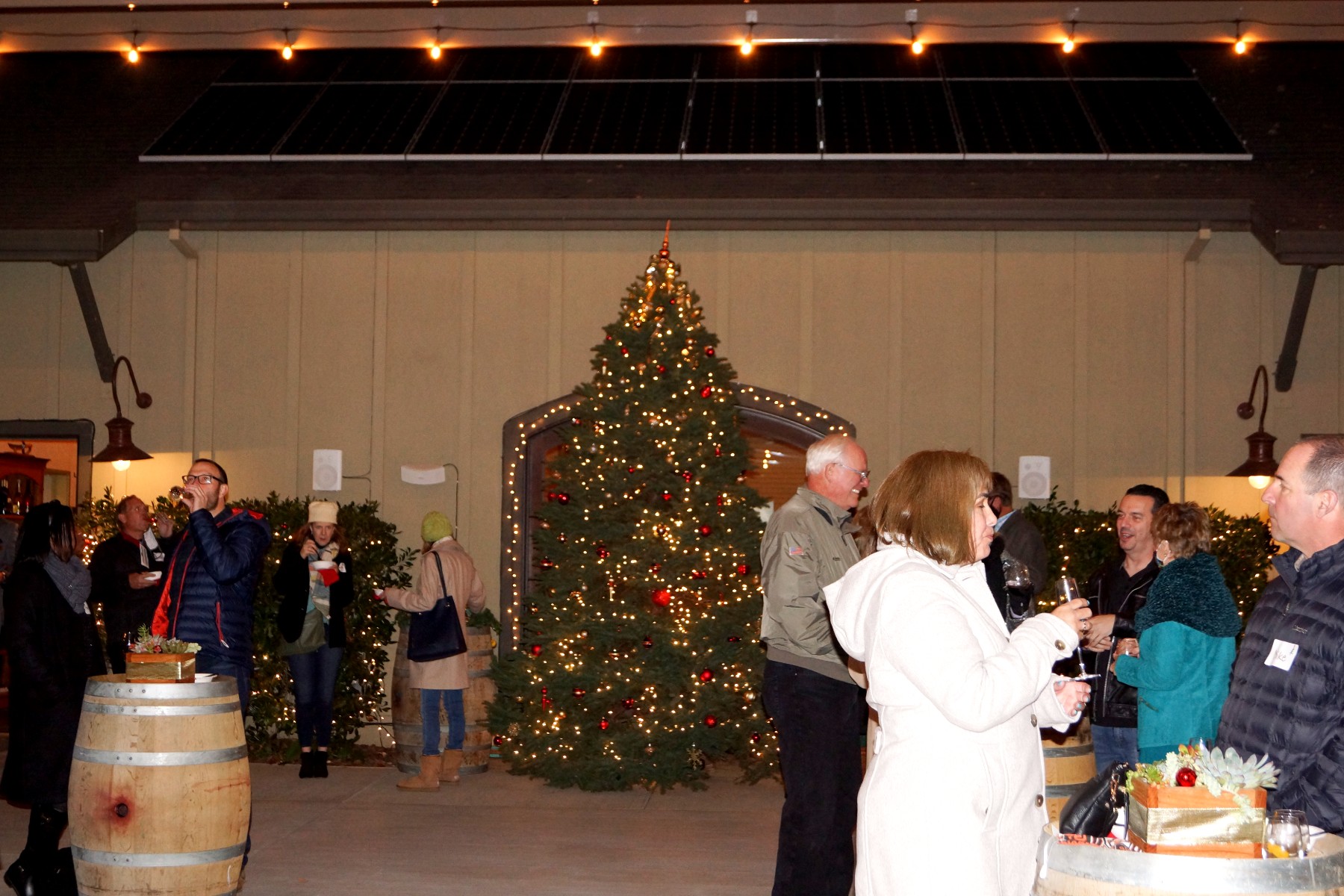 That night we introduced another tradition, a sparkling cocktail! Our friend Tara Jasper, founder, and chief distiller at Sipsong Spirits, created a signature cocktail just for the occasion. Freshly squeezed orange juice, Tara's hand-crafted Indira gin, Amista Sparkling Syrah and a garnish of fresh thyme and cranberries served as the welcome for a truly, madly sparkling evening!
One year I decided it was time for me to try the sabrage. I was nervous. Maybe that was the problem. I'm not sure exactly what happened but instead of the glass lip and cork flying out, the whole bottle kind of exploded. I was surprised but relieved that everyone was safe…except me. I eventually noticed a chunk of glass in my index finger. Fortunately for me, we had three club members who are surgeons attending the event that night. They escorted me into the back, removed the glass, washed, and bandaged the wound and declared me ready to party on! It was a good reminder to be extremely careful when performing a sabrage. I know they say you should get right back on the horse that threw you, but honestly, I haven't tried a sabrage since. So, I stick with my bubbles and bites. Here are my eleven favorites.
11 KILLER PAIRINGS WITH AMISTA SPARKLING WINES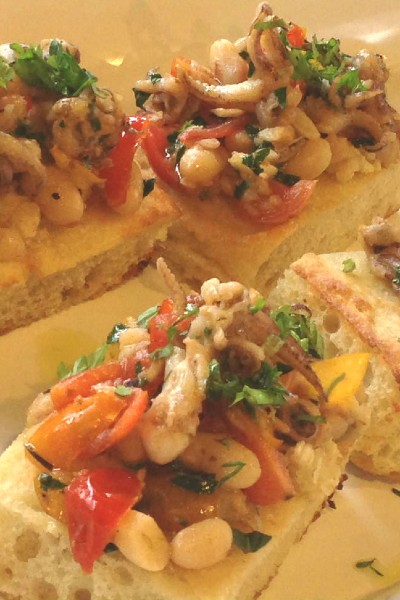 Blanc de Blanc with Tuscan calamari crostini
Sparkling Syrah with caramelized onions, blue cheese, and fig pizzettas
Sparkling Syrah with mushrooms stuffed with Italian fennel sausage
Sparkling Syrah with French cheesecake and raspberry coulis
Blanc de Blanc with lemon chive risotto cakes
Sparkling Syrah with seared ahi on a crisp wonton drizzled with wasabi aioli
Blanc de Blanc with Dungeness crab, marinated artichoke, and gruyere tart
Sparkling Grenache with lobster and brie mini puff pastry cups
Sparkling Syrah with cranberry-brie bites in mini pastry shells
Sparkling Mataró with mini brioche, Laura Chenel goat cheese, roasted pear, and pomegranate glaze
Sparkling Fusión with yellowtail sashimi, avocado, pickled red onions, pomegranate, and quinoa
We are looking forward to our 12th sparkling soiree this Saturday. I can't wait to see our friends, try new pairings, taste the latest cocktail Tara is creating for us and watch someone (else) as they perform the traditional sabrage ceremony.
Cheers to a joyous holiday season filled with good food, good (sparkling) wine and good friends.