A Taste of Passport at Amista Vineyards
Our special Passport chef Jack Kingsley has created the perfect pairings to go with each of the four wines we were planning to feature at Passport 2020. We tasted them virtually along with our Passport friends from across the country on June 12. The pairings were all amazing.
How about planning a happy hour with friends? Order the wines, have each friend make one of the recipes and celebrate the best of wine country living - good wine, good food and good friends!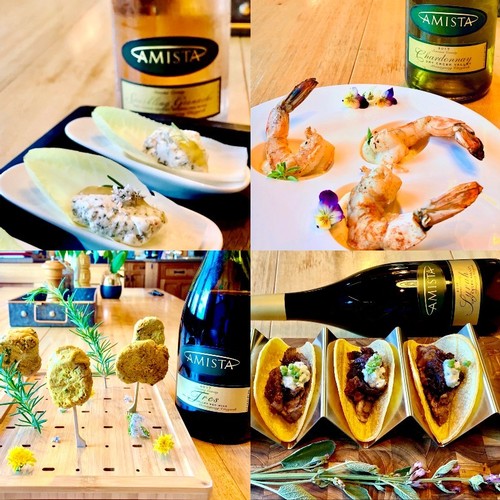 ---
Amista Sparkling Grenache
Herbed Goat Cheese on Endive
Ingredients
1 log of creamy goat cheese at room temperature

1tbs each finely chopped fresh herbs - lemon thyme, thyme, chives, marjoram

Squeeze of lemon juice

1 head endive

Salt & freshly ground pepper
Directions
Finely chop and mix together fresh herbs; set aside half for garnish
Mix goat cheese, half the herbs and lemon Juice
Salt & pepper to taste
Wash and separate endive speers
Spoon about 1 tbs goat cheese mixture into each spear
Garnish with a dusting of herbs

Jack's Tip - I'm using lemon thyme flowers as a garnish
---
Amista Chardonnay
Grilled Shrimp with Lemon Aioli
Ingredients
1 lb. peeled and deveined shrimp (approximately 16-20)
1 tbs chopped chives for garnish
1 cup mayonnaise
Zest and juice of one lemon
Salt and pepper to taste
Dash of cayenne pepper
Directions
Heat the grill
Toss shrimp in bowl with a good squeeze of lemon juice, salt, and a dusting of cayenne, let sit for 10-15 minutes
Skewer the shrimp on wooden or metal sticks (to make it easier to grill)
Meanwhile, mix about 1 cup mayonnaise with finely chopped zest of 1 lemon, a squeeze of lemon juice and salt and pepper
Grill shrimp until cooked and pink
Remove shrimp from skewers
Put aioli in a small bowl in center of plate, arrange shrimp around bowl, garnish with chopped chives
Jack's tip - I like to make my own fresh mayonnaise for the aioli from scratch
---
Amista Tres
Tandoori Grilled Pork Tenderloin Lollipops
Ingredients
12 - 14 five-inch bamboo lollipop sticks (available at Walmart or craft stores)
1 pork tenderloin sliced into ½ inch coins
2 tbs plain yogurt
1 tbs finely chopped garlic
1 tbs finely chopped ginger
Juice from 1 lime
2 tsp coriander powder
1 tsp turmeric
1 tsp garam masala
½ tsp cayenne pepper
1 tbs oil
¼ cup finely chopped cilantro
fresh mint or cilantro for garnish, chopped
salt to taste
Jack's tip - you can substitute all the spices with pre-mixed tandoori powder
Directions
Mix together all ingredients except the pork and fresh mint/cilantro
Marinate pork coins in the yogurt and spice mixture for 60 minutes or longer
Thread one stick through each pork coin to make it look like a lollipop
Heat the grill
Grill 1-2 minutes until done
Place on a serving dish
Sprinkle with mint or cilantro
---
Amista Syrah
Rib Eye Tacos with Red Onion Jam and Horseradish Cream Fraiche

Horseradish creme fraiche
Ingredients
1 cup cream fraiche
1 cup freshly grated horseradish, or a few tbs of prepared horseradish
1 tbs rice vinegar
1 tbs chopped parsley
salt and pepper to taste
Directions
Mix all ingredients, adjust seasonings. It can be made ahead and refrigerated
Red onion jam
Ingredients
about 1 tbs olive oil

4 red onions, sliced and cut in half

3 cups red wine

two sprigs of fresh thyme, pulled from the stem

about 1 tbs honey

about 1 tbs balsamic vinegar

salt and pepper to taste
Directions
Saute red onions in olive oil for a few minutes until softened
Add thyme and red wine
Simmer slowly until wine is reduced and onions are soft and jammy (an hour or so)
Salt and pepper to taste
Add a splash of balsamic vinegar and a spoonful of honey to taste
Tacos
Ingredients
Creme fraiche (from above)
Red onion jam (from above)
1 package mini corn torillas
1 lb ribeye steak
Salt and pepper to taste
Directions
Heat the grill to high
Grill the steak to medium rare or desired temperature
Rest steak for 5 minutes
Cut steak into thin slices against the grain
Warm corn tortillas in microwave, a warm towel or on a griddle
Fill tortillas with sliced steak, a dollop of red onion jam and top with cream fraiche
Jack's tip - for the perfect pairing, use Amista Syrah as the red wine