Events at Amista
We love living in the heart of Sonoma's idyllic Dry Creek Valley and want to share the pleasures of wine country living with you. We hope you'll join us for some of the fabulous occasions we have planned for this year.
~ Vicky and Mike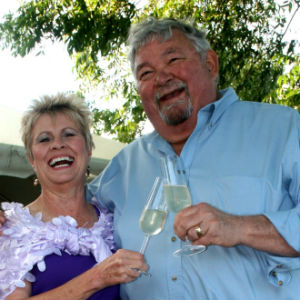 Annual Events
Winter Wineland at Amista - January - weekend before MLK day
Passport to Dry Creek Valley - April - last weekend
Amista Dinner in the Vineyard - August - first Saturday
Amista Dog Day - September - fourth Sunday
Amista Harvest Lunch - October - third Sunday
Wine & Food Affair - November - first weekend
Amista Sparkling Holidays - December - first Saturday
August 2017
Amista Winemaker Dinner in the Vineyard
6:30 PM to 9:30 PM
Sat, Aug 5, 2017
Venue:
Amista Vineyards
Contact:
Tammy, 707.431.9200,
tr@amistavineyards.com

We invite our club members and your guests to join us for a truly magical wine country evening—dinner in the vineyard. We'll dine at sunset among the Chardonnay vines and enjoy a sumptuous four course dinner. Each course will be paired with one of our single vineyard wines by Winemaker Ashley Herzberg.
Price: $160 pp for members;
$170 pp for your guests
September 2017
Amista Dog Day
1:00 PM to 4:00 PM
Sun, Sep 24, 2017
Venue:
Amista Vineyards
Contact:
Tammy, 707.431.9200,
tr@amistavineyards.com

Amista wine dogs Torin and Dylan, invite you to join us for our annual Amista Dog Day and support a fantastic organization - Canine Companions for Independence.
Sip our single vineyard wines
Bring a picnic to enjoy in our Winegarden
Enter our dog show
Meet the Canine Companions puppies in training
October 2017
Amista Harvest Lunch
12:00 PM to 3:00 PM
Sun, Oct 15, 2017
Venue:
Amista Vineyards
Contact:
Tammy, 707.431.9200,
tr@amistavineyards.com

Harvest is our favorite time in wine country. The days are warm, the evenings are crisp and the aroma of fermenting grapes is in the air. Please join us as we share the many pleasures of this special season with our wine club family.
Gather around the harvest table as we taste our new Fall releases accompanied by satisfying comfort foods. We willl be celebrating the return of a Rockpile wine with the debut of our 2014 Rockpile Cabernet Sauvignon from Terraza Vineyards.
November 2017
Wine and Food Affair at Amista
11:00 AM to 4:00 PM
Sat, Nov 4, 2017 - Sun, Nov 5, 2017
Venue:
Amista Vineyards
Contact:
Tammy, 707.431.9200,
tr@amistavineyards.com
Discover delicious wine and food pairings at Amista and over 100 of our neighboring wineries in the Dry Creek, Alexander, and Russian River Valleys. All of the wineries participating have a favorite winery recipe they prepare both days for you to sample, along with the perfectly paired wine.
Passport to the Danube with Amista
Wed, Nov 8, 2017 - Wed, Nov 15, 2017
Venue:
The Danube
We are excited to co-host a wine cruise with five of our winery neighbors for seven glorious nights on the Danube. Celebrate with us as we embark from Budapest with a grand reception featuring Dry Creek Valley wines. Amista will also host one of six winemaker dinners as we cruise to Vienna and through the spectacular Wachau wine region of Austria. There will be plenty of opportunity to try the local wines and see the sites.
This is an intimate cruise - only 80 cabins - which is just our style. We look forward to celebrating the best in wine country living – great wine, great food and great friends – as we cruise the Danube.
~ Mike & Vicky
View the itinerary and list of hosting wineries
Currently sold out. To inquire about the wait list, call (877) 651-7447 or email wineclub@cruisehipcenters.com
December 2017