Events at Amista
We love living in Sonoma's idyllic Dry Creek Valley and want to share the pleasures of wine country living with you.
If you live in the area or are visitng from out of town, we invite you to drop in for Local's Day, the third Friday of the month, or mark your calendar for some of the fabulous occasions we have planned throughout the year.
~ Vicky and Mike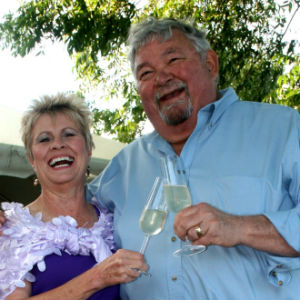 Annual Events
January - Winter Wineland at Amista - weekend before MLK day
April - Passport to Dry Creek Valley at Amista - last weekend
August - Amista Dinner in the Vineyard - first Saturday
October - Wine Club Harvest Celebration
November - Wine & Food Affair at Amista - first weekend
December - Amista Sparkling Holidays - first Saturday
See below for details of upcoming events.
October 2019
Amista Wine Club Harvest Celebration
3:00 PM to 5:30 PM
Sat, Oct 12, 2019
Venue:
Amista Vineyards
Contact:
Patrice at 707.431.9200,
club@amistavineyards.com

Harvest is our favorite time in wine country. The days are warm, the evenings are crisp and the aroma of fermenting grapes is in the air. Please join us as we share the many pleasures of this special season with our Wine Club family.
We have fun activities planned for you to meet up with old friends and make new friends.
Petanque
Lawn games
Grape stomp
Prizes
Tasting of the new releases
Wine Specials
Special vendors
Tickets are limited to the first 150 people
November 2019
Wine and Food Affair at Amista
11:00 AM to 4:00 PM
Sat, Nov 2, 2019 - Sun, Nov 3, 2019
Venue:
Amista Vineyards
Contact:
Tammy at 707.431.9200,
tr@amistavineyards.com

Discover delicious wine and food pairings at over 90 wineries in the Dry Creek, Alexander and Russian River Valleys.
Each winery will have a favorite recipe they will prepare both days for you to sample, along with a perfectly paired wine.
Tickets are available from Wine Roads. Select Amista as your starting winery and start your weekend with us!
Tickets NOW on Sale!
December 2019
Amista Sparkling Holidays
5:30 PM to 7:30 PM
Sat, Dec 7, 2019
Venue:
Amista Vineyards
Contact:
Patrice at 707.431.9200,
club@amistavineyards.com
Celebrate the season with your friends at Amista! We invite you to our annual sparkling soiree including:
Festive musical presentation
Our traditional sabrage ceremony
Limited edition sparkling and classic wines
Elegant hors d'oeuvres
Offered exclusively for Amista Club Members and their guests.
Tickets are coming soon!