Dog Friendly Winery
Your Friendly Dogs are Welcome at Amista Vineyards!
Amista means "making friends" in Spanish, and if you're wine tasting in Sonoma County, we'd like to welcome you to visit with your canine friends. We love our Shetland Sheepdogs, and they delight in meeting the dogs visiting "their winery" as much as we love welcoming you!
Friendly dogs (on leash) are invited to join their humans on our solar-powered patio or under the Mulberry tree, surrounded by vineyards where you can relax and enjoy your wines with friends. If the weather is chilly, we'll set you up inside in our tasting room where you can gather around bistro tables or in our cushy leather chairs.
"Bubbles, Vineyards, Picnics and Winery Doggies - Fantastic! A fun tasting room staff and winery setting just off Dry Creek Road. At least a half dozen different bubbly options! Bring your dog and a picnic too! A great day!" Tom S. ~ Google Review
There are bowls of water and treats, so your dogs can enjoy the equivalent of a wine and food pairing. We also have a self-guided vineyard walk with stops throughout the vineyard that is perfect for wine lovers and their canines who want to get out into the fresh air and enjoy nature. Our guests tell us we are one of the best dog friendly wineries.
Our vineyards span more than 20 acres in Sonoma's Dry Creek Valley, near the charming town of Healdsburg, California. Although our two Shelties consider the vineyards their personal playground, they are home to our Rhône grapes - Grenache, Syrah, Mourvèdre and Roussanne - along with Chardonnay (a Burgundian varietal). We make Rhône wines from our estate grapes and a beautiful collection of sparkling wines.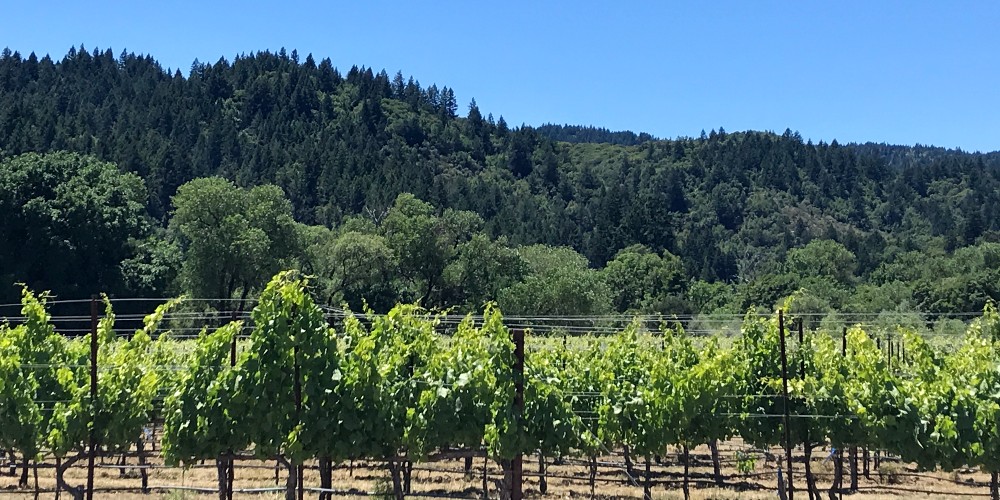 Meet our Winery Dogs
Meaning "thunder," and "bright light" in Celtic, Torin and Dylan, are the essence of thunder and lightning, a dynamic duo with an abundance of sheepdog energy, perfectly played out in the vineyard rows. They look forward to their daily romp around the property, capped by a stop at the tasting room where they enjoy greeting all our guests, especially the canine variety.

Dylan, Amista Winery Dog

Torin, Amista Winery Dog
We've had seven shelties over the years and each one has been part of our wine business in some way. They have posed for photos, inspected the tasting room as it was being built, checked out the vineyards on their daily walks, greeted our guests and hosted wine and dog events.
Visitors coming to explore our wines, locally and from out of town, are happy we are pet-friendly and love interacting with our dogs, reminding them of their own pups back home. We can always tell they are missing their dogs because they are especially eager to say "hi" to ours. We want you to feel like Amista is your home-away-from-home complete with one of our dogs to pet for that warm and fuzzy feeling.
We'll likely always have Shelties in our lives, and of course, a glass of wine. We take the dogs out every night and sit on our back deck overlooking the vineyards and throw a Frisbee for them while we sip a glass of wine before dinner. Wine paired with food is delicious. Wine paired with friends, including the four-legged variety, is even better.